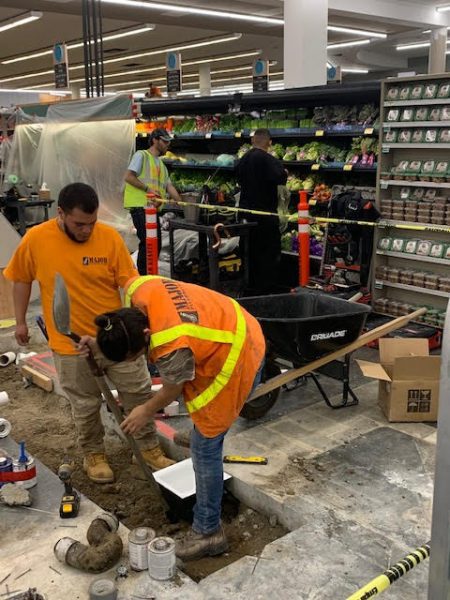 Albertsons has undertaken a major revamp of the interior of its Pavilions grocery store on Santa Monica Boulevard that has unset some of its customers who say fruit and vegetables are being exposed to dirt and dust.
At least one of them has filed a complaint with the Los Angeles County Department of Public Health, calling out the deep trenches dug into the floor near the produce area. That customer, who asked not to be identified by name, said he was concerned that dirt, dust and other byproducts from the construction could affect his health and that of other customers.
The photos shared by the customer show that part — but not all — of nearby cabinets housing vegetables are covered with plastic to shield the merchandise from any pollutants.
The work is part of a major redoing of the interior of the store, which is located at 8969 Santa Monica Boulevard just west of Robertson and is one of West Hollywood's most popular grocery stores. According to a document filed with the City of West Hollywood, Albertsons plans to replace refrigeration and display cases and its wine cellar and provide a wine tasting counter.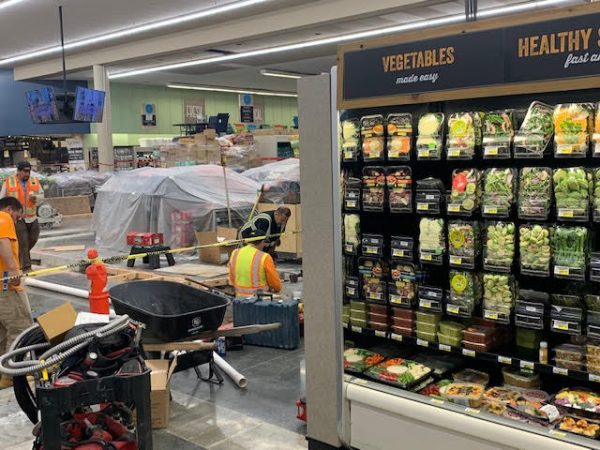 It also has already revised the Starbucks seating area and modified the pharmacy area to allow for a new meat cooler and meat preparation area. There will be a new restroom in the pharmacy area at the rear of the store and the two public restrooms and private ones will be remodeled. There will be modifications to the lighting inside the store and modifications to the accessible parking signs on the outside.
The Public Health Department, responding to an inquiry from WEHOville, said it had inspected Pavilions and found no open trenches and no exposed pipes. It said the "trenches are temporarily covered during business hours, which are 6 a.m. till midnight. Work resumes when the store is closed to public which is from midnight till 6 a.m. The work is around the produce and flower section and the produce is covered with vinyl/plastic sheets during active work hours."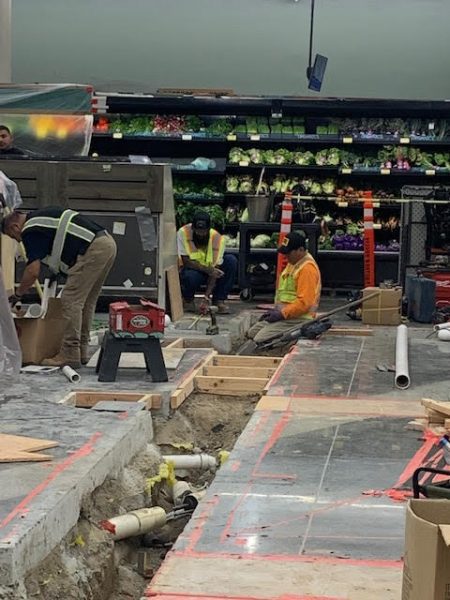 Pavilions is open from 6 a.m. to midnight Sundays through Thursdays and 6 a.m. to 2 a.m. on Fridays and Saturdays. While the Health Department said the trenches are "temporarily covered during business hours" that obviously is not true based on the photographs displayed with this story, which were taken before midnight.
Melissa Hill, a spokesperson for Albertsons, said the company was looking into the issue. 
"Our goal is to provide our customers with the safest and highest quality food products available. In addition, the safety and health of our customers and employees are our top concerns," Hill said. "We are investigating this situation and working with our construction team to resolve the matter quickly. We are also taking the necessary measures to ensure food items are covered during construction."