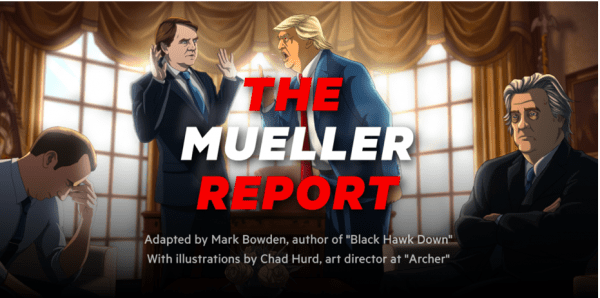 Nearly $8,000 in city payments and waived fees to sponsor a reading of the Mueller Report at the City Council Chambers in August?
That's money that could help provide housing for a couple of months for Dan B., the erudite gay school teacher who lost his job and had been sleeping at night in a local post office, or for Krissy, the homeless local massage parlor worker who spends her nights sleeping in a parking garage. It might cover the costs of a series of Eastside community meetings over the next few months where City Council members could meet with the residents they are supposed to represent and hear their concerns about drug use and drug dealing in Plummer Park. It probably would be enough money to hire a multi-lingual woman to step into West Hollywood's illicit Asian massage parlors and check to see if the women working there (and maybe being forced to sleep there) are doing all right.
But spending the city's money that way wouldn't garner any statewide or national or international coverage for those City Council members who seem to yearn for it.
A proposal for the city to finance a reading of the Mueller Report is on the consent agenda of the City Council's meeting on Monday, an effort to get it passed unanimously with no squabbling or public debate. The proposal is initiated by Council members Lindsey Horvath and John Heilman and the event they want the city to sponsor is organized by the Hollywood chapter of the National Organization of Women, whose board president is John Erickson. It's not clear why a chapter of the National Organization of Women would want to organize a reading of a report that has nothing to do with women's rights (but then, neither was it clear why Erickson, speaking for Hollywood NOW, had urged the Council to grant existing medical cannabis shops a recreational cannabis license.) What is clear is that Erickson, a young man who is Heilman's appointee to the city's Planning Commission and was a former deputy to City Councilmember Abbe Land and a close friend of Horvath's, is going to be a candidate for a City Council seat in the November 2020 election.
Just to be clear, the Mueller Report is worth a read, or even a listen. But you can do that for free, just sitting at home in your underwear. The redacted version of the 448-page report that was provided to Congress can be downloaded online. If you're the sort of millennial who'd rather listen than read, go to Audible to download a free audio version of the report, narrated by 16 of the Washington Post's staffers and other experts. And if even that will rupture your short attention span, take a look at an illustrated and abbreviated adaptation of the report by Insider.com, which says "we hired the author of 'Black Hawk Down' and an illustrator from 'Archer' to adapt the Mueller report so you'll actually read it."
Here's hoping that at Monday night's meeting, now that our City Council members are back from events in Heidelberg, Venice, Paris, and Honolulu, they'll take some time to Think Local. If you can take time off from your day job to fly around the world as a City Council member, you surely can take time off to squat on WeHo's sidewalks or grab a table in Starbucks to meet some of those homeless people who aren't screaming on the streets. Or to do a walk through Plummer Park with some of its neighbors to see the drug paraphernalia up close. Or stick your head into one of the Asian massage parlors and say hello.
Yes, yes, we acknowledge that the homeless and the massage parlor workers don't vote. But remember: You represent all of us, not just those who do. And certainly not residents and voters across the state and nation and outside our city limits. Just Think Local, please.