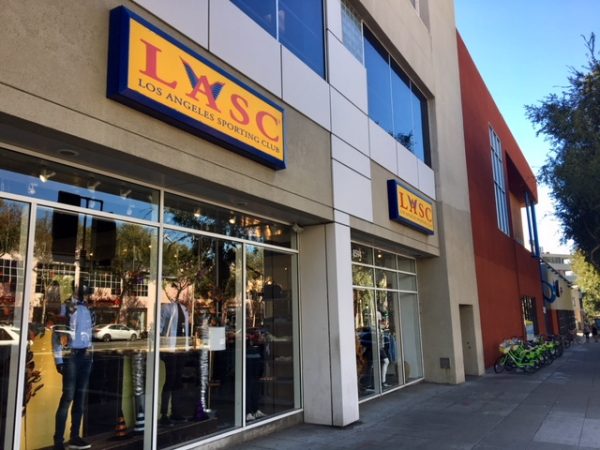 Long before there was a Shake Shack or PUMP, before the Abbey or the very first White Party, before Sprouts, Whole Foods, Gelson's or Pavilions, before the Red, Green and Blue buildings, there was the Los Angeles Sporting Club — opened on March 12, 1984, while Ronald Reagan was still in his first term of office and the Olympics were on the way to L.A. The Sporting Club was born before there was a City of West Hollywood. Otherwise, it might have been called the West Hollywood Sporting Club!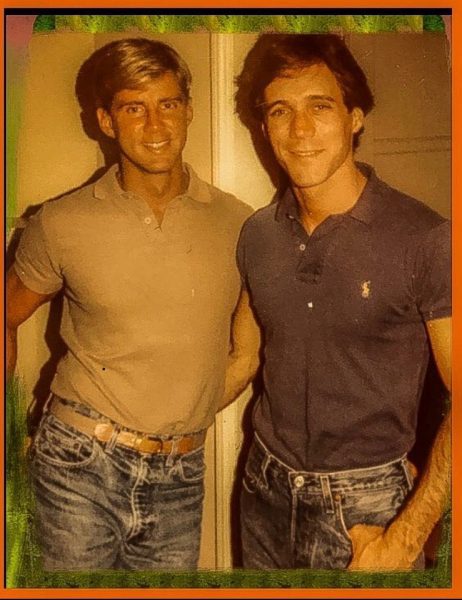 The owners, Don Zuidema and Mike McGinley, met just after college in Washington D.C. Together they migrated out west and planted their roots near the Sherman Railyards. They have been together for 43 years. Their original shop was located inside the old Sports Connection gym. Mike was an active swimmer and the first Sporting Club featured the best brands for the competitive swim customer along with gym necessities.
During those years I lived on the East Coast and owned retail shops in Manhattan and New Jersey. The biggest trade show in our industry was and is called MAGIC, which stands for the Men's Apparel Guild in California. Twenty-five years or so the MAGIC show moved to Las Vegas, but in the 80's all the buyers nationwide would swarm the West Coast to shop fashion trends.
On my first trip to MAGIC, I followed fellow vendors to the retailers they were looking to for influence. We stayed at the LeParc hotel and our first stop was Fred Segal and then International Male and then shops along Santa Monica Blvd and Melrose. The new Sporting Club had opened at the corner of Robertson and Santa Monica and many gay-owned and gay-oriented shops lined our West Hollywood gayborhood. Among them were International Male, the Sporting Club, All-American Boy, Transport, NY Jock, Aaah Men and later my first shop, Oscar's Wilde, at the new Bottega Louie location. Other neighborhood-serving businesses lined Santa Monica such as Marvin's Pharmacy, the Greenery and Hilldale Café, Dukes at the Tropicana, and of course Greenwich Village Pizza, where Emma is still behind the counter today almost 40 years later.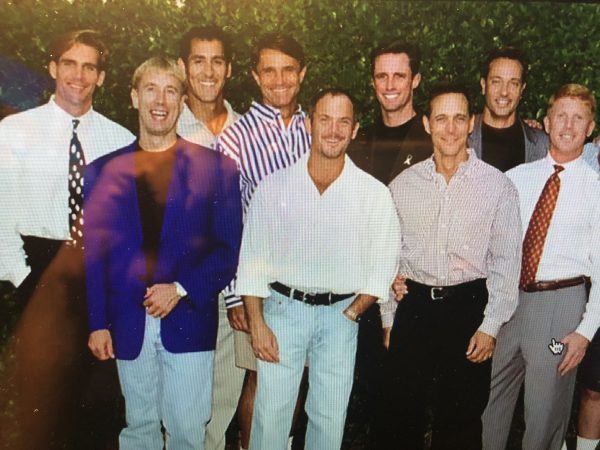 There were also a few people who owned a majority of the real estate in the gayborhood. When we talk about cause and effect in the decline of the gayborhoods think of this — in one corner we had the activist Jeanne Dobrin fighting against the city issuing too many liquor licenses, and in the other corner, there was the City Council approving almost every change-of-use request that came before it. Jeanne slugged it out year after year over many changes of use that resulted in an extraordinary number of liquor licenses being issued. Jeanne fought to keep liquor licenses limited and protect the neighborhood-serving businesses. The Council voted time and time again to allow almost any business to pay for parking credits and convert to a bar or restaurant. Landlords reaped the benefits. Today West Hollywood has more liquor licenses per square mile than any other city in California. The gayborhood became the drinking and dining district.
Since the '80s my life ran parallel to that of Don and Mike. Don gave me a shot when I was a sales rep for Gazelle swimwear, and when I started a new line called YMLA he gave us a shot then too. It wasn't too long after YMLA took off that Sporting Club became LASC. Often time's people confused us. But in all my dealings with Don over the years he has always been honorable, a stand-up guy, fair, honest and warm. He is wise and calm and gentle and kind-hearted. I never felt like my shop or our wholesale lines competed with each other. Day-in and day-out my staff have sent customers to LASC and day-in and day-out LASC has told its customers about us. LASC has been the pillar of the West Hollywood style and a compassionate community-serving business for almost 36 years. Few other entities can hold a candle to their contribution to the city and community of West Hollywood.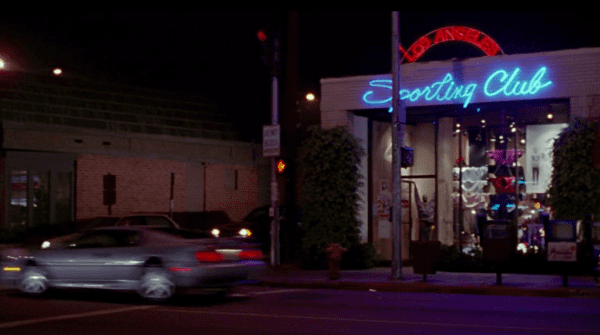 You might recall the famous movie "Pretty Woman" starring Richard Gere and Julia Roberts. In one scene he picks her up in Hollywood and jets down Santa Monica Boulevard on the way to the Beverly Wilshire hotel. The greatest moment of that movie forever etched in history is when the Sporting Club neon sign at the northeast corner of Robertson and Santa Monica appears in the background. Our 'hood was in the movies! The Sporting Club was iconic!
Don always did a tremendous amount of community service. He did more than can be explained and operated quietly supporting community activities. Trophies lined the store windows showing support for local gay sports teams. It also was an honor to work side by side with Don as part of the Labor Day LA Foundation back in the '90s. Labor Day LA would raise money for local social service organizations fighting the AIDS crisis. In 1999 I had the reigns and, with Don as treasurer, we raised and handed out over $100,000 in small grants to many local social service organizations including LA Shanti, APLA, Project Angel Food, Aunt Bee's Laundry and so many more. Standing with Don on that day was one of the greatest days of my life.
The day prior to learning LASC was closing I texted Don for help with WeHo Wish and our first fundraiser. Our new non-profit just launched and the goal is to mirror the success of Labor Day LA, but targeting individuals in need as opposed to non-profits. Don was my first text to get local businesses to rally support. He wrote back "in a store meeting will touch base tomorrow." The next day the news came out that LASC was closing, and I've not felt the same since. Shock turned to sadness, and it feels as if we are losing something that can never be replaced.
Don Zuidema is one of the most important people in West Hollywood. Don serves on the Chamber of Commerce as chair of the WeHo PAC. I believe Don was Brian Pendleton's first call to start the Resist March. Over the years Don's influence and commitment to the City of West Hollywood cannot be measured.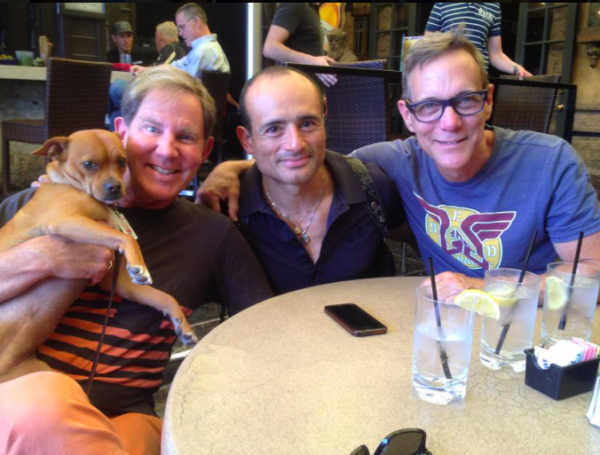 Don and Mike are also among the pioneers of the modern gay family. Twenty one years ago they were joined by Alfredo Izaguirre, who has been the general manager of the LASC shop ever since and is also their life partner. These three men have served our community together with heart and soul. LASC has been the pillar of our gay life and everything we celebrate.
The gayborhood was built around LASC. Don and Mike and crew were leaders in every major community affair. They organized the annual Pride viewing party on the roof. Halloween, White Party and Red Dress, Toy Box and so many others — LASC was all things community. Thirty-six years of serving us with honor — giving our community a piece of themselves, dressing us in our favorite attire, helping many new kids get settled with their first job.
I'm told of one employee who had just come out west with no money who was forced to live in his car. Mike bought him a gym membership so he could shower and use the locker room. Another employee tells the story of living in their pool house until he found a place to rent. There is story after story of employees who could count on Don and Mike and Alfredo to see their way through personal issues, and things like the AIDS crisis while having an employer to count on. LASC offered so many people a space to work where they could be themselves.
My first date with a guy was a Sporting Club employee Gene Hubert. My second date with a guy who was a former Sporting Club employee became my first husband, Ron Whitney. Managing our kind of business has special challenges, and LASC set the standard.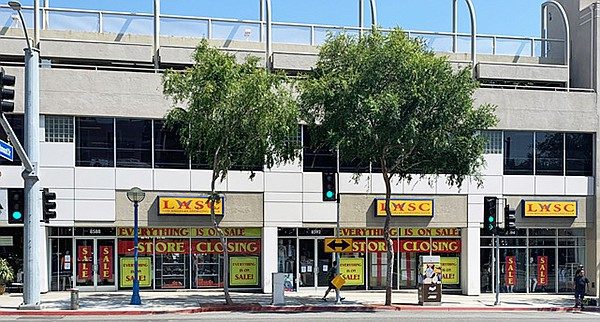 There seem to be many things that led to their decision to close LASC. Michael Talla is the owner of the property from Westbourne to West Knoll that houses everything from 24 Hour Fitness on the west to the soon-to-open Sprouts on the east.  It's a matter of public record that almost a year ago an application for five cannabis licenses was submitted to City Hall with the LASC address for the applicant and Don Zuidema listed as the social equity partner.  I'm guessing the cannabis licensing process instigated some thoughts about new possibilities for that location with everybody in an eligible location trying to get a piece of the bud.  
So it seems many things contributed to the decision of Don, Mike, and Alfredo to turn the page to a new chapter of their life.
For me, it's been hard to digest the loss of LASC. It's been even harder to accept that our gayborhood now is just a memory. It feels like West Hollywood has outgrown its roots. And I feel like one of the last soldiers to stand on the field of dreams before we all become extinct.
That said, it is important to mention that while our gayborhood is shrinking, new Pride parades adorn small cities from Garden Grove to Tampa. It's a new day. It's a new life. I understand its time to turn the page. But LASC has been a very special part of the fabric and culture of West Hollywood.
Thank you, Don. Thank you, Mike. Thank you, Alfredo. Your impact has been enormous and our community will not be the same without you. The gayborhood was built around you. Thank you for the years of service to our city and to our community. Thank you for your friendship and inspiration.
Those were the days my friends, I thought they would never end.