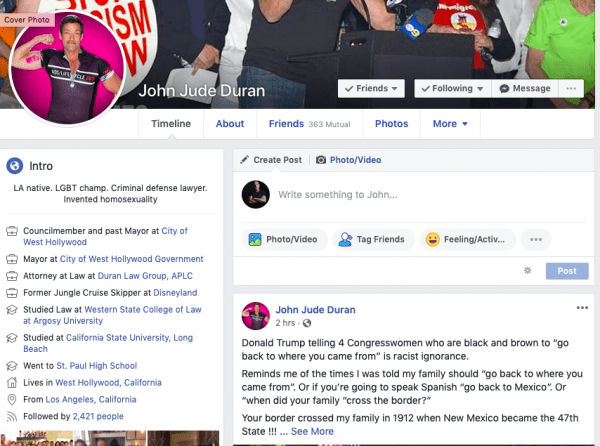 John Duran is no longer the mayor of West Hollywood. Yes, he officially stepped down from that position in March in the midst of controversy over his sexual behavior and his disparaging remarks about fellow Council members. But Duran, to the consternation of a few of his fellow City Council members and a number of local residents, has continued to identify himself as mayor (and the "inventor of homosexuality") on social media platforms such as Facebook, Instagram, Twitter, and LinkedIn.
As of today, Duran identifies himself on all but one of those platforms as "former mayor," an apparent response to a complaint about Duran's misrepresentation of himself that was communicated by Al Strasburg, a local resident, to City Attorney Mike Jenkins.His profile for Sidebar with John Duran, an online radio show, still identifies him as "Mayor John J. Duran."
"It has been reported in local media that the titular mayor of West Hollywood, Councilmember John D'Amico, has referred to you concerns over the ongoing misrepresentation by Councilmember John Duran as the sitting mayor (verb tense matters)," Strasburg wrote in an email message shared with WEHOville. "I join the chorus in objecting to such representations by Mr. Duran and the unseemly behavior he attempts to enhance by this misuse. Among other things, this ascribes the imprimatur of official West Hollywood in his bawdy personal behaviors. This, however, is not the sole reason why councilmembers should, as Councilmember John Heilman has stated, 'always try to be accurate in describing our official position on the City Council'."
Duran is up for re-election to the City Council in November 2020.