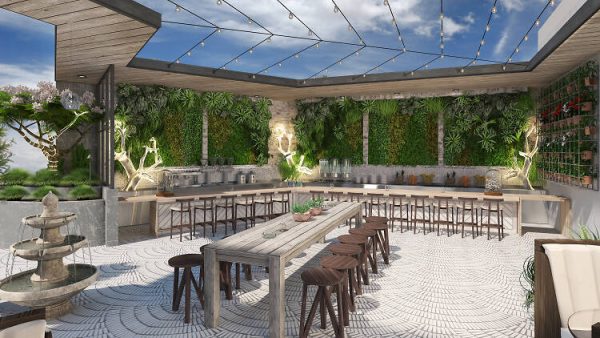 A unanimous vote Tuesday night by the West Hollywood Business License Commission has put Lowell Café on its way to becoming the nation's first cannabis café.
The commission agreed to grant Flore Flora LLC the necessary license to open the cannabis consumption lounge at 1201 N. La Brea Ave. near Lexington. Customers will be able to smoke, vape and consume edible cannabis products on an outdoor patio enclosed with fencing and plants. At its adjacent restaurant, Lowell will offer a menu that includes salads and sandwiches along with coffee and tea and juices. Alcohol will not be served.
Flore Flora must next obtain a state cannabis license, which is not expected to be difficult. Richard Brenner, the chief operating officer of Hugo's restaurant for 18 years, will be the general manager of the café. He said he expects Lowells to open next month.
The city's cannabis ordinance would allow Lowell to operate between 6 a.m. and 2 a.m. the following day. However, the state cannabis law bars the sale or delivery of any cannabis product after 10 p.m.  The license granted Lowell would allow it to be open between 10 a.m. and 2 a.m., with the provision that no cannabis could be sold after 10 p.m.
The commission also approved a license for Pleasure Med LLC, which plans to open a business at 7715 Santa Monica Blvd., adjacent to the Pleasure Chest adult store, from which it will sell recreational and medical-use cannabis, have a lounge where cannabis can be smoked and eaten and operate a delivery service.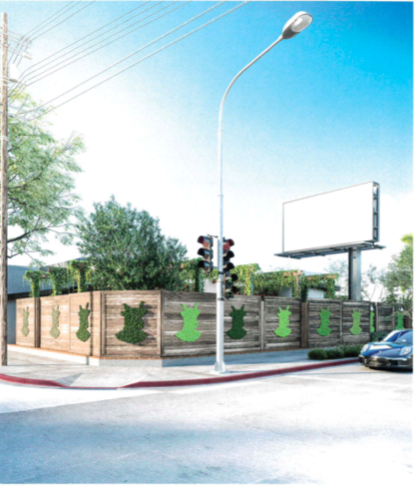 The commission decided to grant the license to Flore Flora despite opposition from Rabbi Denise Eger of Congregation Kol Ami, whose synagogue is on the opposite side of La Brea Avenue. Rabbi Eger said she was concerned that cannabis smoke would drift outside the Lowell Café property and possibly affect Kol Ami's congregation, which includes young children and people in recovery from drug addiction.
John Leonard, who as the city's community and legislative affairs manager has overseen its complex cannabis licensing process, said Lowell Café's business license specifies that no odor generated by the café can be detectable outside the property. Leonard said the café has contracted with an HVAC and filtration company to install air purification systems to absorb odors and it will feature a number of fragrant and odor-absorbing plants as an additional odor-control measure. 
A large number of local residents appeared before the commission to support granting Lowell Café a license, many of them organized by Renee Nahum, a political consultant who Flore describes as the "public face of Flore." Also speaking in favor were Scott Schmidt, who is executive director of AURA, the Adult Use Retailers Association, which represents the city's eight recipients of recreational cannabis licenses, and Genevieve Morrill, president, and CEO of the West Hollywood Chamber of Commerce.
Behind the scenes, Flore Flora has an impressive roster of creators. Hollywood Reporter reports that it was the idea of Sean Black and David Elias, co-founders of the Los Angeles-based cannabis brand Lowell Herb Co.whose pre-rolled Lowell Smokes are sold at over 300 dispensaries. Their partners in the venture include Mark and Jonnie Houston, whose nightclub and restaurant business attracts celebrities such as Miley Cyrus, Jimmy Kimmel, Paris Jackson, Chelsea Handler, Usher and David LaChapelle. MedMen, which failed to qualify for a recreational cannabis license, is said to be an investor in Lowell Herb Co.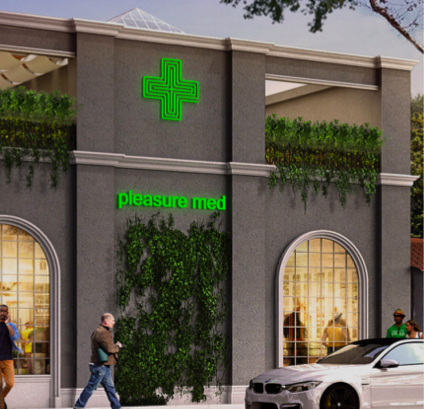 PleasureMed was approved without any objections from the community. It is a project of Brian Robinson, owner of the nearby Pleasure Chest for more than 20 years.  It will feature recreational and medical use cannabis spaces on the first floor of the new building. On the second floor, there will be a lounge where customers can consume cannabis products. PleasureMed also will deliver cannabis products to customers within a 10-mile radius. A staff report to the Business License Commission describes PleasureMed's interior as "designed to create a museum-like setting with high ceilings, decorative beams, crawling greenery and ornamental arched windows."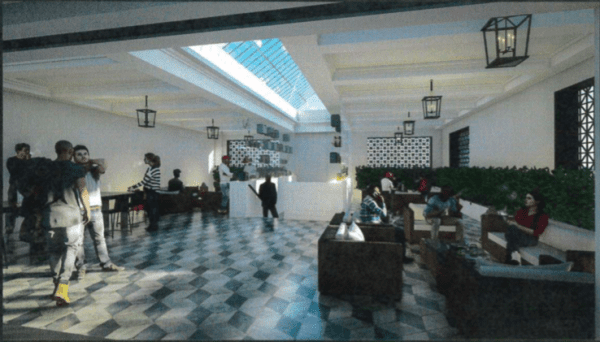 John Leonard said he expects other winners of licenses to come before the Business License Commission next month. The city has approved eight cannabis licenses in each of five categories  — recreational sales, medical use sales, delivery, smoking and vaping lounges and edible product lounges, with some applicants like Pleasure Med LLC being granted licenses in multiple categories. To open, the licensees must secure a location for the business and then obtain the appropriate planning permits from the city's Current and Historic Preservation Planning Division, affirming that the proposed use is permitted within the zoning for the property. After obtaining planning permits the licensees have a hearing before the Business License Commission in which the commission will approve or deny issuance for the business license and set any necessary conditions on the business. Then each licensee must obtain a license from the State of California.