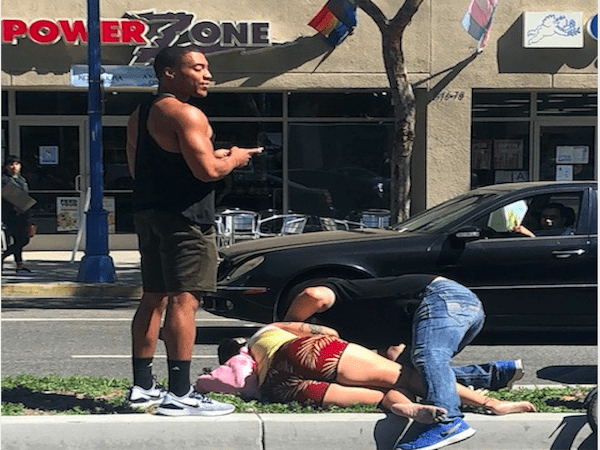 Local residents were alarmed this afternoon to see a woman riding a Wheels electric bike who appeared to have been hit by a car on Santa Monica Boulevard.
However, the West Hollywood Sheriff's Department has confirmed that she actually fell off the bike while crossing lanes on Santa Monica in front of the soon-to-open Sprouts store and then moving quickly to avoid being hit by a car.
The woman, who is said to be okay and whose identity has not been revealed, was riding the latest brand of electric vehicle to be found on the streets and sidewalks of West Hollywood.
The Wheels electric bike in some ways is more of a competitor with the Byrd and Lime electric scooters than it is with the Jump electric bike. That's because the Wheels pedals don't actually move, they just give you a place to rest your feet while sitting on the seat and having the engine spin the wheels forward. Jump requires at least a modest bit of pedaling.
While you can ride your bicycle on the sidewalk if there isn't an adjacent bike lane, it's not legal to ride a Wheels vehicle or an electric scooter or bike on the sidewalk in West Hollywood. The City Council took a final vote to enact the ban on electric bikes on sidewalks at its meeting last Monday.
Wheels, which is headquartered in West Hollywood, was co-founded by Jonathan and Joshua Viner, brothers who founded the popular dog-walking app Wag. Their electric "bikes" join electric scooters as "last mile" vehicles in a city and region dominated by automobiles. West Hollywood in June 2018 enacted a ban on electric scooters, which one cannot rent from a sidewalk within the city limits. However, like electric bikes, they can be easily rented on sidewalks on Melrose Avenue and La Brea Avenue on the city's boundaries and ridden into West Hollywood.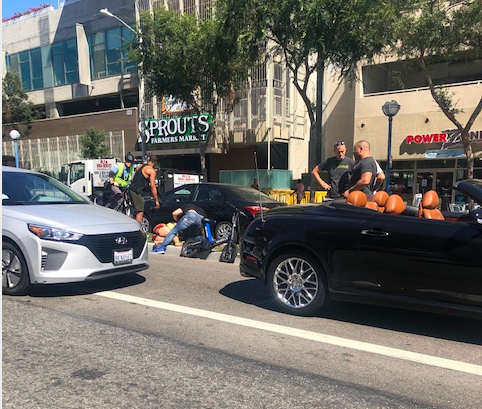 Eric Jon Schmidt told WEHOville that he observed the woman riding the Wheels vehicle in the middle of car lanes on Santa Monica Boulevard all the way from the Target store on the city's Eastside. "She was right in the middle of car lanes and weaving between cars," he said. … She didn't have a helmet on."
The incident is likely to add some heat to the debate in West Hollywood about what to do about so-called "last-mile" vehicles. Some residents want to find ways to ban them entirely. Others want to find ways to accommodate them safely.
The city has banned the renting of dockless electric scooters in West Hollywood, although they can be rented just outside the city limits in places like Melrose Avenue and ridden into the city. The City Council in March approved an 18-month pilot project that will allow a limited number of dockless bikes to operate in West Hollywood. The city has issued a request for proposal from dockless bike companies. That project replaces the WeHo Pedals program, which involved bicycles docked at particular sidewalk stations that could be rented using a mobile phone app.