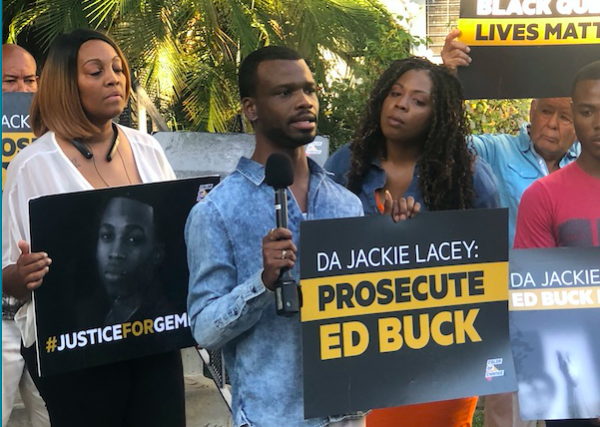 The mother of Gemmel Moore and a small group of his friends and local activists rallied outside 1234 N.  Laurel Ave. this evening to commemorate the second anniversary of the young man's death of a drug overdose in the apartment of Ed Buck
Speakers at the rally focused on an earlier decision by Los Angeles District Attorney Jackie Lacey not to prosecute Buck for Moore's death. Speakers also said that the death of Moore and the subsequent drug-related death in Buck's apartment on Jan. 7 of Timothy Dean, 55, another African-American man, has done damage to West Hollywood's reputation as a progressive city. Dean's death has prompted a new investigation into his death and that of Moore by the L.A. County Sheriff's Department's Homicide Bureau.
Moore, then 26, was found dead of a methamphetamine overdose in Buck's apartment on July 27, 2017. Buck, a 65-year-old white man, is an animal rights activist who helped push through a ban on fur sales in West Hollywood and has been a consistent donor to Democratic Party politicians in West Hollywood, Los Angeles County, and California. 
LaTisha Nixon, Moore's mother, flew from her home in Texas to attend tonight's rally. Nixon said she would not stop pushing for prosecution of Buck in the death of her son.
Nixon and other speakers criticized District Attorney Lacey for her initial refusal to prosecute Buck. Lacey said investigators found insufficient evidence to ensure a conviction.  Buck is said to have paid Moore, a young sex worker, to fly from his mother's home in Texas and come to his apartment. In Moore's journal, found in Buck's apartment, he writes that Buck introduced him to methamphetamine and had injected him with the drug. Those are allegations that Seymour Amster, Buck's attorney, has denied. Amster has said that Buck was a friend and mentor of Moore's who has tried to help him.
Jasmyne Cannick, a communications and public affairs strategist who has been a leader of the two-year campaign to have Buck arrested and prosecuted for Moore's death, likened the matter to the sex scandals involving Hollywood kingpin Harvey Weinstein and Jeffrey Epstein, who is under indictment for having sex with underage girls.
Nana Gyamfi, a lawyer who is representing Nixon in a civil suit against Buck and Attorney General Lacey, criticized the Sheriff's Department for not arresting Buck despite a report from the Coroner's Office that more than 20 drug syringes were found in Buck's apartment as well as a cabinet that appeared to contain illegal drugs and drug paraphernalia. "This man has committed felony murders two times," Gyamfi said.
"This is a Trayvon Martin situation on steroids," she added, referring to the 17-year-old African-American high school student who was shot and killed while visiting his relatives in a community in Florida by a man who was not convicted when he claimed the shooting was an act of self-defense.
Hussain Turk, the lawyer representing Nixon in her lawsuit against Buck and D.A. Lacey, was one of several speakers who called out the deaths for their damage to West Hollywood's reputation. "West Hollywood just celebrated Pride last month, but this city has nothing to be proud of," Turk said.
Jerome Kitchen, a gay African-American man who was a friend of Moore's, and West Seegmiller, who works with the Sex Workers Outreach Project, also said the incidents at Buck's apartment have damaged West Hollywood's reputation.
"West Hollywood has continued to go about its life and business as usual while this continues to go on," Kitchen said, alluding to allegations that Buck has continued to solicit young black men for drug-related sexual encounters.
A coalition of 41 LGBTQ and other groups – including the National Black Justice Coalition, National LGBTQ Task Force and American Civil Liberties Union of Southern California — has called for an aggressive investigation into the deaths of Moore and Dean and for an independent review of action by the Los Angeles County Sheriff's Department and the District Attorney's Office in both situations.
Tonight's rally featured 16 people, almost all African-American, carrying signs condemning Buck and Lacey while standing just below Buck's second-floor apartment, whose windows were covered with cloth. It was not clear whether Buck was there although his air conditioner was running. While John D'Amico, Lindsey Horvath and Lauren Meister have appeared at earlier rallies, none of the West Hollywood City Council members attended tonight's anniversary rally.