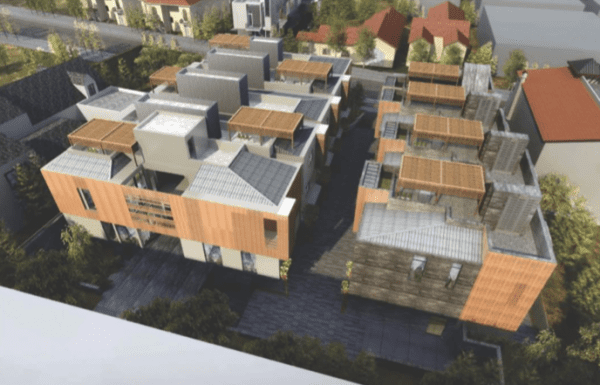 A new development is proposed for 917-927 N. Hilldale Ave. that will include nine two-story townhouses.
The development, dubbed the Element, is a project of ANR Signature Collection of Culver City, whose owners are Agustin Rodriguez and George Jordan. It will replace an existing two-bedroom, two-bath house at 917 Hilldale and a building with three apartment next door.
A listing on the real estate site Zillow quotes a price of $6 million for the three parcels, which cover 18,826 square feet.
The project was presented to the Planning Commission's Design Review Subcommittee last Thursday. Gwynne Pugh, the city's urban design consultant, praised the design of the project, which is the work of Ric Abramson of WorkPlays, a well-known local architect. "This project will be an asset to the neighborhood with its well-crafted design and will be an asset to the neighborhood and the city as a whole," Pugh said in a report to the Design Review Subcommittee.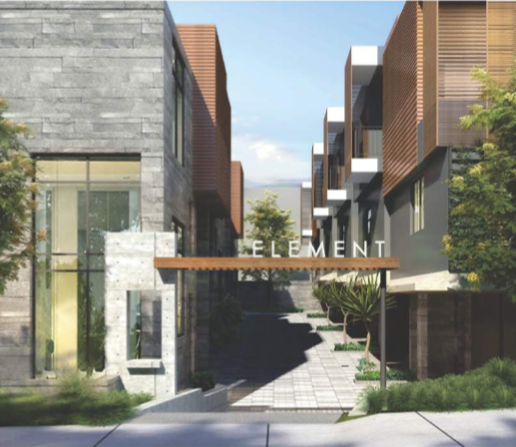 "The site is organized with a bar of five townhomes arranged along the northerly portion of the site and four townhomes along the southerly portion of the site," says Pugh's report. "There is a driveway located down the middle. In addition, the two end units for the each of the bars has a primary entrance located off the street. The remaining units are accessed by a side yard walkway at the northerly property line and southerly property line."
Each of the townhouses will have two below-surface parking spaces that will be accessed from a central driveway that dips down from the street level. Each also will have a roof deck with a canopy.
ANR is seeking a variance from the city's existing zoning code that would allow it set the buildings fronting Hilldale back by 13.6 feet from the street and from the rear of the lots.
The project will go before the Planning Commission at a future meeting for final approval.