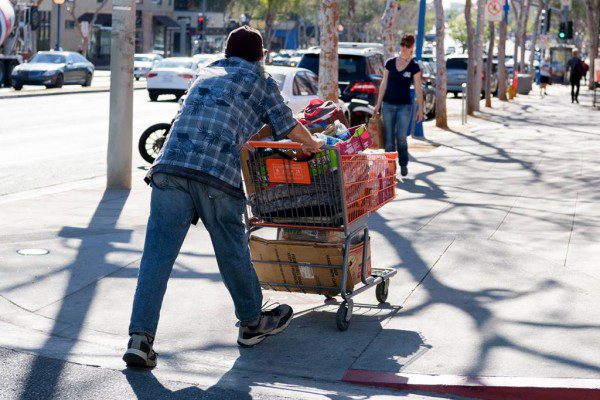 The Los Angeles Homeless Services Authority's on-street survey conducted Jan. 22-24 shows 131 homeless people were identified in West Hollywood, a 31% increase over the 100 homeless people counted in 2018.
That compares to a 12% increase in all of Los Angeles County, where 58,936 homeless people were identified. That count doesn't include Glendale, Long Beach and Pasadena, which do not participate in the annual countywide survey but conduct their own count.
The point-in-time survey identified 100 homeless people in West Hollywood in 2018 and 105 in 2017, a number that has grown substantially since 2015, when it totaled 54 people.
The January count found 111 homeless people living on the streets. Another 12 were living in cars or vans or campers, and eight were living in tents or other makeshift spaces. The count doesn't include homeless people who might be sleeping on the couches of friends or acquaintances.
The City of West Hollywood has created a homelessness initiative to deal with the growing issue. That initiative includes outreach teams with Sheriff's deputies and people who can help address mental health and substance abuse issues. The outreach teams offer access to shelter, substance abuse treatment, health care, mental health services, and housing opportunities. They also provide assistance such as food and hygiene kits, as well as blankets, socks, and other emergency supplies.
The L.A. County Sheriff's Department's Mental Evaluation Team has housed some of its staff members at the West Hollywood Station. That makes it easier for Sheriff's deputies to effectively respond to an issue involving a homeless person who apparently is mentally ill.
In January, the city announced that it was the recipient of $300,000 in Measure H funding for a study of city-owned and alternative sites for bridge and permanent housing. Measure H raised the county sales tax by .5% to provide services and programs to help the homeless.
Currently, homeless local residents who seek city help are placed in temporary housing operated by city contractors such as Ascencia and Step Up on Second, which offer multiple services. Ascenia has housed 50 formerly homeless people from West Hollywood and Step Up on Second has housed 28. They include chronically homeless people suffering from severe and persistent mental illness, which make the barriers and challenges in bringing people into service and housing even greater. Tarzana Treatment Center has provided drug and alcohol detox services and shelter to 22 homeless West Hollywood residents. McIntyre House has assisted 35. NCJW/LA and the Alliance for Health & Healing have assisted residents having difficult paying their rent.
However, some homeless people have declined such assistance because it would house them far outside the City of West Hollywood in cities such as Glendale and Tarzana.
Residents who are concerned about a person who is homeless are asked to the West Hollywood Homeless Initiative Concern Line at (323) 848-6590. If your concern requires time-sensitive assistance during nights or weekends, call the West Hollywood Sheriff's Station at (310) 855-8850. For additional information, please visit www.weho.org/homeless.