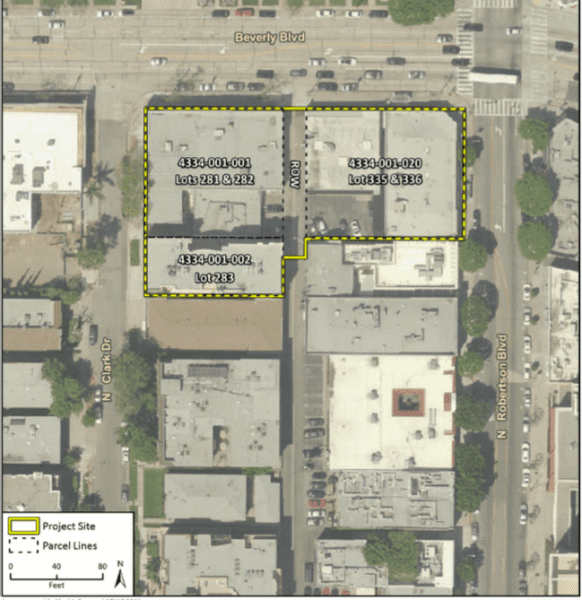 The subject of a neighborhood meeting on Aug. 13 as publicized by the City of West Hollywood is the demolition of existing buildings at 8816 Beverly Blvd. and replacing them with a mixed-use building with retail space, a restaurant, and a medical office.
But that doesn't begin to tell the story. A "notice of preparation" that a writer for LAist.com discovered posted on the city's website reveals that the proposed building will be a 10-story "Cancer Center" developed by Faring, which previously had proposed building a 130-room hotel on the site. 
The 10-story building proposed for the site would contain approximately 271,000 square feet of medical offices and research space, street-fronting retail space, and 346 parking spaces in four subterranean levels. The proposed building would be up to 148 feet in height above grade (up to 163 feet in height when including accessory rooftop structures such as elevator overruns and rooftop mechanical equipment) on the eastern part of the site. On the western portion of the site, the building would be tiered in height from two stories to four stories with roof heights from 32.5 feet to 61.5 feet. 
The building, located just west of Cedars-Sinai Medical Center, would include a cancer screening, treatment and research facility on levels two through eight and restaurants on levels nine and ten. The ground floor would feature retail space, outdoor dining and a showroom that incorporates and preserves the existing one-story Ray and Charles Eames-designed showroom ("Eames Building"), formerly occupied by Herman Miller, at 8806 Beverly Blvd. That building has been designated a cultural resource.
The project would require the demolition of the one-story commercial building at 157 N. Robertson Blvd. at Beverly Boulevard, which currently is occupied by the Michael Aram retail store.  Also demolished would be the one-story commercial building at 8816 Beverly Blvd., currently occupied by Poliform and Hamilton Rugs retail stores, and a four-story residential building at 146 North Clark Drive with apartment that is adjacent to the Poliform/Hamilton Rugs building.
A city study of the project, prepared in collaboration with Rincon Consultants, says the project would qualify for a streamlined approval under Senate Bill 743, which does not require a study of the aesthetic and parking impacts of a mixed-use building, residential or employment center constructed in a "transit priority area." A TPA is defined as a site located within a half-mile of a major transit stop. The site qualifies as that because there are four Metro bus routes (Routes 14, 16, 17, and 316) with adjacent stops every 15 minutes or less during morning and evening commute periods. 
"Construction is anticipated to occur over approximately 30 months, pending approvals by the City of West Hollywood.  A timeline has not been announced," the Rincon report states.
Residents are invited to attend a meeting about the project on Aug. 13 that will take place from 6:30 to 8 p.m. at the West Hollywood Library Community Meeting Room, 625 N. San Vicente Blvd.