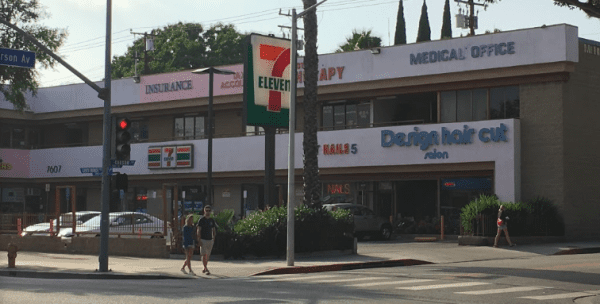 UPDATE (Aug. 7, 2019; 7 a.m.) Donny Cacy, the long-time manager of the 7-Eleven store at 7609 Santa Monica Blvd. has told WEHOville that the clerk who was assaulted at the store on Tuesday has been released from the hospital. Cacy said the clerk was assaulted by an apparently intoxicated man who declared that he was angry with his girlfriend. The man left the store after the assault but returned 30 minutes later to look for his watch, Cacy said. At that point he was arrested.
A clerk at the 7-Eleven store at 7609 Santa Monica Blvd. at Curson was seriously assaulted early this morning and was taken to Cedars-Sinai Medical Center for treatment.
Sgt. Angel Fisher of the West Hollywood Sheriff's station said there is a suspect in custody now. Fisher said that a second clerk at the store was able to identify the suspect as the assailant. The identity of the clerk or the person in custody has not yet been released.
The incident is said to have happened in the early hours of this morning, approximately 5:45 a.m., with residents reporting a cluster of fire engines and Sheriff's vehicles in the parking lot in front of the 7-Eleven, which also serves adjacent businesses such as a hair salon, a dry cleaner, and a medical office.  The 7-Eleven is managed by Donny Cacy.
WEHOville was unable to reach Cacy, but the manager on duty initially refused to discuss the incident and then lied multiple times, saying he would connect WEHOville with the 7-Eleven corporate human resources department and then hanging up.
Safety at the 7-Eleven convenience stores on West Hollywood's Eastside has been a major concern since Sept. 2, 2017, when a man named Kisu Brown attacked another customer with an axe at the 7-Eleven store on 7950 Santa Monica Blvd. at Hayworth. Brown had been confronted by a clerk for shoplifting. Another man in the store offered to buy Brown the items he was apparently trying to steal. After a struggle, Brown left the store and waited outside until the man stepped out, at which time he attacked him with an ax and struck him repeatedly including on the head. Brown entered a no contest plea in April to one count of attempted voluntary manslaughter. On Oct. 7, 2017, an apparently homeless man was found dead in a car in the parking lot outside that 7-Eleven. Area residents have said it is a site where homeless people cluster.
At its meeting Aug. 13, the City of West Hollywood's Business License Commission will be presented with a six-month update by the Code Compliance Division on the impact of a decision by three 7-Eleven convenient stores in West Hollywood to share a roving uniformed security guard. That guard monitors the three stores between 10 p.m. and 6 a.m.
"Code Compliance staff has conducted multiple inspections of the three 7-eleven stores and have found that each store is in compliance with the approved conditions," says a report to the commission from Code Compliance. "After the last hearing, the 7-Eleven stores have retained a new security company that has established new procedures to enhance their line of communication with the store clerks. The new security guard maintains a log sheet at each store to track their inspections and are actively discouraging panhandlers from their store fronts."
The report says that the West Hollywood Sheriff's Station has "reported no major or unusual problems at any of the three different store locations since the last review on May 7, 2019."