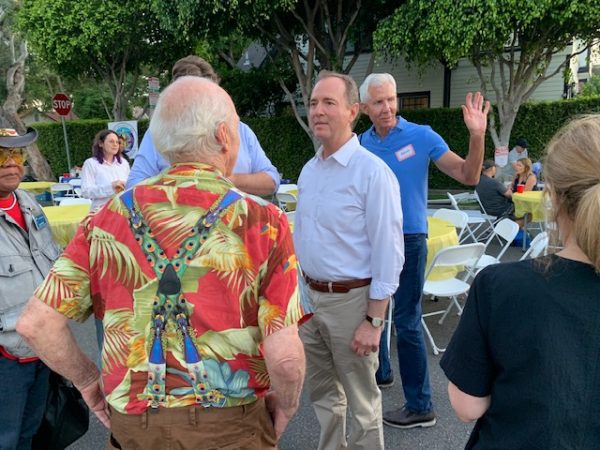 Last night in the middle of a cozy cul-de-sac on a warm summer evening, Rep. Adam Schiff (D-CA) shook hands and posed for photos with adoring constituents. Mayor John D'Amico made a brief speech. City Council members John Duran, Lauren Meister and John Heilman mingled with attendees and joined in the fun.
Welcome to WeHo West's version of National Night Out, the nationwide public safety campaign that occurs each year on the first Tuesday in August. There was one goal: Foster community and conversation between law enforcement and residents.
Taking place at the intersection of Sherbourne and Ashcroft streets between 6 p.m. and 8 p.m., traffic along San Vicente Boulevard raced by only several feet away.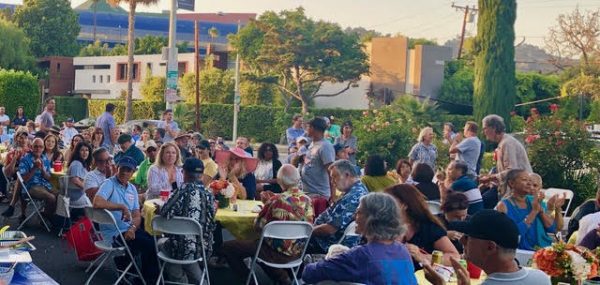 Jasmine Duckworth, community affairs coordinator with the City of West Hollywood, said it was one of eight such events in West Hollywood alone. Across the country NNO produces thousands of gatherings attracting millions, according to its website.
Just after 6 p.m. about 80 people stood in line for food or sat at one of ten round tables adorned in yellow tablecloths and surrounded by folding chairs. Colorful flower arrangements donated by The Empty Vase made gorgeous centerpieces. Attendees ranged in age from early 20s to mid 70s. Some brought their canine friends on leashes.
Schiff appeared relaxed and happy to speak with constituents who expressed their gratitude for his efforts challenging President Trump as chair of the powerful House Intelligence Committee. Wearing a white button down and khakis, he said, "It's nice to come home and see some friendly faces."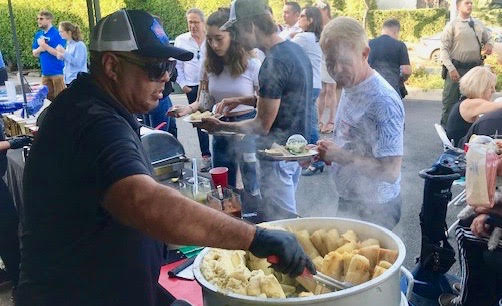 West Hollywood City Councilmember John Heilman sees the event as increasing public safety. "Knowing your neighbors and knowing that they're looking out for you, and you're looking out for them," he said, "I think that gives people a greater sense of security."
Richard Giesbret is president of the West Hollywood West Residents Association, the organization that sponsored the event. "National Night Out is a great way to get people together," he said, "to see each other's faces, be a little more aware."
What does Giesbret hope to accomplish? "If we get 25 more people involved in the neighborhood, contributing throughout the year…that would be wonderful."
At its peak the event attracted more than 200 people, including families with young children. Most appeared very satisfied with the food donated by posh local restaurants, the speeches from law enforcement officials and the raffle prizes given away by FOX 11 anchor Bob DeCastro.
Area businesses like Cha Cha Matcha, Du Vin Wines, Petrossian, WeHo Block Party and Lemonade donated more than a dozen prizes. Items included wine, retail and dining gift certificates, a cookbook, even an emergency survival kit.
Patrick Shandrick, a local homeowner, helped transport the donated food. "The pizza's really good," he said. "Cecconi's pasta, I didn't try it yet. But it looks crazy delicious."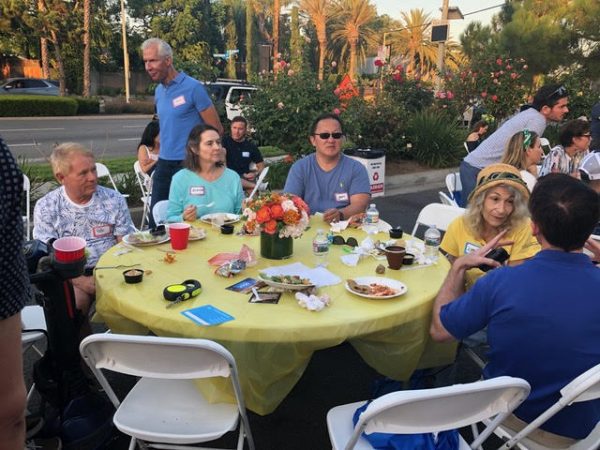 Many easily identifiable groups chatted in small circles or made the rounds to speak with locals. National Night Out volunteers wore grey branded t-shirts and did their best to be helpful. Uniformed Los Angeles Sheriff's deputies, police officers and firefighters, mostly men, engaged in some conversation with residents but often stood in small groups with their colleagues. Los Angeles Sheriff's Department volunteers had walkie-talkies strapped to their waists.
Geisbret introduced Capt. Edward Ramirez of the West Hollywood Sheriff's Department. Ramirez thanked people for coming and emphasized NNO is about partnership between the sheriff's department and the citizenry. "You are the eyes and ears of the community," Ramirez said.
Local restaurants and supermarkets donated delectable edibles guests scooped up quickly. At one point nary a paper plate was to be found so latecomers were out of luck.
Hedley's, Craig's, Taste on Melrose and Trader Joe's, as well as other West Hollywood restaurants and markets donated gourmet dishes for attendees to sample. Items included pasta with pesto sauce, chicken tacos, fruit salad, vegetarian pizza and chocolate chip cookies.
Jalisco's brought "half-pound corn tamales" and "street corn," off-the-cob roasted white corn served with lime slices, mayonnaise and cayenne pepper. Le Pain Quotidian offered open-faced sandwiches with avocado and radish.
Freshly made popcorn was served out of an old-time popper on wheels and painted red. A handwritten sign taped to its glass front warned, "Contains nuts."
Yet food was not all that was on offer.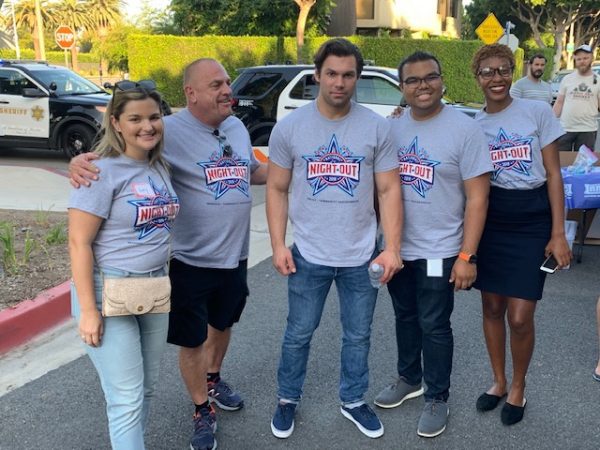 Over at the West Basin Municipal Water District table, public information specialist DeAnn Blackmon distributed flyers describing the utility's mission, branded knapsacks and sunglasses. She wanted to let residents know of rebates available to help them save money on their water bills and to encourage conservation in the age of global warming.
For literary types the Friends of the West Hollywood Library displayed a table of free books. In the Kindle era, they may have gone home with the same number of tomes that they brought.
Still, the event's aim was to build trust and increase communication between law enforcement and the public. Tory Berger, public safety commissioner with the City of West Hollywood, said, "We want people to give feedback…See something, say something. I think that's probably the main goal."