More than three dozen people showed up on the sidewalk near the Equinox gym at 8590 Sunset Blvd. this evening to protest the gym owner's decision to host an expensive fundraiser for Donald Trump at his Southampton estate.
The protestors carried signs condemning Stephen Ross, founder and chair of The Related Company, which owns the Equinox and SoulCycle gym brands, and President Donald Trump, who will run for re-election in November next year. The Washington Post reported on Tuesday that Ross and his wife, jewelry designer Kara Ross, planned to host a fundraising luncheon for Trump. According to the Post "tickets are priced at $100,000 for a photo opportunity (with Trump) and lunch, and $250,000 for the package that includes the roundtable discussion…"
The protest, which took place between 4 and 6 p.m., was organized by Gonzalo Garcia and Adam Bass, both West Hollywood residents. Bass also sits on the city's Planning Commission. It attracted crews from local television stations and reporters and photographers from the Los Angeles Times and the Agence France Press news agency.
A number of those driving by during rush hour honked their horns in support of the protest. Some of the protestors on the sidewalk carried signs calling for members to quit Equinox, a high-end gym where memberships cost several hundred dollars a month, and SoulCycle, which has a studio across the plaza from Equinox. The event got louder and livelier when a man named Harim Uzziel showed up wearing a "Make America Great Again" hat and carrying a Trump banner to protest the protest. Uzziel's Facebook page shows him attending other Trump events and identifies him as "The Hardcore American Patriot." It says he is a Los Angeles resident ofJewish/Latino descent, with his mother a native of Mexico.
As Uzziel marched around condemning the protestors, many of them followed him to shout back. Deputies from the West Hollywood Sheriff's Station were on the scene to monitor the situation, where at one point it appeared blows might be exchanged, however that never happened.
Several Equinox members joined the protestors on the sidewalk outside the gym, and two, who asked not to be identified, said they were giving up their memberships. One Equinox employee who stood outside watching the demonstration and also asked not to be identified, was critical of it. She argued that the gym that employed her had no real connection to Trump. The management of Equinox has issued a statement saying that Ross has no direct control over the entity that owns Equinox and SoulCycle. That claim has been countered by protestors who note that Ross is a majority owner of The Related Company and thus the one who will benefit most from its financial success.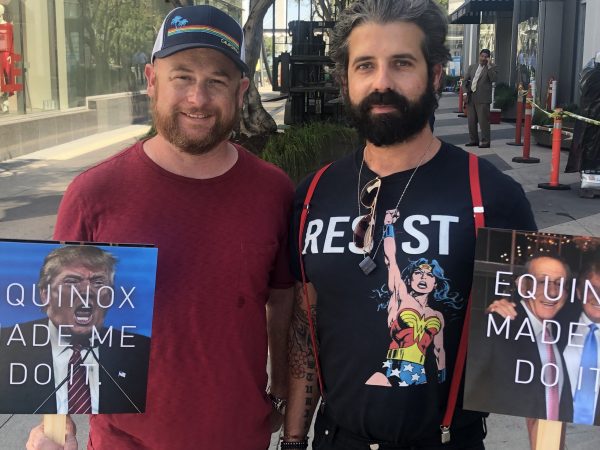 City Councilmember Lindsey Horvath also attended the protest and took to the stage to speak out against Trump. In 2016, Horvath, then serving as the city's mayor, issued a statement that Trump was not welcome in West Hollywood, which drew nationwide television coverage. In her speech at the rally, Horvath called out the recent mass shootings, which some see as a result of the Republican Party's refusal to pass gun control laws, and the confinement of immigrant children on the country's border with Mexico. Both issues have sparked an increase in demonstrations against Trump.
The Equinox protest is one of many examples around the country of protests that are putting pressure on businesses owned by Trump supporters and on politicians who have benefitted from them and from Trump. For example, on Facebook, several West Hollywood residents have criticized the Mani Brothers, a locally headquartered company that owns major West Hollywood office buildings, after a recent revelation that they have donated to Trump's re-election campaign. Some have posted on social media demands that Horvath and three other City Council members (John D'Amico, John Duran and John Heilman) return the substantial donations they have received from members of the Mani family.
When asked about that by WEHOville at tonight's rally, Horvath would not say whether she was willing to return the donations, noting that people like members of the Mani family have the right to donate to Trump or anyone else that they want to. While stressing her opposition to Trump, Horvath also said she was close with Simon Mani, who with his brother Daniel owns the company.