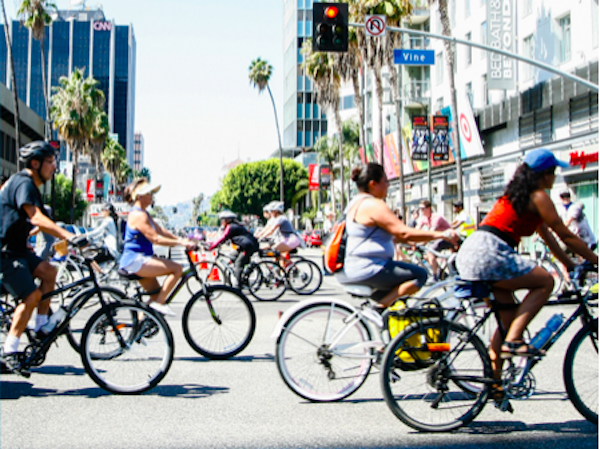 UPDATE: While the CicLAvia event described below will take place between 9 a.m. and 4 p.m., the City of West Hollywood will close that section of Santa Monica Boulevard from San Vicente to La Brea from 6 a.m. to as late as 6 p.m. so that street cleaning crews can do their work. As note below, there are several intersections at which motorists can cross.
Getting around our little 1.89 square mile town without a car? Well, Sunday will be your chance to give that a try.
"Meet the Hollywoods CicLAvia" will connect the City of West Hollywood with L.A.'s Hollywood and East Hollywood communities with a car-free route for walkers and bikers. The 6.5-mile route for this event, presented by the Los Angeles County Metropolitan Transportation Authority (Metro), features stretches of Santa Monica Boulevard, Highland Avenue, and Hollywood Boulevard.
In West Hollywood, Santa Monica Boulevard will be closed to traffic from La Brea Avenue to San Vincente Boulevard from 9 a.m. to 4 p.m. Cars will be able to cross Santa Monica at La Cienega and Crescent Heights boulevards and Fairfax and La Brea avenues.
Along the way there will be hubs that serve as resting and meeting points. Each hub will have free basic bike repair, bike parking, an information booth, CicLAvia merchandise, free drinking water, and ADA-compliant restrooms. Some hubs include additional programming and activities. In West Hollywood the hubs will be at Plummer Park at 7377 Santa Monica Blvd. and outside the Metro bus shelter at 8800 Santa Monica Blvd.
People who feel the need to drive to where they can walk can park in West Hollywood at lots at 617 N. Robertson Blvd. and1044 N. La Jolla Ave. Other lots along the entire route can be found by searching online. And if you don't have a bike of your own, the City of West Hollywood's WeHo Pedals bike sharing program is still in operation (it closes Aug. 3). Click here for a map of bike locations.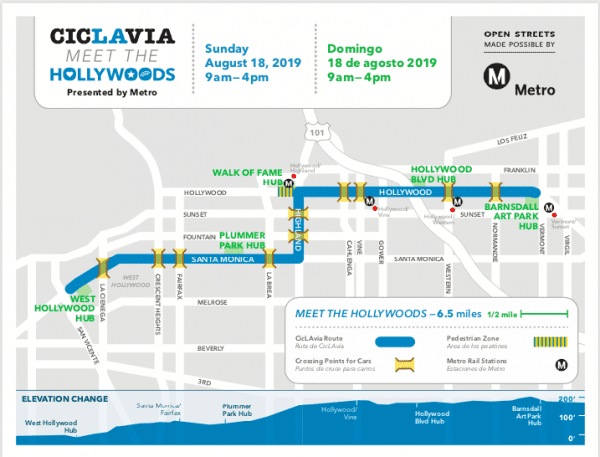 CicLAvia notes that there are gradual inclines along each route and any portion deemed steep will have volunteers stationed to guide participants. While steep and congested areas are usually mandatory dismount zones, participants unable to dismount are not required to do so. The climb will mostly be felt by those riding east from West Hollywood toward Hollywood.
CicLAvia—Meet the Hollywoods will be the fourth of six events this year by CicLAvia, a non-profit organization to promotes public spaces, active transportation and good health through car-free streets.Los Angeles was recently ranked by the American Lung Association as being the nation's most heavily polluted big city – a ranking it has held for 19 years.
"From West Hollywood's rainbow crosswalks to the Hollywood Walk of Fame and Barnsdall Art Park, participants will have the opportunity for a CicLAvia car-free streets experience through the City of West Hollywood and L.A.'s East Hollywood neighborhood — which include Thai Town and Little Armenia — for the first time," says an announcement of the event.
Metro has four rail stations along the route: Hollywood/Highland, Hollywood/Vine, Hollywood/Western and Vermont/Sunset stations. Bikes are welcome on the Metro system, but Metro asks riders to look for and use the designated spaces for bicycles inside the trains and to TAP at the entrance to stations.
"As CicLAvia rolls into West Hollywood, we're overjoyed to be a host city and welcome everyone for this next edition of the tradition," said City of West Hollywood Mayor John D'Amico. "We're already the most walkable city in the region and on funday/Sunday, August 18th we'll be the most bike-able, too."
"While traveling through open streets on CicLAvia Sundays you get a deeper understanding of communities' built and social environments," said Romel Pascual, CicLAvia executive director. "One of the many things that makes CicLAvia special is that even in some of the most famous areas in the world, like those hosting this route, you're likely to learn of a tucked-away shop and talk to people you normally wouldn't have the chance to."