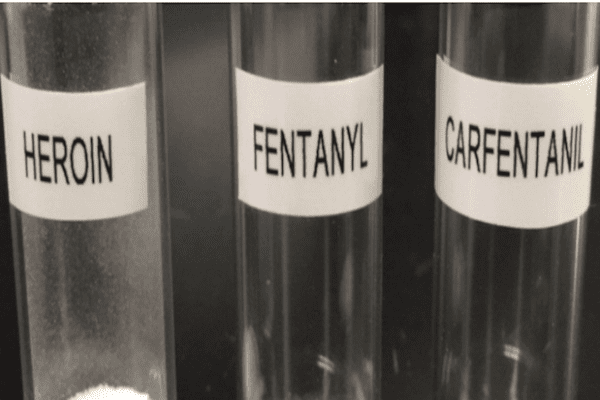 An effort to reduce the harm of illegal drug use in West Hollywood and Los Angeles County is well underway, with thousands of drug testing strips having been distributed in recent months to possible users and a forum scheduled for Thursday that explains how to use Naloxone to revive someone who has suffered a drug overdose.
Since 2013 there has been an evident increase nationwide in instances of fentanyl mixed with drugs such as cocaine and methamphetamine, both popular among some members of the gay community, which is a prominent part of West Hollywood. While the overall number (nine) was low, a review of records from the L.A. County Coroner's Office by WEHOville found that West Hollywood ranked highest among other Westside cities and L.A. County as a whole in the percentage of such deaths in 2018.
Scott Thomas, an outreach specialist in the Addiction Recovery Services unit at the LA LGBT Center says the center has distributed more than 20,000 strips since April. More information about its services can be found online or by calling (323) 993-7448.
Paul-Roy Taylor, clinical psychologist and substance abuse specialist for APLA Health, said his organization also has distributed thousands of strips at its Baldwin Hills, Koreatown, Olympic Boulevard, and Long Beach clinics as well as its Wilshire dental clinic. Taylor said APLA Health also distributed testing strips from its booth at the L.A. and Long Beach pride events and at other events such as DragCon.
Originally intended for urine drug tests, fentanyl testing strips are being used as an off-label harm reduction approach to test the presence or absence of fentanyl and many very closely related drugs explains the Harm Reduction Coalition, an organization that promotes ways to reduce the harm of illegal drugs. Since 2013 there has been an evident increase in instances of fentanyl mixed with drugs such as cocaine and methamphetamine, both popular among some members of the gay community.
Fentanyl, available by prescription to treat severe pain, dramatically increases the chance of a drug overdose given that it is 50 to 100 times more potent than morphine.  The L.A. County Coroner's Office cited fentanyl as the cause of the deaths of two men on May 5 in an apartment on Hacienda Place in West Hollywood. 
The West Hollywood City Council this spring voted in favor of a proposal by Councilmember John Duran that the city help pay for fentanyl testing strips distributed by APLA Health and the Center.
"…APLA Health, the Los Angeles LGBT Center, and other facilities distributing test kits are at the forefront of harm reduction surrounding the opioid/fentanyl epidemic," Taylor said. "I receive calls on almost a weekly basis from all over the country asking about our program. Calls come from police stations, treatment facilities, and individuals from all over the country who are curious about implementation and substance testing. There is definitely a need for this type of service, and it appears to not be met at this time."
Taylor said those seeking testing strips can just walk into any of the APLA locations mentioned above during their operating hours, which can be found online.   At its Baldwin Hills, Koreatown, and Long Beach locations people can consult with one its licensed mental health clinicians about dangers of substance use, harm reduction tactics, and options for treatment if desired. Taylor said APLA Health also is willing to discuss use of the testing strips and other substance use issues by telephone at 323-329-9011.
APLA Health offers kits that contain three testing strip, which allows someone to test three batches of various substances. Instructions for use and a list of locations where the kits are available are included in the kits.  Instructions for using fentanyl test strips also can be found on the Harm Reduction Coalition's website.
"Our goal is that people who need them are able to get them easily; therefore, they are distributed with no questions asked. We don't even need to know a person's name," Taylor said.
"Those requesting the kits are not required to sit for an explanation of consequences. We do not want to introduce any barriers to distribution, and we don't want people to feel as though they will be lectured or judged in order to receive them."
Taylor said the test kits are extremely easy to use, but one thing should be highlighted: "The testing devices are extremely good at detecting even the smallest amount of fentanyl. Testing opioids requires significantly less water during testing (a few teaspoons); whereas any other substances, such as methamphetamine and cocaine, need to be diluted with about 1/2 cup of water. All of this is explained in our instructions. For those concerned about using their substance for testing rather than ingesting, only the smallest amount of the substance is needed, similar to a few grains of salt."
In the event one does overdose, a possible solution may be the drug Naloxone. The Safe West Hollywood Community Coalition is partnering with the nonprofit End Overdose to offer free training tomorrow (Thursday) on administering the life-saving antidote Naloxone to someone who is in danger of an opioid overdose.
The training will take place from 1 to 3 p.m. in the community meeting room at West Hollywood Library, 625 N. San Vicente Blvd. south of Santa Monica. It is open to everyone.