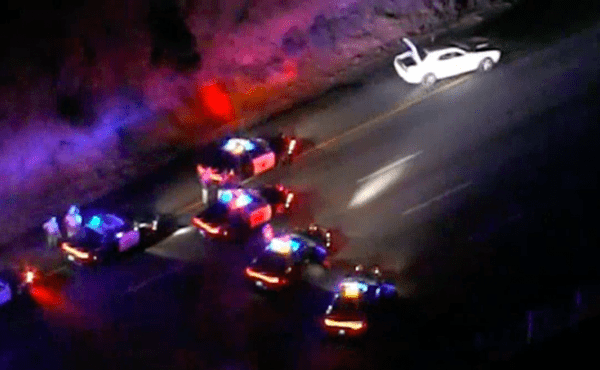 California Highway Patrol officers deployed a spike strip on the northbound Golden State (5) Freeway near Castaic Tuesday evening, ending a pursuit of car burglary suspects that hit
speeds of over 140 mph.
A call was made at 7:37 p.m. to the sheriff's West Hollywood Station about two men smashing a car window in the 8400 block of Melrose Avenue, near Sweetzer Avenue, Deputy Joana Warren of the Sheriff's Information Bureau said.
The white Dodge sedan took off and deputies followed a short distance before ending their pursuit, Warren said. They had responded to a phone call but had no contact with an actual victim, she explained.
A sheriff's helicopter continued to follow the car in "surveillance mode," Warren said.
The CHP took over the pursuit on the Golden State Freeway. The spike strip deployed flattened at least one tire, KCAL9 reported. The pursuit ended about an hour after it started.
Three suspects got out of the vehicle and were arrested. Deputies found a victim of the window-smashing and deputies planned to pick up the suspects in the Newhall area, Warren said.