Members of the LGBTQ community have reacted with outrage to the ejection of two trans women and a gay man from the Las Perlas bar in downtown Los Angeles.
They were there as Bienestar Human Services, the Latino LGBTQ social services organization, was celebrating its participation in this weekend's DTLA Proud LGBT Pride festival. According to people on the scene, a couple at the bar shouted slurs at them, calling them "faggots" and saying to the transgender women "You are all dudes."
The video above shows security staff forcibly removing the transgender women from the war. Reportedly a biological woman who was one of those slurring the transgender women has escorted out without any force.
The Los Angeles Police Department has filed a report calling the forcible removal a hate crime. Meanwhile, dozens of demonstrators gathered yesterday outside Las Perlas, which is located at 107 E. 6th St., to protest the incident.
Las Perlas posted a response on its Facebook page apologizing for the incident and citing steps it was taking to ensure it doesn't happen again. La Perlas also said it was donating all proceeds for its sales on DTLA Proud weekend to Bienestar. This post reads: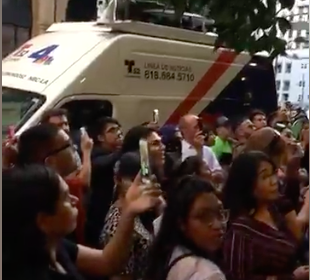 "On Friday night there was an altercation at Las Perlas and our outside security staff removed several patrons from both sides of the altercation. Our first and primary concern, and has been from day one, is to operate a safe place for all people. Period, no exceptions. We regret that didn't happen Friday night, and want to apologize to all of our guests including the Transgender community, a community who has come to our bar as well as works there. We are taking immediate steps to fully investigate what happened on Friday and to address each concern that we've received since then.
"To begin to make this right we commit immediately to the following actions:
"1. We are hiring a new security company for Las Perlas that has received sensitivity training. 

2. We have retained outside counsel to review the tapes and actions from Friday night to make more specific analysis of exactly what happened and how to ensure it doesn't happen again.

3. We are committed to working with the community and we are researching the right partner to help us move forward in the most positive way possible including staff and vendor training.
"This incident is not in alignment with who we are and our intent is to prove this in action and deed, not words and hyperbole. Thank you for giving us this chance."