A shoplifter at West Hollywood's Block Party store threatened a staff member with a knife Monday in what ended up as an eccentric walk down Santa Monica Boulevard until he was arrested at the Santa Palm Carwash at Palm Avenue.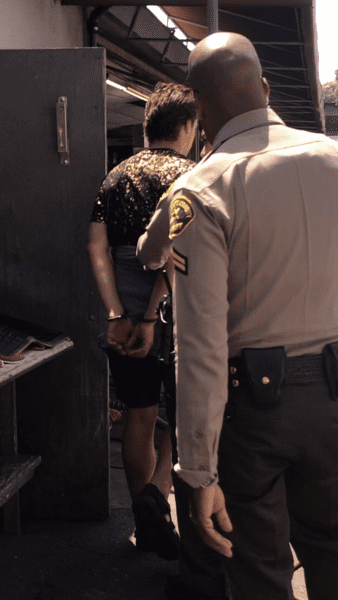 Sascha Sanchez, the sales clerk on duty, said the man had come into the store several times before and had stolen merchandise. Sanchez filed a report with the West Hollywood Sheriff's Station four days ago about the thefts.
Today, at around 1:20 p.m., he returned. When Sanchez asked him to leave because of his earlier thefts, the man pulled a knife on him.
Sanchez's husband, Pawel Majewski, was in the store at the time and pursued the man. Majewski videotaped the man, as shown in the video posted above, as he meanders down Santa Monica Boulevard, at one point stopping to threaten Majewski with a knife. He then enters the Santa Palm Carwash.  Sanchez had alerted nearby Sheriff's deputies who arrested the man.  He currently is in custody on a robbery charge.