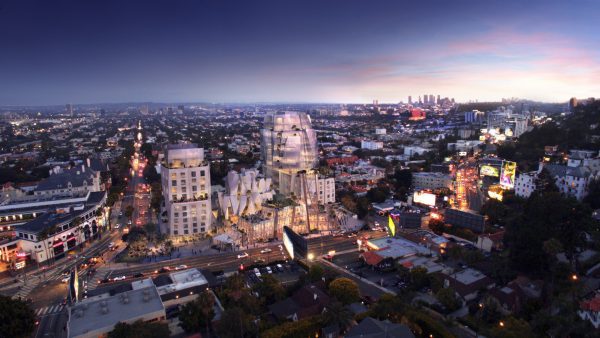 The City of West Hollywood is hosting a community meeting on Thursday to solicit input from residents on a proposal for restricting traffic down Havenhurst Drive from the controversial 8150 Sunset Blvd. project.
The meeting will take place at 6:30 p.m. at the community conference room at City Hall, which is located at 8500 Santa Monica Blvd. at Sweetzer.
The 8150 Sunset mixed-use project, designed by noted architect Frank Gehry, consists of five buildings that include 229 residential units, 38 of which will be set aside as affordable housing, along with 65,000 square feet of commercial space that will include including a grocery store, restaurants, and retail shops. The project is located just outside West Hollywood's city limits.  However, West Hollywood residents have expressed concerns that traffic exiting from the project onto Havenhurst on a driveway that is within the city's limits would create traffic congestion on that residential street. In 2016, then-Mayor Lauren Meister and City Hall staff negotiated an agreement with Townscape Partners, developer of the project, that calls for Townscape to install bollards on Havenhurst that would keep cars exiting the project from turning left and driving into West Hollywood.
At the meeting on Thursday, the city's Department of Public Works will present a plan for installing retractable bollards that would prevent traffic from heading north on Havenhurst and turning into the 8150 Sunset project and from heading south from the project onto Havenhurst. However, because the bollards would be retractable, they could be lowered to permit police, fire and paramedic vehicles to cross Havenhurst.
The City of West Hollywood also struck a deal with Townscape in 2016 that called for reducing the height of development's tallest building, proposed for 234 feet, to 178 feet as measured from the lowest point on sloping site. Townscape also agreed to give West Hollywood $2 million for traffic improvements and more than $500,000 for sewer improvements, since the project will connect to West Hollywood's sewers.