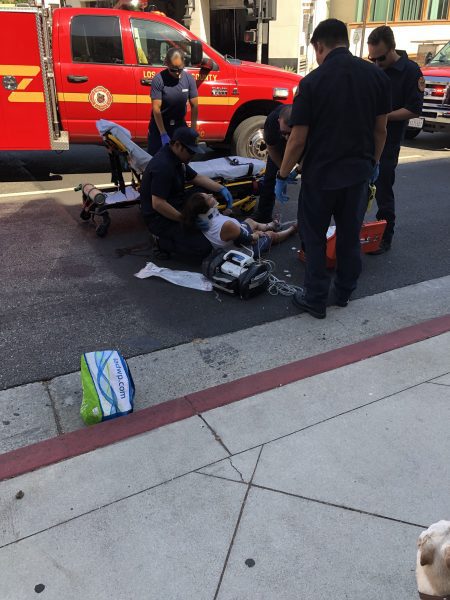 A woman headed to pick up a girl at an elementary school was hit by a truck while in a crosswalk on San Vicente Boulevard at Cynthia Street this afternoon.
The incident occurred around 2:30 p.m. and the West Hollywood Sheriff's Station confirmed that she had been taken to the hospital. At this point her identity is not known nor is her condition.
However, a witness on the scene told WEHOville that she was crossing San Vicente from east to west, with the crosswalk light green. Someone driving a Toyota Tacoma pickup truck west on Cynthia turned south onto San Vicente, apparently without seeing the woman, and struck her.
The witness said the woman was said to be a nanny and, while laying on the sidewalk, was observed calling the father of a young girl she was headed to pick up at elementary school. He arrived shortly after the call.
The watch commander at the Sheriff's Station said the incident is still under investigation and as of yet no charges have been filed.