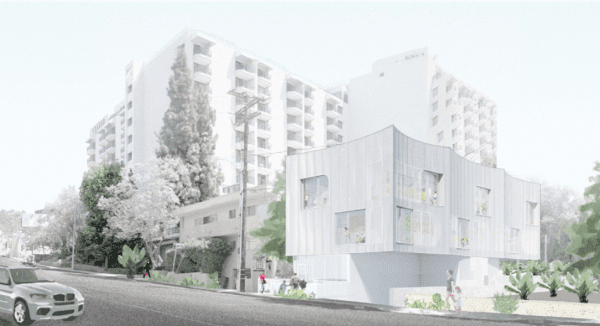 With a 5-2 vote on Thursday night, West Hollywood's Planning Commission approved a new preschool to be built on San Vicente Boulevard, just south of Sunset Boulevard.
Located at 972 N. San Vicente Blvd., two lots south of the London Hotel, the three-story preschool would have space for a maximum of 72 children, aged 18 months to 5 years. The new building would replace a single-family home built in 1905 and a detached rear garage and upstairs apartment built in 1946. 
Designed by architects with the Lorcan O'Herlihy Architects firm, the 8,300 square-foot preschool building has six classrooms and outdoor areas for both play and learning activities in the rear.
The building also has an underground parking garage with a circular driveway for dropping off and picking up students. When the project initially came before the Planning Commission in February 2019, the commissioners had concerns about drop-offs and pick-ups and cars queuing on San Vicente while waiting to turn in the garage, fearful queuing so close to the Sunset Boulevard intersection would create traffic problems.
Preschool owner Nasim Pahlavan presented revised designs for that underground garage that would accommodate 12 SUVs at a time in the circular driveway, up from nine at a time in the original plan. Pahlavan said they would also create three 30-minute drop-off/pick-up periods (up from two 30-minute periods), so there be a maximum of 24 cars scheduled to use the driveway during each 30-minute period. She would also station staff members at the top of the driveway to make sure drivers leaving the garage only turn right onto San Vicente.  
Pahlavan told the commission that if there is still a queue on San Vicente, she would dedicate two of the eleven parking spots to parents (thereby forcing employees to park off-site) and/or create a fourth 30-minute drop-off period. 
Despite the revised plans, the Commission still had concerns about the garage and the queuing. Commissioner John Altschul felt the queuing plan still needed work. Commissioner Adam Bass agreed, noting he works near a preschool which, despite its best efforts to create a speedy drop-off / pick up zone, routinely has cars lined up for a block or more.
"It's just not safe for cars to be stopping there in that red zone if they are going to be turning in. I just don't think, no matter how great the work you've done, that this site is going to be amenable to this type of project," said Bass. "I just don't see that this is the appropriate place for this type of use."
Commissioner Sue Buckner said that although the drop-off plan seems "complicated," parents likely would get used to the plan and it would work out.   
Commissioner Lynn Hoopingarner suggested reducing the size of the school from 72 to 60 students to alleviate the parking and queuing issues.
"Maybe it just needs to be just a little bit smaller in terms of its use and that way you wouldn't have all of these concerns," Hoopingarner said.
During the public comment period, resident Jon Viscott, who lives directly across the street, said the drop off plan was "not realistic" and provided photographic proof of cars lined up far below Harratt Street throughout the day, contradicting the traffic study the preschool commissioned, which said existing vehicle queues never extended past the Harratt Street intersection.
"The plan assumes everything will go as planned to prevent back-up onto San Vicente Boulevard. But with kids in the car, there can be many distractions and issues that arise," Viscott said.  
Viscott also presented evidence that the turning radius needed for large SUVs would not work in the tight circular drive of the parking garage.
Meanwhile, four of the seven public commenters supported the school, saying quality preschools were needed in the area. The city has approximately 1,000 children under age 5, but only enough preschool space for 250 children.  
Commissioner John Erickson, who also had doubts about the queuing plan, worried about young children breathing in exhaust fumes in the underground garage. He insisted an air quality study be conducted.
Also troubling was a letter from the Los Angeles United School District which insisted that haul routes for dirt and construction waste could not go past any school except during periods when school is not in session. With West Hollywood Elementary School directly across the street from the proposed preschool, that would severely impact construction plans.
Pahlavan told the Commission she has met with West Hollywood Elementary officials and reported the LAUSD letter should have only said the haul route could not go past the drop-off area of a school. In the case of West Hollywood Elementary, the drop-off is in front of the school on Hammond Street (the back of the school faces San Vicente). However, no LAUSD officials were present to confirm Pahlavan's explanation and the Commission seemed to accept it.
At one point, it appeared the Commission would send the project back for further revisions, several commissioners saying the project was still "half-baked."
However, newly elected Commission Chair Rogerio Carvalheiro argued that no project that comes before the Commission is totally complete. Carvalheiro, an architect, explained that a lot of the final details for any project are worked when construction documents are submitted for plan check approval.
"Designing something this sensitive in an urban environment is very difficult. We can't use rural standards; it's a totally different animal," said Carvalheiro. "The community has a need [for a preschool] and I think it's worthwhile to respond to that need and understand the permitting process and where we are in that process." 
With that, the Commission worked out several conditions for approval including conducting the air quality study, a reduction of one parking space so each space would be wider and requiring that the preschool come back to the Planning Commission for review at three, six and 12 months after opening.
Despite the added conditions, Altschul and Bass both voted against the project.
Following the Commission vote, Pahlavan told WEHOville she was excited about the approval.
"There's so much love and passion for early childhood in my heart and I just want to get through this so I can bring it to the city," said Pahlavan.
In January 2017, the Planning Commission rejected plans to build a preschool on Horn Avenue just north of Sunset in the old Spago restaurant location. While traffic was a major factor in rejecting the Chalk Preschool, the Commission also had concerns about how a preschool would affect adult-oriented businesses on Sunset Boulevard, as well its impact on registered sex offenders living nearby.
However, at Thursday's meeting, neither concern was mentioned by the Commission, although four of the seven current commissioners were not serving on Planning Commission in January 2017. Similarly, this preschool is a few hundred feet further away from Sunset than the proposed Chalk Preschool on Horn was.
City ordinances prohibit adult-oriented businesses such as bars and nightclubs within 1,000 feet of a school. Similarly, medical marijuana dispensaries would be prohibited within 500 feet and racy billboards would likely not be allowed near a school. Also, California law prohibits sex offenders whose crimes involved children from living within 2,000 feet of schools and parks. There are several registered sex offenders already living in the area according to a state website.