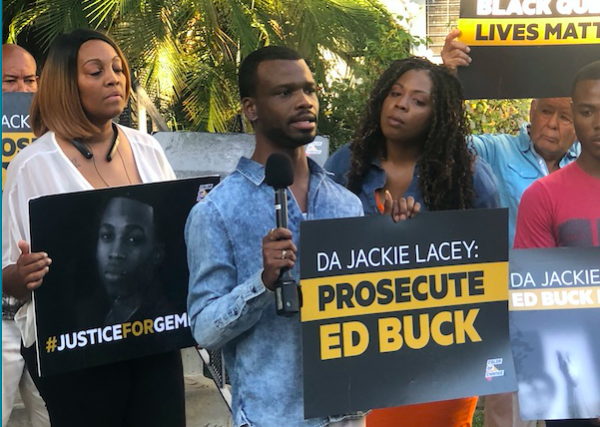 An earlier version of this story erred in stating the City Councilmember Lindsey Horvath accepted campaign contributions from Ed Buck. That editing error has been corrected. Not only has Horvath not accepted donations from Buck, she has been vocal in pressing for an investigation into the deaths at his apartment.
The first pre-trial court hearing will take place on Monday in the wrongful death civil rights lawsuit filed against Ed Buck, L.A. County District Attorney Jackie Lacey and Assistant Head Deputy D.A. Craig Hum in the 2017 meth overdose death of 26-year-old Gemmel Moore in Buck's West Hollywood apartment.
The hearing is scheduled for 1:30 p.m. in Room 7C of the U.S. District Court for the Central District of California, 350 W. First St., in downtown Los Angeles. The lawsuit was filed in February 2019 on behalf of Moore's estate and his mother LaTisha Nixon. It seeks damages against Buck for the wrongful death of Gemmel Moore, sexual battery, drug dealer liability, premises liability, negligence per se, intentional infliction of emotional distress and hate violence. D.A. Jackie Lacey and Craig Hum are named as co-defendants for allegedly violating Gemmel Moore's civil rights in what the lawsuit claims is a "race-based" refusal to prosecute Buck. On Jan. 7 of this year Timothy Dean, another black man, was found dead of a meth overdose in Buck's apartment on 1234 N. Laurel Ave. under similar circumstances.
Lawyers for Buck and for the County of Los Angeles will ask a California federal judge to dismiss the lawsuit. Attorneys for Ed Buck claim the lawsuit was filed too late and counsel for the Los Angeles County will argue that Moore's mother can't sue on behalf of her deceased son.
Buck, 65, is a gay man and animal rights activist known for his campaign donations to federal, state and local Democratic Party candidates, including West Hollywood Mayor John D'Amico and City Council members John Duran, John Heilman, and Lauren Meister.
Buck's lawyer, Seymour Amster, has said his client was not responsible for the death of either Moore, a young sex worker who he has said Buck was trying to help, or Dean, described as a friend of Buck's. An investigation by the L.A. County Coroner's Office found Buck's apartment littered with drug paraphernalia and an entry in Moore's diary describes Buck as having pushed Moore to inject the dangerous drug.  "I honestly don't know what to do. I've become addicted to drugs and the worst one at that," a December entry reads. "Ed Buck is the one to thank. He gave me my first injection of crystal meth it was very painful, but after all the troubles, I became addicted to the pain and fetish/fantasy."
It was after publication of entries from Moore's journal that the L.A. County Sheriff's Department's Homicide Bureau opened an investigation into his death, which the Coroner's Office initially had ruled was an accident. On July 26, 2018, the District Attorney's office declined to file charges against Buck in connection with Moore's death citing insufficient evidence.  Criminal charges have yet to be filed against Buck in either Moore or Dean's death. The Sheriff's Department reopened its investigation after Dean's death and it is said to be continuing.
Ms. Nixon will be represented in court by Nana Gyamfi and co-counsel Hussain Turk.