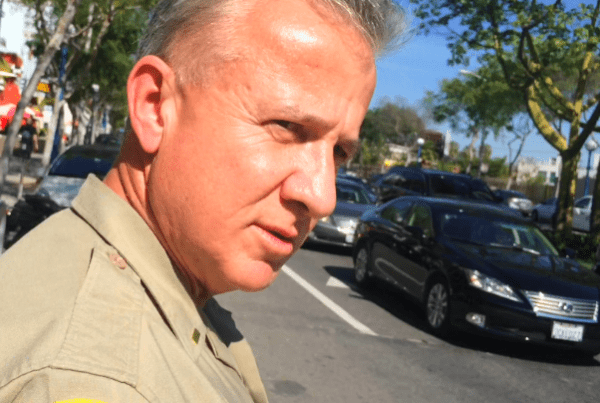 David Smith, a lieutenant with the Los Angeles County Sheriff's Department who worked from the West Hollywood station for years, was sentenced today to 150 hours of community labor and three years of probation in connection with his plea to three misdemeanor counts related to West Hollywood's illicit massage parlors.
Los Angeles Superior Court Judge Jose I. Sandoval also ordered Smith, 61, and now retired, to pay a $2,500 fine and to stay away from massage parlors following his plea to one count of obstructing an officer and two counts of soliciting a prostitute.
A felony count of conspiracy to obstruct justice was dismissed as a result of Smith's plea.
The criminal complaint alleged that Smith paid for sex at two massage parlors largely staffed by Asian women between 2016 and 2017 and that he told a massage parlor employee that there may be law enforcement officers near the business and advised her that she may want to close for the evening, according to the District Attorney's Office. West Hollywood is home to 10 illicit Asian massage parlors according to RubMaps.ch, a website on which clients of such massage parlors post sexually explicit descriptions of the services they have received.
Smith — a 30-year veteran of the sheriff's department — had worked most of that time at the West Hollywood station. He was "separated from the department" in September 2017, according to the sheriff's department.
More than a dozen local business owners and executives, along with three former colleagues from the sheriff's department, wrote letters in support of Smith, who was affectionately known as "Dave," in the summer of 2017. For years Smith served as the effective liaison with the community, representing the West Hollywood Station at Public Safety Commission meetings and attending City Council meetings.
The criminal case against him was filed in June 2018. The massage parlors cited in the indictment — Pine Therapy Massage at 8424 Santa Monica Blvd. and H20 Massage at 1011 N. Fairfax Ave. – were staffed by Korean women. H20Massage has closed, and while Pine Therapy is said to have closed, it is open again. The District Attorney's complaint said that Smith received "gifts and services" from Young Kim, owner of Pine Therapy, during 2016 and 2017 and paid for sex there and at H20 Massage in those years.
Smith's indictment brought to light investigations in the past of allegations that some employees of West Hollywood's massage businesses are undocumented workers who are not paid or treated according to government standards and are afraid to complain for fear they will be extradited.