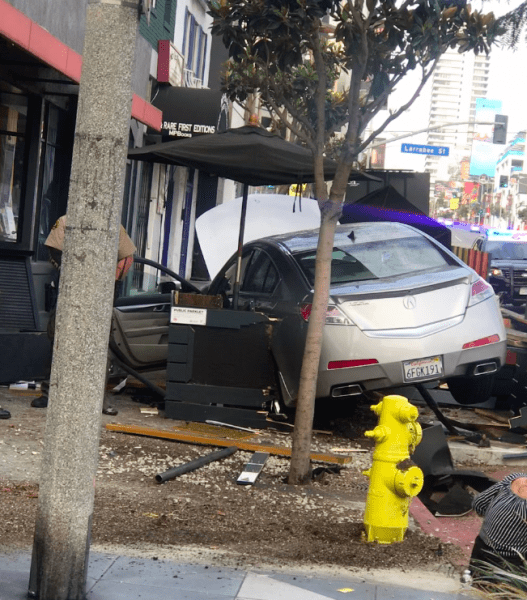 A car crashed into the parklet in front of the Book Soup store on Sunset Boulevard around 8:30 a.m. today. The parklet was empty and it's not yet clear what injuries, if any, the driver suffered.
According to the West Hollywood Sheriff's Station watch commander, it appears there was a mechanical problem with the car, possibly a brake failure.
The crash got quick attention from several local residents who have spoken out against the parklet program. In March of last year, the City of West Hollywood invited local businesses and community organizations to suggest areas where from one to three parking spaces could be converted into parklets. A parklet is sort of an extension of the sidewalk by repurposing on-street parking spaces to create publicly accessible gathering spaces. Parklets can include seating, greenery, and bike racks, among other features. The spaces are meant to support commercial districts, contribute to the vibrancy of neighborhoods and provide additional open areas.
Applicants received a grant of $25,000 and the city began to approve seven parklets, with two on the Eastside, two on the Sunset Strip and three parklets in other areas. In addition to the one at 8818 Sunset in front of Book Soup, one has been installed at 1051 N. Havenhurst Drive in front of the Miss Melbourne coffee shop, another at 8250 Santa Monica Blvd. in front of Bikes and Hikes LA, the bicycle shop, and another near 8869 Santa Monica Blvd., on the block between Larrabee Street and San Vicente Boulevard.
The Miss Melbourne installation has been popular, with guests of the coffee shop frequently sitting outside there. Danny Roman, owner of Bikes and Hikes, also has said the installation near his shop is successful. However, members of the West Hollywood Heights Neighborhood Association have been critical of the Book Soup installation and the one at 8869 Santa Monica Blvd. has drawn criticism from the owner of nearby Z Pizza, who is upset about losing the parking spaces.
The parklets can only be created on streets with posted speed limits of 35 mph or less. A parklet can extend onto a sidewalk if a four-foot unobstructed walkway is maintained for pedestrians. San Francisco has a well-known "pavement to parks" program and has created nearly 50 parklets since it launched in 2010. . Similar programs are in place in Long Beach and Los Angeles.