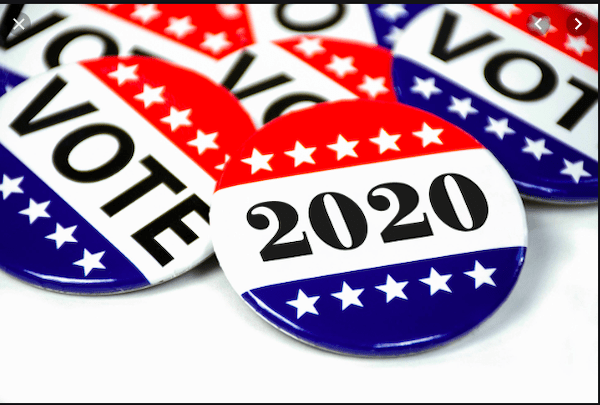 UPDATE: Larry Block, the chair of the city's Public Facilities Commission and the owner of the Block Party apparel store, has informed WEHOville that the idea of running for City Council in 2020 is "circling" in his mind. That would make him one of seven people considering a run for the two Council seats.
West Hollywood's Nov. 3, 2020, City Council election is a little more than 13 and a half months away, but incumbents John Duran and John Heilman already have been stepping up their interactions with voters and influentials, and seven likely challengers are doing the same. As of now, only three candidates have publicly stated they are in the run, with the others saying they are still assessing that.
Duran, in an evident effort to patch up relationships with community leaders and those who speak out often at City Council, is arranging lunches with those who have been vocal about his alleged sexual misconduct with young members of the Gay Men's Chorus of Los Angeles. Duran chaired the GMCLA board until the scandal reached a peak with coverage by the Los Angeles Times and national and world media in February.
One of those critics was Marco Colantonio, who wrote an op-ed published by WEHOville in February that described Duran's defense of his behavior as "the epitome of narcissism." However, Colantonio published a post on Facebook this weekend stating that he had had lunch with Duran and "I walked away realizing the many reasons I have loved and admired this guy for more than a decade." Among those Duran has invited to lunch is Larry Block, a member of the city's Public Facilities Commission who has been active in civic issues and a critic of Duran's behavior.
Heilman has been on the City Council since the city's incorporation in 1984, except for a brief three months after he lost his campaign in March 2015 for re-election. He retook his Council seat in June after a special election to fill a seat left by Jeffrey Prang, who was elected Los Angeles County Assessor. One sign that Heilman will be running for re-election in 2020 is that he has been showing up at more community events, such as the recent public safety preparedness community meeting at Plummer Park where he walked around the room, greeting others. He is a strong supporter of John Erickson, his 32-year-old appointee to the city's Planning Commission, who also is a likely Council candidate.
Sepi Shyne, a lawyer and member of the city's Business License Commission, is likely to be running again. She came within 139 votes of defeating incumbent John D'Amico in the March 2019 election. Shyne, who is a lesbian, has called out her ancestry as an immigrant whose parents fled Iran. She has been a regular face at City Council meetings and has been reaching out to community members to discuss a possible run for a seat in the 2020 election. In the March election, she got major support from Unite Here Local 11, the hotel and restaurant workers union, whose political action committee spent $16,644 to support Shyne. She is expected to focus on issues involving renters, a group that constitutes 78% of the city's population but has little clout.
Erickson, Heilman's Planning Commission appointee and a close associate with Councilmember Lindsey Horvath, is still considering whether he will run for office, with most political insiders assuming he will. Erickson is the chair of the Hollywood chapter of the National Organization for Women and is director of public affairs for Planned Parenthood Los Angeles. A concern voiced by Erickson's supporters is whether he will be able to defeat Duran without putting Heilman's re-election at risk.
Erickson has been raising his public profile. For example, he staged the recent reading of the Mueller Report at the City Council Chambers, which attracted a very small audience but got a lot of publicity. Erickson also has been speaking out on various issues at Council meetings. At one meeting he advocated on behalf of the Hollywood Chapter of the National Organization for Women that the city grant recreational cannabis sales licenses to the four existing cannabis dispensaries, who failed to qualify for such licenses in the recent application process. Those cannabis businesses are expected to be major donors in the 2020 City Council election and also had contributed in the March 2019 election. Erickson said that Hollywood NOW supported the existing dispensaries because they had embraced union representation of their employees, which state law actually requires of all recipients of cannabis licenses.
Another possible candidate is Steve Martin, who served two terms on the Council until losing his re-election race in 2003 to Abbe Land.  Martin, an author of the city's successful term limits ballot initiative, also lost a 2017 campaign. A lawyer, Martin is a resident of the city's Eastside and is likely to garner support from some of its residents, who have expressed their concern about what they see as an increase in crime and issues involving homelessness and drug addicts.
Martin also might get support from Unite Here Local 11, which he joined in opposing the City Council's decision to permit construction of the Arts Club on Sunset Boulevard. The union also is considering trying to put on the ballot a moratorium on construction of new hotels. The Arts Club was also opposed by Heilman and was supported by Duran. Martin has voiced support in the past for Sepi Shyne, noting that she called out the gender imbalance on the city's boards and commissions, which were dominated by men. Martin has been vocal in his criticism of Duran for his alleged sexual misconduct.
Marquita Thomas, executive director of the Los Angeles Gay and Lesbian Chamber of Commerce and an unsuccessful candidate in the March 2019 election, is widely expected to run again. Thomas, a former member of the city's Gay and Lesbian Advisory Board and now a member of the Human Services Commission, also is a former member of the board of directors of Christopher Street West, producer of the annual L.A. Pride event, and was a close ally of its then director, Chris Classen, and board member Craig Bowers in 2016. That was the year when Classen and Bowers recast the annual Pride event as a music festival and attempted to reduce transgender programming, which some say was why it lost $395,000.  Thomas's major backers in the March 2019 included members of the Illoulian family in Beverly Hills. Jason Illoulian's Faring is a major developer in West Hollywood, with local projects such as the Robertson Lane hotel and shopping plaza, the French Market office and restaurant building and the Bond Hotel and Residences.
One person who has confirmed that she will run is Noemi Torres, a real estate agent. Torres was born and raised in Guadalajara, Mexico.  At 13 years of age, she immigrated to Seattle, Wash., with her mother, brother, and sister. Torres has been involved in a number of community organizations, volunteering with Project Angel Food, Downtown Women's Center, RED EYE, and Skid Row Carnival of Love. She was named woman of the year in 2017 by Congressman Adam Schiff.  Torres in 2014 was named to the city's Women's Advisory Board and in 2017 Councilmember Lindsey Horvath appointed her to the Public Facilities Commission.
The others who have confirmed they will run are Eric Jon Schmidt and Jack Cline, a registered nurse who lives with Schmidt. Schmidt came in last among 11 candidates in the March City Council election, with 167 votes.  Cline ran slightly ahead, with 243 votes.
Schmidt's candidacy got a lot of attention after WEHOville reported his presence on DudesNude.com, a gay porn site, where he had posted photos and videos of him having sex with other men. Schmidt confirmed his candidacy in a recent email to WEHOville and said that Jack Cline, who also dresses in drag and is known as Jackie OMG.  "Jack will run as 'Jackie O' and be in drag at every even," Schmidt said. "I have someone checking out to see if he can use an alias on the ballot."
"We need new blood on (the) City Council, I don't think Jackie O and I will win, but we hope to inspire others to get involved."