Tom Doherty bought it in 1993 with $150,000 charged to credit cards by him and his brother and turned it into an institution in West Hollywood's Boystown. Now, 26 years later, Café d'Etoile has closed.
Doherty announced the Sunday closing in a post on Facebook late last night. "With a very heavy heart, we are sorry to announce that after 36 years we are closing our doors. With rising costs from food, drinks, and labor, it is no longer financially viable to remain open.
"We want to thank all of our customers throughout the years that have stood by us through thick and thin. We could not have done it without you. We also can't leave out our amazing staff that put in so much to keep it going and to make the Café such an iconic place to visit in West Hollywood. We wish them the best and know that they will do well wherever they go.
We hope that whatever replaces Café D'Etoile in the future can not only live up to our customers' expectations but can exceed them!"
The closing of Café d'Etoile, which is located at 8941 Santa Monica Blvd. between Hilldale and North Robertson, is the second of a major institution that is part of the gay nightlife and entertainment district known as Boystown. Last month, LASC, the gay-oriented apparel store at 8592 Santa Monica Blvd. operated by Don Zuidema and his partners Mike McGinley and Alfredo Izaguirre, closed its doors after being in business at various Westside locations since 1983. Zuidema cited the impact on LASC of online retailing and increases in commercial rents and operating overhead. "West Hollywood continues to morph into a center for a new wave of urban living and 21st Century businesses," he said.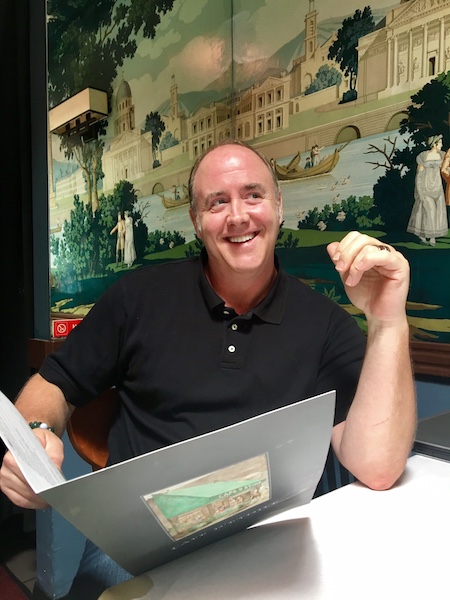 By early this morning, the announcement on Facebook of Café d'Etoile's had attracted more than 50 comments from customers saddened by the news.
"No no no!  I was just there on Sunday. Where oh where will I get the best calamari ever? When I first saw this my first thought was oh it's April Fools' Day, but then I realize we are in September. This is sad, sad devastating news. Thank you, thank you, thank you for many years of fabulous food and fabulous cocktails," was one. Another commenter wrote: "What sad news. Your place was the one spot in WeHo that could be counted on to not only be consistent with great food and drink, but for the atmosphere of welcome and warmth where friends would joyfully meet. You will be missed. Thank you for so many years of great memories."
Café D'Étoile was already an established restaurant when Doherty got a tip from a friend that the place may come up for sale. "It was an absolute sh—t hole," Doherty said in an interview published in WEHOville in 2017. "It was just dirty and gross. [But] it did have clientele."
"In the 1950s it was a bar with a pool table – The Barrel," Doherty said.  "Late '60s it became L'Etoile, a sort of very high-end French restaurant." And in 1983 it was renamed Café D'Étoile.
Café D'Étoile now has 24 employees, quite a few of whom have been with Doherty for over 20 years. "When [people] find something decent, they want to stay," Doherty said, explaining the long tenure. "In addition, I'm not a trigger happy guy."
In the 2017 interview, Doherty described the evolution of Café d'Etoile's clientele, which initially was mostly gay men. "In the early days it was probably 98%," he said. "Now, probably 75% gay-ish." Doherty said the city is changing. "Lots of people are buying in WeHo, and they're paying big dollars. They're straight. They're gonna come down to local places as well."
Celebrities have been spotted at Café d'Étoile. During his 2017 interview, Doherty pointed to Rachel Lindsay of "The Bachelorette," who was sitting nearby.  Doherty said she comes in for lunch now and again. She sat with Cary Fetman, her award-winning dress designer.