Los Angeles County Sheriffs Department deputies arrested Ed Buck tonight on charges of operating a drug house and giving methamphetamine to a 37-year-old man who overdosed at his apartment at 1234 N Laurel Ave. last week.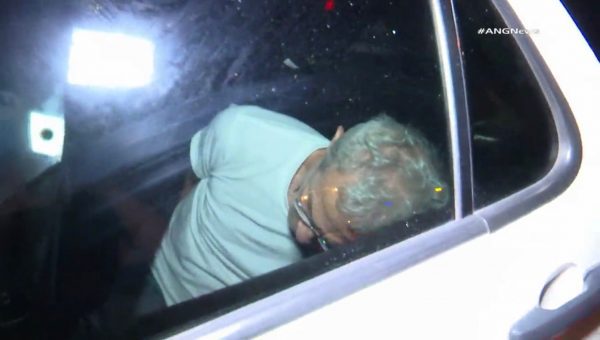 According to the Los Angeles County District Attorney's office, Buck was charged with three counts of battery causing serious injury, administering methamphetamine and maintaining a drug house.
Buck is scheduled to be arraigned Wednesday in a downtown Los Angeles courtroom. Prosecutors are said to be asking that his bail be set at $4 million. Buck could serve up to five years and eight months in state prison if convicted on the charges.
The man who overdosed last week survived. According to court filings, the man, whose name has not been released, visited Buck on Sept. 4 and was injected by Buck with methamphetamine, a highly addictive and dangerous drug. The man, fearing he was suffering an overdose, left the apartment. He returned on Sept. 11 and Buck injected him with two "dangerously large" doses of meth, prosecutors said. The man left the apartment and called 911 and was taken to a hospital.
Buck, a 65-year old white gay man known for his contributions to city, county, state and federal Democratic Party candidates and as an animal rights activist, has been the focus of controversy over the drug deaths of two other African-American men in his apartment.

The first was Gemmel Moore, a 26-year-old who was found dead of a methamphetamine overdose in Buck's apartment on July 27, 2017. Moore was a sex worker who was visiting his mother near Houston when Buck bought him an airline ticket to fly back to Los Angeles and go to his apartment. He was found dead on the day he arrived.

Timothy Dean, 56, was found dead of a meth overdose in Buck's apartment on Jan. 7. The death of Dean sparked a demand this year for the Sheriff's Department to open a second investigation into the circumstances of Gemmel Moore's death. The Coroner's Office originally had ruled Moore's death an accident due to a drug overdose.
"I remain deeply concerned for the safety of people whose life circumstances may make them more
vulnerable to criminal predators," said
District Attorney Jackie Lacey in a statement about the arrest. "With this new evidence, I authorized the
filing of criminal charges against Ed Buck."

The District Attorney's Office called Buck "a violent, dangerous sexual predator" who "mainly preys on men made vulnerable by addiction and homelessness."

"Using the bait of narcotics, money and shelter, the defendant lures these vulnerable victims to his house," according to the District Attorney's
Office's bail request.

"From his home, in a position of power, Buck manipulates his victims into participating in his sexual fetishes. These fetishes include supplying and personally administering dangerously large doses of narcotics to his victims."
The arrest comes after criticism of Lacey for failing to file charges in the death of Gemmel Moore, which she said was because there wasn't enough evidence to ensure a conviction. With the death of Timothy Dean the Sheriff Department's Homicide Bureau launched a new investigation.
In a civil lawsuit, LaTisha Nixon, Moore's mother, has accused Buck of human trafficking and engaging in "revenge porn" by making and sharing a video of his alleged "meth-fueled sexual encounters" with her son. That lawsuit also accuses District Attorney Lacey and Deputy District Attorney Craig Hum of "refusing to impartially prosecute white people for their felonious criminal acts against Black victims and survivors."
According to neighbors, Buck was handcuffed and placed in a police vehicle around 7:30 p.m. last night.

Lt. Derrick Alfred of the Sheriff's Departments Homicide Bureau said further information could not be made available because an investigation is in progress.

The arrest got the attention of several dozen neighbors who stood on the sidewalk across the street nine police vehicles.