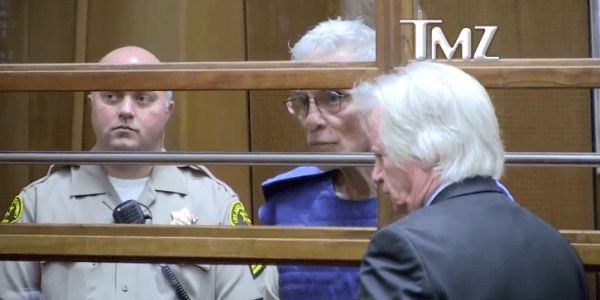 It's not like West Hollywood hasn't had its scandals. As Bob Bishop, a regular contributor to WEHOville, has reported, there was the murder of Sal Mineo in 1976 in the alley behind his apartment at 8569 Holloway Drive, the still unsolved stabbing death on Lloyd Place in 1977 of young actress Christa Helm, who had a number of high-profile lovers, including the Shah of Iran, and the 1982 strangling of another young actress, Dominique Dunn, daughter of crime writer Dominick Dunne, in the driveway of her home at 8723 Rangely Ave. by her estranged boyfriend.
Jump ahead and there was the May 2016 murder at 8530 Holloway Drive of Iana Kasian by her boyfriend, the wealthy young Blake Leibel, which Dr. James Ribe of the L.A. County Coroner's Office said may have been the most gruesome murder in the history of Los Angeles. And then there was the March 2014 murder at 939 Palm Ave. of Kurtland Ma, a 34-year-old physician, by his boyfriend, Andre Davids, who "disemboweled" Ma and stuffed some of his organs, including his penis, into his mouth. That was followed weeks later by the shooting death at the same apartment building of one innocent young man and the severe wounding of another by a Sheriff's deputy who remains on duty at the West Hollywood Station and whose discipline, if any, L.A. County Sheriff Alex Villanueva has refused for eight months to disclose to WEHOville despite that being required by law.
Then there have been the allegations of sexual misbehavior by City Councilmember John Duran, ranging from a claim of sexual harassment by his former City Hall deputy Ian Owens in 2015, which the city settled with a $500,000 payout, to more recent claims by four young members of the Gay Men's Chorus of Los Angeles, whose board Duran once chaired. The City Council censured Duran after he made public statements bragging that he had a more active sex life than his fellow Council members and after a number of LGBT organizations, including Stonewall Democrats and Christopher Street West, condemned him for his behavior.
But the arrest on Tuesday (and the federal indictment on Thursday) of Ed Buck looks likely to have a bigger impact on the City of West Hollywood. Like the Duran scandal, that arrest has been in the news across the nation, with newspapers such as The New York Times and the Washington Post reporting it as well as all of the major television networks, but it also has elements of alleged racism and political favoritism.
Before the death from a drug overdose of 26-year-old Gemmel Moore in his apartment in 2017, Buck was best known for his successful campaign to have controversial Arizona Gov. Evan Meacham impeached in 1988, for his advocacy for animal rights, for his financial support of Democratic Party candidates, for his own failed run in 2007 for a seat on the West Hollywood City Council, and for his successful campaign to get John D'Amico elected to the Council in 2011 on a promise to push for a ban on the sale of fur items in West Hollywood.
The charges filed against Buck, who is a white gay man, describe crimes involving black gay men, most of them young, who Buck allegedly paid to come to his apartment to engage in sex and use drugs. (Allegations denied by his lawyer, Seymour Amster.) In addition to Moore, "investigators have identified 10 additional victims — nine of whom [Buck] administered drugs or strongly encouraged them to ingest narcotics as part of agreements to be compensated for sexual services," U.S. Attorney Nick Hanna told reporters Thursday. The federal complaint against Buck said those men have said Buck paid them to use drugs and dress up in white underwear for his sexual pleasure, something documented by statements and shown in photographs published last year by WEHOville.
Black men are a distinct minority in West Hollywood, with the largest gathering of them in the past few years being at protests outside Buck's apartment building at 1234 N. Laurel Ave. At several of those protests, black activists have claimed that West Hollywood is racist because its leaders haven't pushed harder for Buck's arrest and have taken campaign donations from Buck. However, in January, shortly after the death by drug overdose of Timothy Dean in Buck's apartment, the second such incident, the City of West Hollywood did issue a statement saying it "has requested a full investigation by the Los Angeles County Sheriff's Department."
The fact that Buck made donations to the election campaigns of four current members of the West Hollywood City Council also is having an impact on the city. Two of those City Council members, John Duran and John Heilman, are running for re-election in November 2020. Duran has represented Buck in a past legal issue and has been criticizing for warning sex workers and drug users that they might be arrested if they gave testimony against him to detectives. Only Councilmember Lindsey Horvath, who has been vocal in demanding that Buck be investigated, has not received donations from Buck. Black activists have demanded that Duran, Heilman, Councilmember Lauren Meister and Mayor John D'Amico, along with other county and state politicians, give the money that Buck donated to their campaigns to organizations such as the "Justice 4 Gemmel + All of Ed Buck's Victims" fund, which organizer Jasmyne Cannick has said "will help with legal costs as well as supporting the family of Gemmel Moore and all of Ed Buck's victims."
Neither Duran nor Heilman has responded to the demands to redirect the Buck donations to their campaigns. Meister has responded by noting that she has made donations to other socially conscious organizations. D'Amico has said he cannot redirect those donations because his campaign already has spent the money, however, he did donate $25 to the Justice4Gemmel fund. In defending his refusal to redirect all of the donations from Buck, D'Amico has said that he and his husband make regular annual donations to charities. Meister and D'Amico did show some support for the campaign to have Buck investigated by appearing at one of the several activist rallies outside Ed Buck's Laurel Avenue apartment building, where they were criticized by several of the speakers.
Stories about Buck have exaggerated to some degree the size of his donations to candidates. His donation of $2,750 to Hillary Clinton's presidential campaign wouldn't make him a "major donor" to Clinton, as has been alleged. A petition demanding that the Buck donations be redirected also has exaggerated the size of his donations to West Hollywood City Council candidates, who can accept no more than $500 per election from a particular individual. For example, the petition states that Buck donated $2,000 to Heilman's 2017 re-election campaign when $500 was the limit. Buck did donate $500 to Lauren Meister's 2015 election campaign and a total of $1,000 to D'Amico's 2011 and 2015 election campaigns. Buck made a larger donation — $11,500 – to Duran's unsuccessful 2014 race for a seat on the L.A. County Board of Supervisors.
The Buck scandal has been especially difficult for Mayor D'Amico because it was support from Buck and his animal rights group that got D'Amico elected to City Council in 2011. D'Amico ran on a promise to push for a ban on the sale of fur and to push back against the political establishment, especially John Heilman, who has been on the City Council since West Hollywood was incorporated in 1984 (and whose re-election D'Amico subsequently endorsed in 2017.) Buck's support for D'Amico included a dig into city records that Buck claimed showed misuse of city credit cards by Fran Solomon, deputy to Heilman, and other city employees – a claim that D'Amico and fellow challengers Scott Schmidt, Steve Martin, Mito Aviles, and Lucas John Junkin made in a press conference the day before the March 7, 2011, election and that a later investigation largely refuted.
On Tuesday, D'Amico posted a statement about Buck's arrest on his Facebook page: "If proven, these charges appear to confirm what many of us suspected for some time, that Mr. Buck was recklessly harming members of the community, as recently as this month, and finally the District Attorney is taking action to stop this from happening again."
Horvath praised the arrest of Buck on Facebook. On Thursday, with the announcement that Buck now is facing federal charges related to the death of Gemmel Moore, she offered a more detailed statement:
"The families of Gemmel Moore and Timothy Dean – along with members of the West Hollywood community – worked tirelessly to see this day come. Because people kept memories of Gemmel and Timothy from fading away as mere accidents, the investigation into the circumstances of their tragic deaths continued. I support the Los Angeles Sheriff's Department in doing whatever it takes to bring closure and peace to all of the friends and families whose loved ones were victimized. There is still a long way to go for justice to finally be served in their names, however, we hope the evidence from this arrest will finally make clear what has happened, and we hope will never happen again."
To date, no other Council members have made public statements about Buck's arrest or the federal indictment.
The Buck scandal also is likely to continue to have an impact on Los Angeles County District Attorney Jackie Lacey, who initially refused to prosecute Buck in Gemmel Moore's death, saying there wasn't sufficient evidence to convict him. The L.A. County Sheriff's Homicide Bureau re-opened the investigation after the death of Timothy Dean in January, however, it hasn't yet issued a statement on its findings. The arrest it made on Tuesday was prompted by a 911 call on Sept. 11 from a man who had overdosed a second time in Buck's apartment.
"The surviving victim's statements gave us the break we needed,"Lacey said at a press conference on Thursday. "We have done everything possible to put this depraved sexual predator away."
However, Gemmel Moore's mother, LaTisha Nixon, and friends and supporters are unwilling to give Lacey a pass. Jasmyne Cannick issued a statement yesterday saying: "The filing of these federal criminal charges in no way absolves Los Angeles County District Attorney Jackie Lacey of her poorly conducted investigation and prosecution of Ed Buck.
"We fully expect Jackie Lacey to expand the State's criminal complaint against Ed Buck by adding two counts of 1st-degree felony murder. Lacey charged Ed Buck with furnishing drugs and operating a drug den. Both furnishing drugs and operating a drug den are felony offenses in California. Both Moore and Dean died inside of Buck's drug den when Buck furnished drugs to them. Both deaths were the reasonably foreseeable result of Ed Buck's felonious conduct. All of the elements of felony murder under California law are met in this case, and Lacey has an obligation to amend her felony complaint against Buck to include felony murder counts for the deaths of Moore and Dean.
"Lacey also has an obligation to amend her felony complaint beyond Buck's criminal acts against Moore, Dean, and Joe Doe. The affidavit filed by the Department of Justice lists at least 10 other victims against whom Buck committed a violent sex crime. Lacey's felony complaint must vindicate all of Ed Buck's victims accordingly.
"We also fully expect Jackie Lacey to retract the false statements she made during the September 19, 2019 press conference at the Hall of Justice.
Lacey falsely claimed that her team worked diligently and carefully to find and speak with witnesses over the course of the last 2 years. This is untrue. Our team of activists had to personally escort witnesses to the LASD's office and pressure them into recording our witnesses' statements. We later discovered, in May of 2019, that Lacey was not even aware that these reports existed.
"Lacey falsely claimed we presented witnesses whose statements were comprised entirely of hearsay. This is also untrue. Each and every one of the witnesses we presented to the County was directly and disturbingly victimized by Ed Buck. Lacey falsely claimed our witnesses lawyered up and refused to speak with her team. This too is untrue. Lacey's team went behind our backs to surprise witnesses at their homes and speak with them in secret after we specifically instructed Lacey's team that we wanted to be present as counsel during any interviews causing the witnesses to not want to deal with the investigators."
Scott Roberts, senior director of criminal justice campaigns, for Color of Change, the nation's largest online racial justice organization, also criticized Lacey. "This is the day our community feared. It's what we warned against. It's what we railed against. It has taken harm to yet another black man for District Attorney Lacey to dare to bring charges against Ed Buck. It is our community that has now paid the price of Lacey's initial refusal to hold a powerful person to account for his previous predations on young, black men."