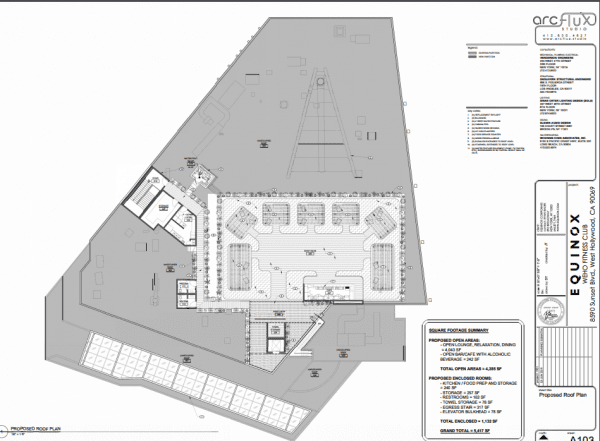 With a 3-1 vote Thursday night, West Hollywood's Planning Commission rejected a plan for Equinox gym to add a rooftop restaurant, citingnoise concerns.However, theCommission did approve interior renovationsfor the club, locatedat the 8590 Sunset Blvd., at Alta Loma Road.
An upscale gym attracting many celebrities and wealthy patrons, Equinox hoped to add a full-service, 5,417-square-foot rooftoprestaurantwith alcohol sales,which would be open the same hours as the gym.Plans called for a dining area, a cabana areaand a lounge area as well as kitchen and storage facilities. The rooftop restaurant wouldhave beenin addition to the gym's already existing first-floor juice bar.
Residents living at the adjacent Park Wellington condominium complex at 1131 Alta Loma Rd. raised concerns about potential noise problems from the rooftop restaurant, noting how soundwould flow downhill from theEquinoxroof to their building.
"If they have ambient noise, amplified music all day long, how do we know that it's not going to impact our quality of life which is currently pretty peaceful and blissful," said Jean Allen, secretary of the Park Wellington board of directors.
"This could open up a Pandora's box with us," said Robert Countryman, president of the Park Wellingtonhomeownersassociation. "It would be noise, itwould be constant complaints, it would be a nightmare."
Meanwhile,residentAnnette Kazmerski, who lives on San Vicente Boulevard near the London Hotel, said any kind of noise disrupting people's homes is aproblem. She reported hearing noise from the London hotel at all hours of the day,especially from conversations happening onhotelbalconies.
The Commission shared those concerns, referencing the noise problems fromthe popularCatch rooftop restaurant on the northwest corner of Melrose Avenue and San Vicente Boulevard disturbing residents living in the adjacent West Hollywood West neighborhood.
Commissioner Sue Buckner said that a rooftop sound wall should be requiredat the very least. Commissioner Lynn Hoopingarner concurred.
"I think the potential for disturbing the neighborhood is significant," said Hoopingarner,addingthat she feared the restaurant, if approved,might one day morph into a nightclub, noting that the rooftop area would have a capacity for 291 people if seats and tables were removed.
Initial plans calledfor the rooftop restaurant to only be open to Equinox members, butHoopingarner wonderedwhether the gym had a large enough membership to sustain a restaurant.Meanwhile,CommissionerJohn Altschulasked whether Equinox would allow a non-member to go the restaurant for a drink.
Luba Sanitaroba, vice president ofentitlementsfor Equinox, said it did not plan to operate it as a standalone restaurant, butconceded theywouldnot turn awaya member of thepublicwhowanted to go to the restaurant.
"We will not deny people if they want to get a martini," saidSanitaroba. "We have not finalized our program,but we believe there won't be anybody who is not a member wanting to go up on the roof."
Although he also worried about noise,especially the rooftop water feature which could amplify sounds,Commissioner Rogerio Carvalheiro cast the only votein favor of therooftop restaurant. Carvalheirohadsuggested cutting off alcohol service an hour before closing rather thanthe30 minutes before closing,which is what Equinox proposed.
The West HollywoodEquinoxcloses at10:30 p.m. Monday through Thursday,at9:30 p.m. on Fridays andat8 p.m. on Saturdays and Sundays.The club opens at 5:30 a.m. on weekdays and 7 a.m. on weekends.
Normally, approving aminor conditional use permit to add alcohol salesto an existing businesswould be decided by the Director of the Planning andDevelopmentServices Department. However, Director John Kehoconsidered adding alcohol sales to agym/fitness centerto be a major overall change to Equinox's original conditional use permitandopted to let the Planning Commissiondeterminethe matter.
Several public commenters questioned the logic of a gym adding a restaurant that serves alcohol, somethingAltschul also questioned.
"Your business, which is quite successful, is fitness. I don't understand how you encourage somebody to work out for an hour or two and then go have a couple of martinis,"saidAltschul.
Sanitarobareplied that some studies have shown drinking alcohol to be healthy.However, Carvalheiro, who is the new commission chair, cut off thatdiscussion,sayingit was beyond the scope of what they were considering.
While the Commission rejected the rooftop restaurant, it did approve interior changes to the gym. On the ground level, Equinox plans to move and expand its lobby and reception areaplusannex the adjacentvacant 2,100 square foot space(previously occupied by a salon) for an enlargedretail area. On the second floor, the gym plans to reconfigure the layout of theyoga studio and spa area.
Commissioner Adam Bass recused himself from the deliberationsbecausehe helped organize a protestrallyoutside Equinoxin Augustfollowing news that Equinoxowner Stephen M.Ross was hosting a fundraiser for U.S. President Donald Trump's re-election campaign.
Likewise,Commissioner John Erickson also recused himself because he had made negative remarks about Ross during a Commission meeting earlier this summer.
Commissioner Stacey Jones was absent from the meeting as she is on vacation.
Commissioners Buckner and Carvalheiro bothdisclosedtheyaremembers of the West Hollywood Equinox,but neither recused themselves. Carvalheiro saidhe felt he could be impartial despite his membership in the club.
The Commission was originally scheduled to consider plans for the French Market restaurant-office complex at 7985 Santa Monica Blvd., but that hearing was postponed. The Commission will likelyhear that project in November.
.