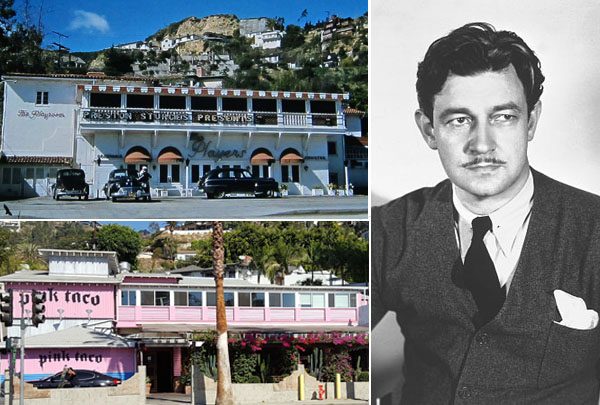 Preston Sturges is known to movie fans as one of the most unique talents in the Hollywood studio era. At the peak of his career, Sturges became one of the first filmmakers under studio contract who both wrote and directed his films. He specialized in screwball comedies, and among his best films were some of the most popular movies from the 1940s: "The Great McGinty" (1940), "The Lady Eve" (1941), "Sullivan's Travels" (1941), "Palm Beach Story" (1942) and "The Miracle of Morgan Creek" (1943).
But Sturges also has an important place in West Hollywood history. He was the impresario who built The Players, a nightspot on the Sunset Strip that was popular with the movie crowd. Located conveniently down the block from the Garden of Allah, it was a popular hang-out for the hotel's world-class celebrity drinkers, including Robert Benchley, Dorothy Parker, and Humphrey Bogart, to name a few.
The building has been through several incarnations since Sturges closed it in the 1950s. In the 1990s, it was the Roxbury nightclub, in the 2000s. It was Miyagi's, a Japanese Restaurant, and now it's the Pink Taco.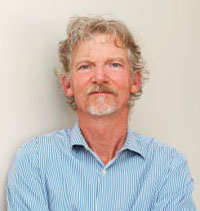 Sturges' son Tom has written a book about his father, "Preston Sturges: The Last Years of Hollywood's First Writer-Director." Fittingly, Tom will be on the Strip, at Book Soup, Tuesday at 7 p.m., to talk about the book, which he co-authored with Nick Smedley.
"The book and Tom's memories of his father go a long way to explaining what made Preston's films so unusual," Pamela Hutchinson wrote, in an interview with Tom about the book for the Guardian. "Between their sophisticated use of language and their acute sense of tearing apart a world just to build it back up again, they always demand repeat viewings."
"To be a great storyteller," Tom said in the interview, "you have to be able to see the great story as it unfolds before you. He took reality as he knew it and tried to turn that into the story that he wanted to tell. There's not one joke in a Preston Sturges film. They were just people speaking their truth. His belief as I understood it was that the truth is funnier than anything else."
Tom's book covers the last decade of his father's life and is based on diaries, sketchbooks, correspondence, unpublished screenplays and other material that has been stashed away since Preston Sturges died nearly 60 years ago.
The event Tuesday night is presented by Book Soup and "Alta: Journal of Alta California."
Event date:
Tuesday, Sept. 24 – 7 p.m.
Event address:
Book Soup
8818 Sunset Blvd.
West Hollywood, CA 90069