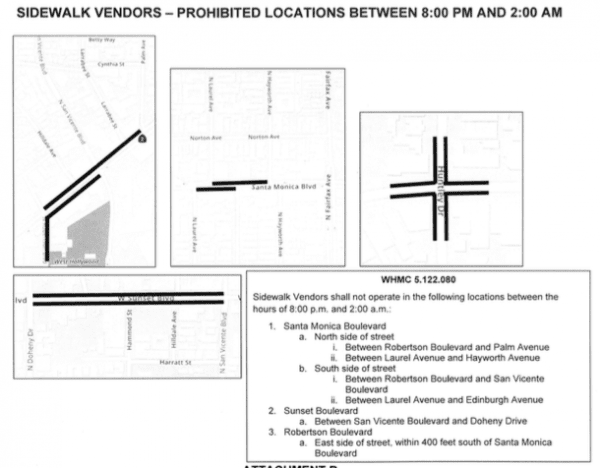 Sidewalk vendors will face new restrictions on when and where they can operate in West Hollywood.
The West Hollywood City Council tonight agreed to the new restrictions, which will limit the access granted by an ordinance passed on June 3 that allowed sidewalk vendors to operate in West Hollywood. With some of its members expressing reservations, the Council passed that original ordinance to bring the city into compliance with a state law before the Gay Pride Festival and Parade took place on June 7 through 9. The proposed new restrictions were on tonight's consent agenda.
That state law, SB 946, was introduced by state Sen. Ricardo Lara, who described it as an effort to bring vendors, who are predominately low-income Latinos, out of the shadows and "start seeing vendors for who they are — women, seniors, parents & micro-business owners. Ending criminal penalties and letting people contribute to the local economy."
Street vendors have existed in Los Angeles since the 1870s according to Gustavo Arellano, author of "Taco USA." Farley Elliott, author of "Los Angeles Street Food: A History from Tamaleros to Taco Trucks," notes a history of discrimination between white and non-white vendors in the early 1900s Los Angeles, which hit Chinese street vendors especially hard. There have been recent efforts in Hollywood to crack down on street vendors on Hollywood Boulevard who owners of nearby restaurants see as competitors.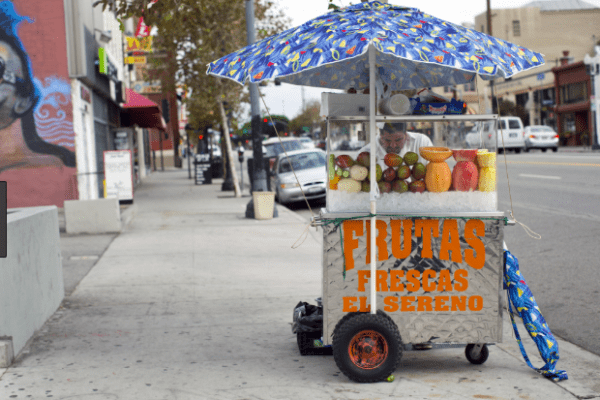 Street vendors are rare in West Hollywood, whose population is overwhelmingly white, with the exception perhaps of Maria, the Latin flower lady who wanders through the city's Boystown district and into its bars at night to sell flowers.
While the original ordinance barred sidewalk vending on specified sections of Santa Monica Blvd., Sunset Blvd., Robertson Blvd., and Melrose Avenue between the hours of 10 p.m. and 2 a.m. in certain areas, the amended restrictions will ban sales between 8 p.m. and 2 a.m. On other areas of Santa Monica Boulevard between Robertson and Palm and Robertson and San Vicente, sales will be banned between noon and 2 a.m. on Sundays. The map posted above shows the exact locations.
Sidewalk vending will be banned in all of West Hollywood except along Sunset Boulevard during Halloween and during LA Pride.
The city's current sidewalk vending ordinance prohibits stationary sidewalk vendors in residential zones but allows roaming vendors to operate there between the hours of 9 a.m. and 8 p.m. A memo to the City Council from the city's Department of Public Works notes that there are similar restrictions in place in Santa Monica and Beverly Hills, although not in Los Angeles.