Cycling will get a little bit easier in West Hollywood with a decision by the City Council to create bike lanes on Santa Monica Boulevard between Doheny and Almont Drive.
The lanes would improve the connection with the wide and well-marked bicycle lanes on Santa Monica Boulevard in Beverly Hills and connect to the lanes that run east on Santa Monica Boulevard to Kings Road.  It would require the removal of as many as 19 parking spaces on the south side of Santa Monica adjacent to the Melrose Triangle project and reducing the north edge of the traffic median by three to five feet.
A report to the City Council from the Department of Public Works notes that the city currently has bike lanes along both sides of Santa Monica Boulevard from Almont Drive on the west to Flores Street and Kings Road on the east.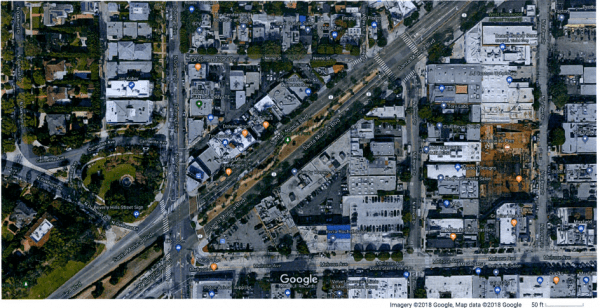 Public Works staff had presented several other options to the city's Transportation and Public Facilities commissions for consideration. One would have reduced the width of the median on Santa Monica Boulevard on both sides. That would have required the relocation of trees, sprinkler lines, electrical and water boxes, and water meters and cost an estimated $482,000. Another option would have been to remove parking spaces on both sides of Santa Monica Boulevard from Doheny to Almont, eliminating 12 spaces on the north side and 14 to 19 spaces on the south side. The report notes that that might be detrimental to businesses on the north side of the street. Also considered was a widening of the path along the median to allow cyclists to use it. However, that would require them to weave around pedestrians also using that path.
The two commissions endorsed the removal of parking spaces on the south side of Santa Monica and installing a bike lane there, which is estimated to cost $264,000.
The Public Works staff report recommended delaying the addition of the bike lane on the south side of Santa Monica until completion of the Melrose Triangle project, whose end date is uncertain. Public Works Director Jackie Rocco said that removing parking spaces before then might be an issue given that contractors would need to get access to the site. However, Council members said they would prefer to see the bike lanes created as soon as possible.
The Council also agreed with suggestions from Kevin Burton of the West Hollywood Bicycle Coalition, which has lobbied for improving biking conditions, that the lanes be painted green, as are those on Santa Monica Boulevard within Beverly Hills. Burton said that would make the lanes more obvious to drivers and increase protection for the cyclists that use them.
Bicycling is difficult in West Hollywood, which is a car-focused city, many of whose residents have opposed the riding of bicycles on sidewalks in areas where there are no bike lanes, which is legal.