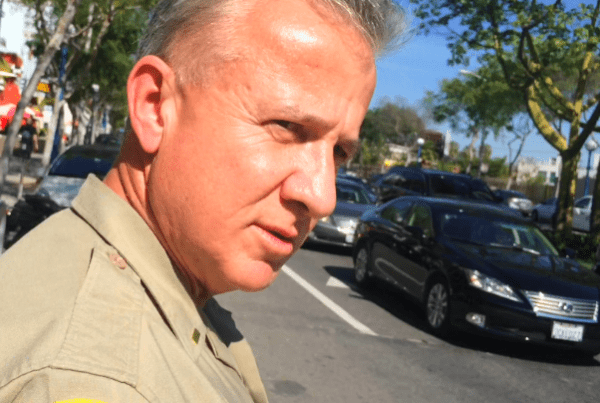 David Smith, the popular former lieutenant at the West Hollywood Sheriff's Station, has been arrested on a felony charge of domestic violence.
According to records obtained by WEHOville, Smith was arrested on Aug. 14 by deputies from the Sheriff's Department's Temple City station. While deputies have declined to share details of the arrest, it apparently involved an assault on his estranged wife, Yvette Nikoui-Smith, at her home. An internet search shows that she lives in San Gabriel, where she and Smith once shared a home where they raised their five children. Smith has been released on $50,000 bail.
Smith, 61, recently pled guilty to one count of obstructing an officer and two counts of soliciting a prostitute at Asian massage parlors in West Hollywood, a city that is home to 10 parlors where customers pay for illicit massages from Asian women, many of whom do not speak English and are alleged to be victims of human trafficking. In charges filed against him, Smith is alleged to have tipped off a parlor manager about upcoming law enforcement raids in exchange for sexual favors or gifts. On Sept. 17, L.A. Superior Court Judge Jose Sandoval sentenced Smith to 150 hours of community labor and three years of probation. He also imposed a $2,500 fine on him and ordered him to stay away from massage parlors. A felony count of conspiracy to obstruct justice was dismissed as a result of Smith's plea.
The L.A. County District Attorney's Office issued a statement in June 2018 announcing the charges filed against Smith in the massage parlor case. However, its Public Information Office today said it was unaware of Smith's Aug. 14 arrest and whether that might have an impact on the Sept. 17 decision to agree to a sentence of probation, community service, and a small fine in exchange for Smith's guilty plea in the massage parlor case. 
Smith declined to discuss his arrest but noted that no charges have yet been filed in court. Under California law, a person can be charged with felony domestic violence if he or she "willfully inflicts corporal injury resulting in a traumatic condition upon a victim" who is husband or wife or domestic partner.
WEHOville reached out to Detective Nancy Brenes at the Temple City station, the officer in charge of the investigation, for details about the arrest but has yet to get a response from her. However, an employee at the jail confirmed Smith's arrest and the charge on which he was arrested. Arrest records show that Smith was scheduled to appear in Alhambra Superior Court on Aug. 16, but that appearance apparently has been delayed.
Smith — a 30-year veteran of the sheriff's department — had worked most of that time at the West Hollywood station where he was a popular liaison with the community who was known as "Smitty." For years Smith served as the effective liaison with the community, representing the West Hollywood Station at Public Safety Commission meetings and attending City Council meetings.
He was "separated from the department" in September 2017, according to the sheriff's department, and kept on the payroll while the investigation, details of which were kept secret, continued.
More than a dozen local business owners and executives, along with three former colleagues from the sheriff's department, wrote letters in support of Smith, in the summer of 2017. Even after his guilty plea on Sept. 12 and his sentencing on Sept. 17, many prominent local residents posted statements on WEHOville praising Smith, despite his admission that he had violated the law in the massage parlor case.