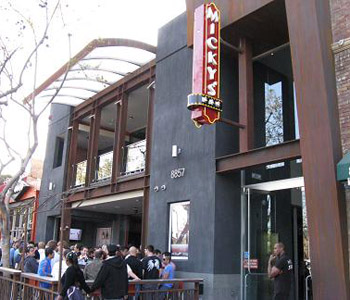 EDITOR'S NOTE: "Rat!," as used in this headline, was meant as an ironic comment about the closing of yet another Boystown establishment by the health department. The owner of Micky's has now confirmed that the issue was cockroaches.
Micky's, one of the most popular gay bars in West Hollywood's Boystown, has had its 30th anniversary celebration interrupted with an abrupt closing by the Los Angeles County Department of Public Health.
A sign posted yesterday on the door to the club, which is located at 8857 Santa Monica Blvd., cites vermin infestation as the reason for the closing. Vermin can include rats, mice, cockroaches or other insects that can transmit infectious diseases. Vermin infestation, according to the Health Department, is "the presence of vermin within the food facility as evidenced by actual live bodies, fresh droppings or vomitus, urine stains, or gnaw marks, that could result in contamination to the food, equipment, packaging, or utensils."
Micky's is the second establishment in the Boystown nightlife district to be closed for a vermin infection. The Health Department closed Tender Greens, the restaurant on the corner of Santa Monica Boulevard and Hancock, from Tuesday through Saturday last week for the same reason.
The restaurant at Palihouse, the hotel on the northwest corner of Holloway Drive and Hacienda Place, was closed from Aug. 8 through 10 because of a vermin infestation. Cabo Cantino, the restaurant at 8301 Sunset Blvd., was closed for the same reason from June 19 through 21.
WEHOville has reached out to Michael Niemeyer, the owner of Micky's, for information about what steps are being taken to clean things up and re-open the club, which is especially popular on Thursday through Sunday nights in West Hollywood and is known in the gay community for its go go boys and large street facing patio.