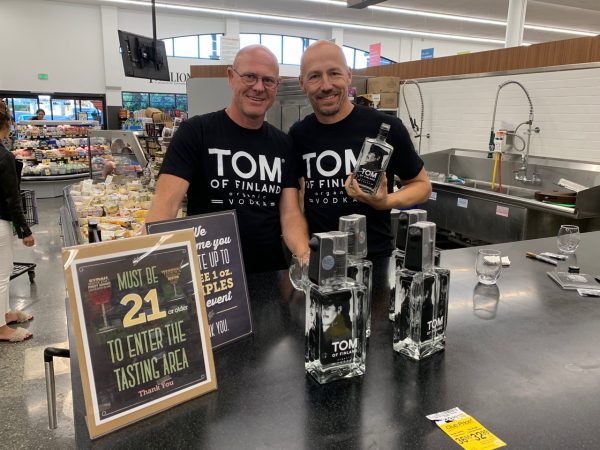 Pavilions WeHo is a supermarket where new brands promote themselves regularly. A week ago Wednesday I saw a brunette pushing rosé. Three days later it was a perky millennial offering strips of humanely raised beef jerky.
But one night last week, two middle-aged Finns wearing black, form-fitting t-shirts, offered me a complimentary sip of their new-to-LA vodka – a brand celebrating perhaps the world's most famous and influential homoerotic artist, Tom of Finland.
"It's great to be here…to talk with the U.S. people and get the feedback on the product," said Olli Hietalahti, founder and CEO of Spirit of Tom. He and Scandinavian distributor, Johan Rehn, both from Helsinki, stood behind a shiny granite countertop.
Poured from a decidedly masculine bottle about 10 inches tall and 4 inches wide, its design echoes the late artist's work, solid and muscular. And a leather daddy glancing over his shoulder, with a come hither stare, peers through the clear liquid from the bottle's back panel.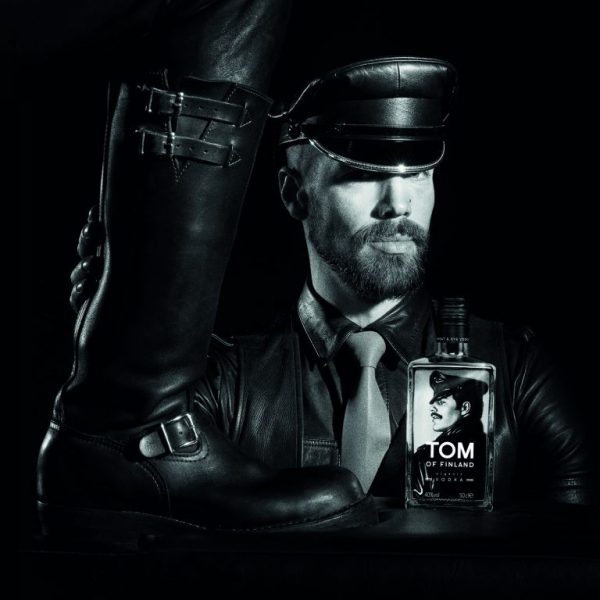 The Tom of Finland Foundation, based in Echo Park. earns income from numerous licensing deals. But why vodka?
"We're propagating pleasure," said Foundation vice president S.R. Sharp. "If Tom isn't about pleasure, he's about nothing." Oh, so, like…art, sex, and alcohol go together?
"What's really important for us," said Hietalahti, "is that it's not a gimmick." Many vodkas "flirt" with the gay community, but Tom of Finland "comes from within" it.
Copy that. My Google search found numerous marketing campaigns from top brands targeting gay consumers. Glittery rainbows and drag queen imagery abound: Stoli, Effen, SKYY, Absolut, which is perhaps the first to openly court the gay drinker nearly 40 years ago .
Rehn is proud of the packaging, but said "the liquid needs to be even better" or "the second bottle is never sold."
The spirit won a gold medal this year at the International Wine and Spirits Competition, one of the most prestigious contests in the adult beverage industry, according to Hietalahti.
Tom of Finland vodka retails for $36.66 per 750 ml bottle with a Pavilion's club card. That's nearly 70% more than Ketel One, Belvedere and others floating around the $20 mark.
Only available in select retail stores for now, this vodka may have partnered with the perfect distribution partner to break into WeHo's lucrative bar and club cocktail scene. Wolf Spirit Distillery declares on its website that it is: "Driven to disrupt the [beverage] industry with new ideas, innovative products, and authentic stories."
Design District Double Whammy
Both Zellij Gallery, the authentic Moroccan tile purveyor at 511 N. Robertson Blvd., and Martyn Lawrence Bullard, the interior designer, whose atelier sits at 8546 Melrose Ave., are featured in the October 2019 issue of Elle Décor.
Writer Boothe Moore describes Bullard's 1923 Spanish retreat this way: "Moroccan-meets-midcentury oasis," "perched on a hill above the Chateau Marmont." Zellij Gallery contributed the backsplash in the eclectic, green-and-white-with-gold-accents kitchen. The owner of the Fez-based tile firm, Faissel Farhi, said, "Zellij is Arabic for Moroccan tile." #NowYouKnow
Chamber Shuffle
The West Hollywood Chamber of Commerce has expanded its lean team from three to four.
Lauren Goldstein, formerly its office manager (often with her adorable pooch Tallahassee in tow) has been promoted to manager of events. (The Chamber's recent annual State of the City event, held at the 1 Hotel on Sunset, busted revenue targets, CEO Genevieve Morrill announced from the podium that night). Goldstein scored snazzy floral centerpieces for the event from the Empty Vase on Santa Monica Boulevard at an ultra-fragrant nonprofit rate. Grace Cunningham, a graduate of U.C. Berkeley, comes on board as administrative assistant.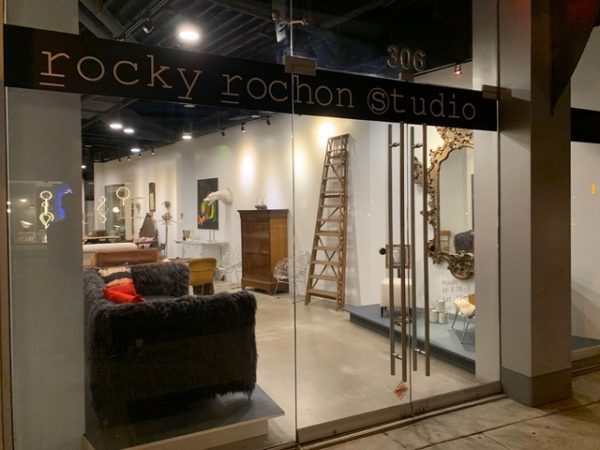 Rocky Digs WeHo
Rocky Rochon Studio, founded in 1990 in Seattle, has opened a retail store at 306 N. Robertson Blvd., in between Flexform and the male sartorial haven Klein, Epstein & Parker. The studio focuses on eclectic vintage and antique furniture, as well as accessories collected from around the world.
But Rochon's team of 12 also does high-end residential and corporate architecture, interior architecture and interior design/furnishings. Oh, there's also the premium paint line.
So why WeHo? "We feel the client that will relate to our products resides [here]," Rochon told me via email. "We also appreciate the diversity and creativity of the Weho community."#FullService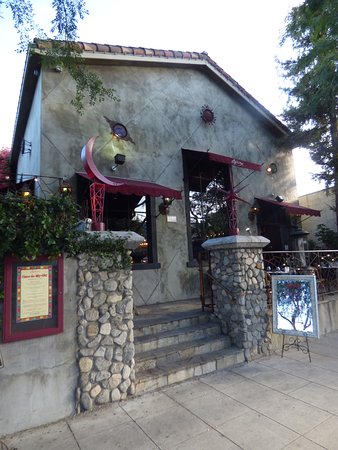 Mimi and Rodolfo, Part Deux
So, you thought you knew La Boheme at 8400 Santa Monica Blvd.? Well, maybe you don't, because the WeHo dining stalwart has just gone through a renovation. (However, it is keeping the same name and the same American-Mediterranean menu and flair, despite earlier rumors that it was becoming a steak house). You can see it for yourself by attending the ribbon cutting and grand reopening party. When? This Friday, Sept. 27, from 5 to 9 p.m. #Operatic
Starbucks U
There are seven Starbucks locations in WeHo. My daily go-to is the one at Beverly and Robertson. In line the other day to get my morning cup of joe, I noticed a black-and-white flyer taped to the pickup counter. Never mind how darn classy that is, Starbucks is hiring, and despite my sometimes considerable snark, they do offer one really cool benefit: a free college education thanks to a partnership with Arizona State University online. #ToBeAPartner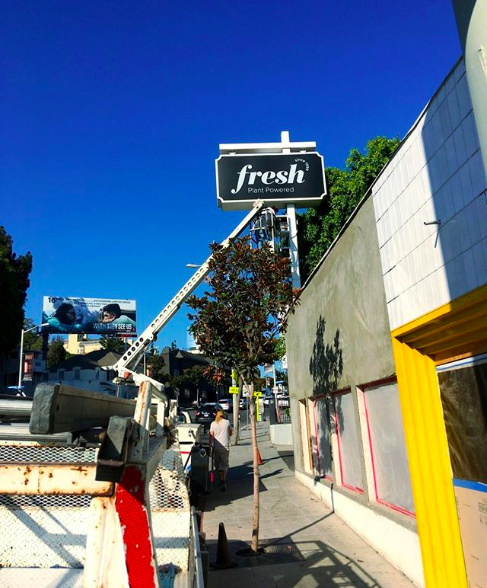 Cutting Another Ribbon
Somebody is going to be doing a lot of running around town with those scissors Friday night, with another ribbon-cutting besides the one at La Boheme on Santa Monica Boulevard.
This one is for the opening of Fresh, a restaurant at 8768 W. Sunset Blvd., the former location of Serafina. And whats fresh about Fresh? Well, it's all about fresh food – salads, juices, and menus that cater to SoCal's curious gluten sensitivity (I'm guessing the three million Americans with celiac disease all live in and around Los Angeles.) If that is whetting your appetite, you can check out the menu here.
Fresh is part of a small chain run by a Canadian firm with five locations in Toronto. This will be its first in the U.S. The ribbon cutting is at 6 p.m. Friday, Sept. 27.
Hey You, Business Leader
The WeHo Chamber of Commerce is accepting nominations for those wishing to join its board of directors in 2020. Six slots for open positions on the 18-member board are open. Each term lasts three years.
Have you got the chops? Send a letter of intent with a brief bio to CEO Genevieve Morrill at gmorrill@wehochamber.com. "The Chamber is committed to keeping our board diverse," Morrill said via email. "To represent industries from large, medium and small businesses – even e-commerce."
Board members include or have included representatives of businesses from a number of different sectors, like IDG founder Lee Maen, Cedars-Sinai Medical Center VP of government relations Deborah Kallick, and La Peer Hotel General Manager Nick Remedio.
Deadline to apply is noon on Oct. 11. #Submit