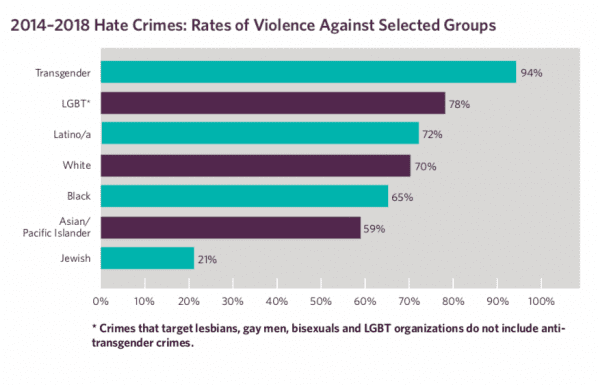 The Los Angeles County Commission on Human Relations (LACCHR) annual report on hate crimes shows there was a 20% increase in crimes targeting gay men, lesbians and LGBT organizations in 2018 over 2017. One hundred and thirty such crimes were reported, compared to 108 in 2017.
Of those crimes, 72% were of a violent nature, a rate higher than those motivated by race (64%) or religion (28%).
The report doesn't give the actual location where those crimes occurred.  However, it says the largest number of hate crimes took place in the Metro Service Planning Area, which stretches from West Hollywood to Boyle Heights. Forty percent of West Hollywood residents identify as gay men according to a community study.
Overall, there were a total of 521 hate crimes reported in Los Angeles County in 2018, a 2.6% increase from the previous year, which the report says is the largest number reported since 2009. "For the past five years, hate crimes have been trending upwards," says an announcement of the report. "Since reported hate crimes hit a 23- year low in 2013 there has been a 36% rise."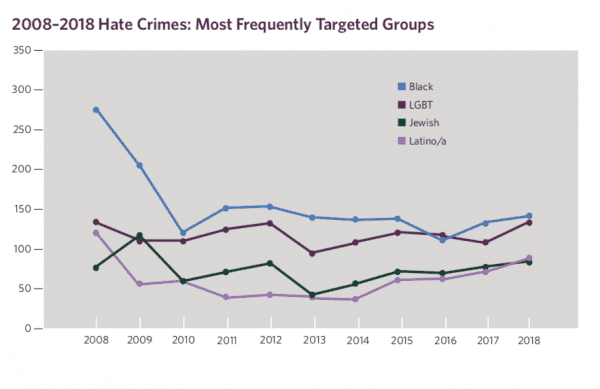 Fifty-two percent of all hate crimes were racially motivated, and they increased by 11% from 256 to 283. That is despite the fact that African Americans only comprise 9% of L.A. County residents. Anti-Latino/a crimes rose for the fourth year in a row, from 72 to 85, a 16% increase.  "After Middle Eastern victims, Latino/as were the most likely of any racial/ethnic group to be victims of violent racially-motivated crime (68%)," the commission reports.
There were 97 religious crimes, a decrease of 4%. They comprised 18% of all hate crimes. Eighty-three percent were anti-Jewish.
After two years of record highs, anti-transgender crimes declined 24% from 37 to 25, and 92% were of a violent nature, the highest rate of any victim group, the commission reports.
 "We are disturbed that reported hate crimes in L.A. County have been rising for five years in a row," said Robin Toma, LACCHR's executive director.  "Major cities across the nation are experiencing similar increases." 
"We are truly alarmed at the continued over-representation of African Americans in racial, sexual orientation and anti-transgender hate crimes.  The continued growth of anti-Latino crimes and frequent use of anti-immigrant language is of grave concern given the recent mass-shooting in El Paso," said Commission President Jarrett Barrios.