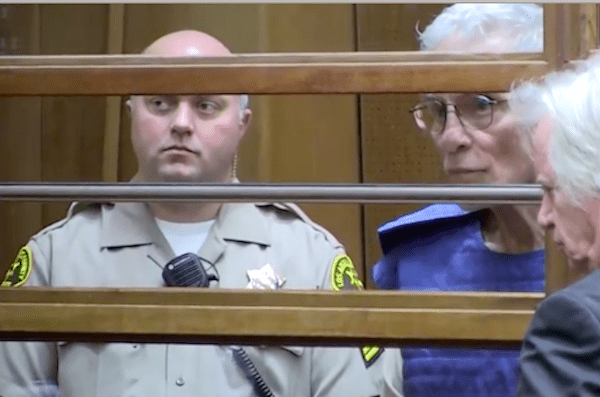 Democratic Party fundraiser and activist Ed Buck was ordered Thursday to remain jailed pending his next federal court appearance on the charge of providing the methamphetamine that caused the overdose death of a man inside Buck's West Hollywood apartment in July 2017.
At a brief detention hearing in Los Angeles federal court, Buck did not contest the government's motion asking that he remain in custody.
"I don't see anything that would alleviate danger," U.S. Magistrate Judge Patrick J. Walsh said, indicating that Buck presents a danger to the community, one of the primary issues discussed at federal detention hearings.
Buck is due back in federal court in downtown Los Angeles for arraignment Oct. 10.
Buck also faces state charges of running a drug den in his West Hollywood apartment, but the federal case will be handled first.
Buck, 65, was charged last week with a single count of distribution of methamphetamine resulting in the death of Gemmel Moore, who died July 27, 2017, of an overdose in Buck's apartment at 1234 N. Laurel Ave. After complaints over several years from other residents, the owners of that building have recently filed an eviction notice against Buck.
Los Angeles County prosecutors had earlier declined to file any state charges against Buck over Moore's death, citing insufficient evidence.
Moore, 26, was the first of two men to die at Buck's apartment in less than 18 months. He was found dead of a crystal methamphetamine overdose, and the coroner ruled the death accidental. On Jan. 7 of this year, a second man died of methamphetamine toxicity at Buck's home. The death of Timothy Dean, 55, of West Hollywood, was also ruled accidental. County prosecutors said that case remains under review.
Buck was not arrested until Sept. 17, when he was charged by the District Attorney's Office over a near-fatal overdose in his apartment that occurred Sept. 11. Buck allegedly injected a man with "two dangerously large doses" of methamphetamine at Buck's apartment. He allegedly administering a "dangerously large dose of methamphetamine" to the same man one week earlier, according to a bail memorandum filed by Deputy District Attorney Cynthia Barnes.
Buck allegedly refused to render aid to the man, who eventually fled from the apartment and called 911 from a nearby gas station, according to the document. The 37-year-old man suffered an overdose but survived, authorities said.
Buck was charged in Superior Court with one felony count each of battery causing serious injury, administering methamphetamine and maintaining a drug house. He appeared briefly in a downtown Los Angeles courtroom, but his arraignment was delayed until Oct. 11.
Buck was ordered to remain jailed in lieu of $4 million bail on the state charges, but was then transferred to federal custody. The state charges against Buck carry a possible prison sentence of five years and eight months, but the federal charge could land him behind bars for a minimum of 20 years and a maximum of life without parole.
Federal prosecutors said Buck has a history of injecting men with drugs and paying them for sexual activity. They contend Buck flew Moore to Los Angeles and gave him drugs and money in exchange for sex.
U.S. Attorney Nick Hanna said investigators have identified 10 other "victims" — including Dean, who died in Buck's apartment in January. The other nine victims all said Buck administered drugs to them or strongly encouraged them to do so, and paid them for sex, Hanna said.
According to a federal court affidavit, the man who nearly overdosed in Buck's apartment — leading to the state charges — told investigators that "Buck solicited him to engage in sexual activities and distributed methamphetamine to him nearly every day during an approximately one-month period from on or about July 29, 2019, to on or about September 6, 2019." The man said Buck "intravenously injected methamphetamine" into him on both Sept. 4 and Sept. 11, causing him "to suffer overdose effects, requiring him to be transported to the hospital."
Buck's attorney, Seymour Amster, has denied that his client — who allegedly was present when the fatal overdoses occurred in his apartment — had any involvement in either death.
Buck, a former Republican who first made headlines in the 1980s when he spearheaded a recall drive against Arizona Gov. Evan Mecham, has been a frequent donor to Democratic candidates and officeholders, including all current members of the West Hollywood City Council with the exception of Lindsey Horvath. He has also been active in LGBTQ political circles and once ran for the West Hollywood City Council.