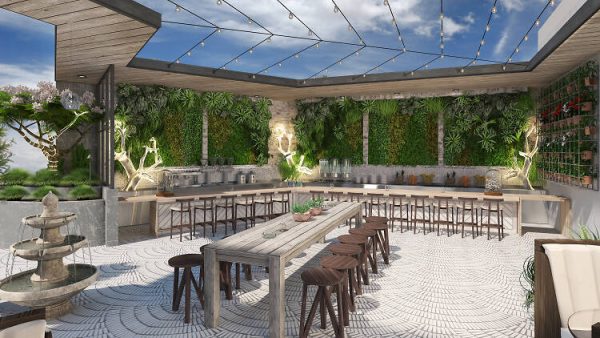 The nation's first cannabis consumption lounge will open Tuesday in West Hollywood.
At Lowell Farms: A Cannabis Café, located at 1201 N. La Brea Ave. at Lexington, people will be able to smoke, vape and consume edible cannabis products on an outdoor patio enclosed with fencing and plants. A separate restaurant adjacent to the consumption lounge will offer salads and sandwiches along with coffee and tea and juices but no cannabis-infused products. Alcohol will not be served.
The lounge and restaurant will cover almost 6,000 square feet, with 2,500 square feet devoted to cannabis lounge and 1,800 to the outdoor consumption patio. The restaurant will cover 1,600 square feet.
The city's cannabis ordinance would allow Lowell to operate between 6 a.m. and 2 a.m. the following day. Lowell will operate from noon to 10 p.m. daily. At this point, all reservations are booked for the Tuesday opening.  Reservations currently can be made on Lowell Cafés website from Oct. 6 forward.  Guests must present a government-issued photo I.E. to confirm that they are age 21 or older. Cash is required for all cannabis purchases. Debit and credit cards will be accepted for food and drink orders. Lowell's general manager is Kevin Brady, former director of restaurants at TAO Group, and its executive chef is Andrea Drummer, who is known for her cannabis-infused cuisine.
Lowell is owned by Flore Flora LLC. Hollywood Reporter reports that it was the idea of Sean Black and David Elias, co-founders of the Los Angeles-based cannabis brand Lowell Herb Co., whose pre-rolled Lowell Smokes are sold at over 300 dispensaries. Their partners in the venture include Mark and Jonnie Houston, whose nightclub and restaurant business attracts celebrities such as Miley Cyrus, Jimmy Kimmel, Paris Jackson, Chelsea Handler, Usher, and David LaChapelle. MedMen, which failed to qualify for a recreational cannabis license, is said to be an investor in Lowell Herb Co.
A major supplier of the café's cannabis products will be  Black and Elias' Lowell Farms, which is known for its campaign against the War on Drugs and jail sentences for cannabis consumers. Lowell created a jobs program to hire those convicted of cannabis consumption before the passage of Prop. 60, which made recreational cannabis legal in Los Angeles. In May 2018 it erected a sign that read: "Recently Pardoned? We're Hiring," outside the L.A. Men's Central Jail.
For Flore Flora, the opening of Lowell brings to an end a long process that began in April 2018 when the City of West Hollywood released a draft application form that included dozens of criteria that an independent assessment committee used to decide who would qualify for one of the eight consumption lounge licenses.  The city also has authorized eight licenses in each of four other categories – medical cannabis sales, retail recreational cannabis sales, edible cannabis lounge, and WeHo-based cannabis delivery services. Like the other applicants in its category, Flore Flora has to pay an application fee of $9,880. It then had to secure a physical location for the business, obtain appropriate planning permits from the city's Current and Historic Preservation Planning Division, and go before the city's Business License Commission for final approval of a business license. 
After its initial application was approved, a change in state law required that it separate the cannabis consumption lounge from the dining area.  It also faced opposition from Rabbi Denise Eger of Congregation Kol Ami, which is located across La Brea Avenue from Lowell Café, who feared the impact of cannabis smoke on Kol Ami. Lowell Café is required to install equipment and vegetation outside the consumption lounge to prevent fumes from cannabis from spreading outside its boundaries.