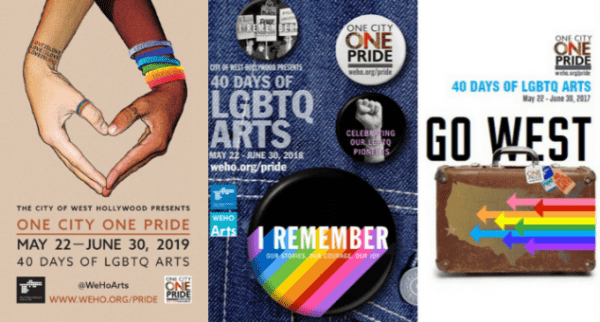 If you're an artist who wants to show some pride in your work, the City of West Hollywood is inviting you to submit poster design proposals for next year's One City One Pride LGBTQ Arts Festival. One City One Pride is held each year starting on Harvey Milk Day, May 22, and continues through the end of June, which is LGBTQ Pride Month. The 40-day festival celebrates the LGBTQ community through art and history. Programming features numerous events and exhibits including film screenings, literary events, and visual arts exhibitions.
The poster design competition seeks original artworks that explore next year's festival theme — "For the Record" — LGBTQ stories of the past that have often been hidden or undocumented. One must read between the lines to find stories hidden behind "beard" marriages, coded language, and erased or destroyed evidence. In 2020, One City One Pride will take a look at some of these stories.
The winning design will be featured as the festival's main booklet and poster image. The deadline for submission is Oct. 24. A prize of $600 will be awarded to the designer of the selected image.
The City of West Hollywood took home the top award from the national City-County Communications and Marketing Association (3CMA) for the 2019 One City One Pride LGBTQ Arts Festival marketing materials/poster design competition in the category of Graphic Design Marketing Tools, with the judges saying they were, "…very impressed with the results and outreach." 
More information about the City of West Hollywood's "One City One Pride," can be found at www.weho.org/pride. For complete guidelines and the online submission form, visit http://bit.ly/ocopdesign. For more information, contact Mike Che, City of West Hollywood arts coordinator, at (323) 848-6377 or at mche@weho.org. For people who are deaf or hard of hearing, call TTY (323) 848-6496.