Andy Dick, a comedian with a history of drug abuse and allegations of sexual abuse, is scheduled to be arraigned on a sexual battery charge today of groping the crotch of an Uber driver in West Hollywood.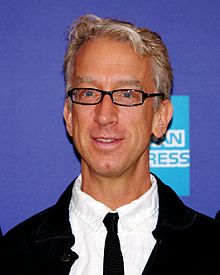 The arraignment will take place at the Airport Branch of the Los Angeles County Courthouse.
The alleged groping took place on April 12, 2018, when Dick was said to have reached over and grabbed a male driver's crotch.
Dick, 53, also is an actor, musician, and television and film producer. He started his TV comedy career as a member of the cast The Ben Stiller Show.
One incident that got the most press was when he was dragged off the Jimmy Kimmel show after continually stroking Ivanka Trump's legs. With the help of his security guards, Kimmel dragged Dick off the stage by the feet.
Dick identifies as bisexual. He has been arrested multiple times for indecent exposure and for charged with inappropriately touching both men and women. He also caused controversy by shouting "you're all a bunch of niggers" to the audience at the Improv in Los Angeles in 2006. In 2011 he made anti-Semitic comments on a radio show about Howard Stern, calling him a "hook-nosed Jew." He has been fired and removed from the set of several films, including "Raising Buchanan" and "Vampire Dad" for sexually inappropriate behavior.