Residents and Planning Commissioners alike gave a blistering rebuke to the draftEnvironmentalImpact Report for the proposed BondHotelproject, thelargehotel-residential complex proposed for Santa Monica Boulevard at Orange GroveAvenue, during Thursday night's meeting of the West Hollywood Planning Commission.
The meeting was only intended to provide feedback for areas in the2,575-pagedraft Environmental Impact Report (EIR) that need improvement before the final EIR is turned in. However, this report, prepared by Dudek, an environmental planning and engineeringconsultingfirm, seemed especially weak as far as draft EIRs go.
Problemsnoted repeatedly werethe lack of asection discussing land use and impact, standard in EIRs,and theinclusion ofa traffic study based on out of date information.Several people pointed out the construction mitigation plans seemed underdeveloped.Among the minor problems were incorrect street names inseveralplaces (Fairview instead of Fairfax, Ogden Grove instead of Orange Grove).
"This EIR has a lot of deficiencies and omissions," commented Commissioner John Altschul."We went through a long period of time, several years, without having these comment periods on the draft EIRs andI think[thefeedback from this meeting] shows how important it is."
The Bond Hotel, being developed by the West Hollywood-based Faring development company, is a six-story project with 214,483 square feet of total space.As the only hotel in that part of town, it will feature 86 hotel rooms plusa restaurant and art gallery. The project will also have70 residential units, 11 of which will be set aside for moderate or very-low income residents.
Featuring a 175-space underground parking garage, the project will replace the BrickFitness gymand adjacent surface parking lotat 7811 Santa Monica Boulevard. Additionally, the project will alsoreplacethe 45-space city-operatedsurface parking lot on Orange GroveAvenue and aseven-unitapartmentbuilding on Ogden Drive.
Overall, residents felt the project was far too large for such a small lot, even if it is tying three lots together.
"This is 150 pounds of sugar in a five-pound sack,"commentedresident Cathy Blaivas.
At six stories (71.5 feet tall), many felt the project woulddwarfthe neighborhood, which consists primarily of one- and two-story buildings.Several people said therenderingsof how the project will fit into the neighborhood weredeceptiveas the building depicted insomedrawingswas onlyfive stories tall.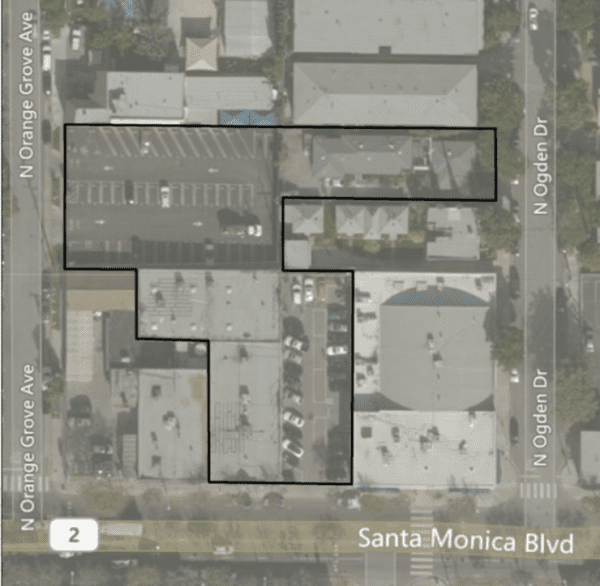 Also troubling to some was the lack of any public benefit forthe neighborhood.Several people said it should at least include some sort of public plaza the residents can use.
"It does nothing to create sense of community by walling itself off from the rest of the neighborhood and surrounding itself with driveways," said area resident Jenny Kriendler.
Tying the commercial and residential lots together into one project is allowed under current city law.(However,the City Council will review its policyaboutsuch lot spanning at its Monday meeting, but anything decided at that meeting will not affect this project).
Residentsandcommissioners alike were quick to point out thecurrentlaw only permitscommercial-residentiallot spanning for projects of 60,000 square feet or more of land. TheBond project only covers 40,000 square feet of land, thereby making it ineligible for certain zoningconcessionsthat are needed to make the project, as currently proposed, feasible.
"Because the Bond Hotel project requires so much maneuvering of the zoning code and encroachment on our neighborhood to achieve its Machiavellian ends, it is not deserving of our approval or that of the Planning Commission," said area resident Mike Carter, who has spearheaded neighborhood opposition to the project.
Area residentsalsoquickly pointed out the data used for the traffic impactstudyis several years old. The city reconfigured the crosswalk and medianon Santa Monica BoulevardbetweenOgden and Orange Grove over a year ago.
"The traffic study is malfeasant. It is bad," said Commissioner John Erickson, one of several commissioners saying the traffic study will have to be completely redone.
Residents noted thatstreetparking isalready tightin the areaand will only worsen with this project, as will traffic on the residential streets.
Resident Laura Bocaletti worried about noise from the project disrupting the area. She said noise from the rooftop pool, which could potentially operate 24 hours a day, would spread far into the neighborhood. She also pointed out current plans call for a loading dock to be located directly beside residential buildings.  
Commissioner Adam Bass pointed out the six-story building will surroundtwo sides ofasingle-storybungalow court on Ogden Drive,while Commissioner Lynn Hoopingarner suggested the project would block theocean breeze which helps cool those old apartments.
Of the 16 people speaking during public comment, only two supported the project.Area residentRob Bergstein said a hotelon the Eastside ismuch needed and the new residential units, especially the "affordable units," are also welcomed.
Andrew Rakos, who lives on Ogden and is an official with the Fountain Day School, locatedat 1128N.Orange Grove directly behind the project, said he supported the project. Nonetheless, hestill had concerns about how such a project would impact the preschoolwhich has 150 students. He worried how noise from the project might disrupt thechildren'snap time, as well as how the air quality might be affected during construction.
Similarly, RakosnotedLos Angeles CountySocial ServicesDepartmentrequiresa parent sign a child in and out of school if the child is under five years old. Withthe loss of the city-run parking lot on Orange Grove,he wondered where parents would park and how thatlack of parking would affect the 64-year-old business.