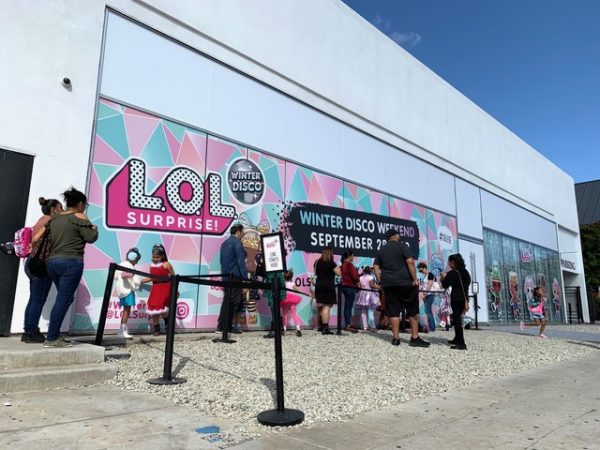 Perhaps one of the last things a middle-aged WeHoan expects to see around 10 a.m. on a Sunday morning is a long and growing line of parents and kids, mostly women and girls, in front of a nondescript building on La Cienega. Many girls wore sequins and feathers reminiscent of disco's glory years, a time in American pop culture they never knew.
But there they were, ready for the Winter Disco pop-up event promoting the many dolls of LOL Surprise! (the exclamation point appears to be added value).
10-year-old Paulina stood in line with her mom Christina Salazar. "I think there is dancing," the girl said. "I know there's also a fashion show."
Paulina found out about the event from the LOL Surprise! Instagram page, and she came all the way out from Whittier for it.
"She plays with the dolls," Salazar explained. "She's quite a collector."
Apparently girls often dress up as their favorite doll, whose names include Ice Ice Husky, Block Party B.B. and Strut. "We usually do the dress up bit, but today we decided to go theme with disco fashion."
The LOL Surprise! collection is made by Chatsworth-based MGA Entertainment, (in)famous for making the controversial, some say over-sexualized Bratz dolls that burst onto the toy market in 2001.
"All About the Face"
Those are the words of CEO and president of Opto Aesthetics' Greg Haroutunian as he described his new venture Ottica, a luxury eyeglass retail store arriving around Nov. 1 at 8947 Santa Monica Blvd. (where the beloved Optique used to be).
 If the name Ottica sounds familiar, that's because it is. The brand used to do business in Sunset Plaza, but optician-owner Garen Oganni sold it about six years ago. "So this is kind of a reproduction," Haroutunian said, but "with a twist."
Not only will there "be optical, optometry and aesthetics," there will be "aesthetic medicine." Haroutunian is also an M.D.
Many consumers are familiar with injectables like Botox and Juvéderm. Ottica will "coordinate" such cosmetic efforts "with the kind of glasses a person wants to wear." Have dark circles or crow's feet that get accentuated when your frames are upon your face? "We're gonna make them work together," Haroutunian said.
Oganni's role will be as an onsite optician and director of operations. He will hire a team of board-certified opticians, as well.
In addition to designer brands like Cartier, Tom Ford, and Celine, the optician said the store will also sell his own Oganni collection, "an extremely high-end" line of eyeglass frames "made from solid 14- and 18-carat gold … Some actually have diamonds and buffalo horn or piano finished wood on them."
Changes in WeHo West
The ultra-expensive Between the Sheets bed and bath outlet at 370 N. Robertson Blvd. (I once saw a fur throw there with a price tag of $6,000) recently informed its customers via a piece of standard office paper taped to its glass front door that it will no longer be open on Sundays.
The Helmut Lang boutique has said auf Wiedersehen. Now at 8808 Melrose Ave. fashionistas will find the first retail location of John Elliott. According to their About page online, they focus on "functional yet modern fits with unique fabrics."
The J. Robert Scott showroom left its space on Melrose Avenue between San Vicente and Robertson for digs at 722 N. La Cienega. While it awaits renovations to be completed it is offering a discount on select furniture lines.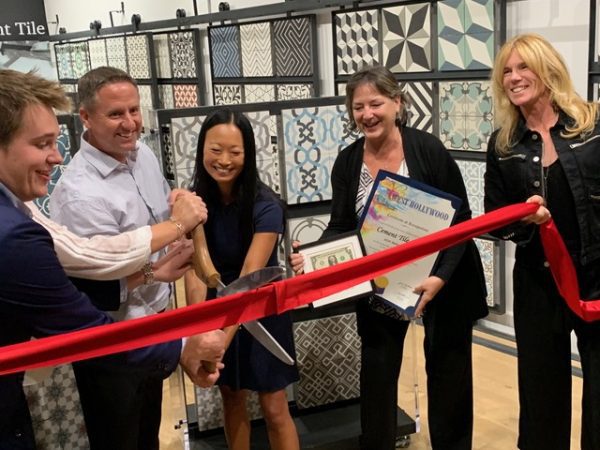 Design District's New Floor Show
Businesses originate in all kinds of places before arriving in WeHo's cushy Design District: Tampa, Florida, for example. They also might have established a showroom in Arizona: Scottsdale, perhaps.
Say hello to Cement Tile Shop, the online retailer-turned-upscale-purveyor of handcrafted tile now at 8269 Melrose Ave.
On Oct. 6, the Chamber of Commerce welcomed Cement Tile with a modestly attended but celebratory ribbon-cutting ceremony. Prosecco, Pellegrino, fruit, and cheese were served as attendees surveyed dozens of tile samples vertically displayed throughout the room.
Owners Chris and Jennifer Clamp, partners in business as well as life, looked pleased to be there, even if Jennifer Clamp cautioned they are "not great" at "public speaking."
Why WeHo? "Based upon social media interaction, we had lots of requests to come to California," Clamp said. "The Design District seemed like a perfect fit for what we do."
"Commercial projects, hospitality, hotels, restaurants, those are great for showcasing these tiles," she added before husband Chris chimed in.
"A lot of customers try it in a smaller space first," he said, "whether it's a kitchen backsplash, laundry room or foyer." "[Then] they might go to a bigger place like kitchens and bathrooms."
Chamber CEO Genevieve Morrill said the new showroom is a "fabulous" addition to the area that will serve "both the public and the trade."
There are many types of tile: ceramic, porcelain, marble, glass. What makes cement tile special?
"Each tile is made by hand," Jennifer Clamp explained. "The pattern is actually part of the tile. It's not painted on or printed on."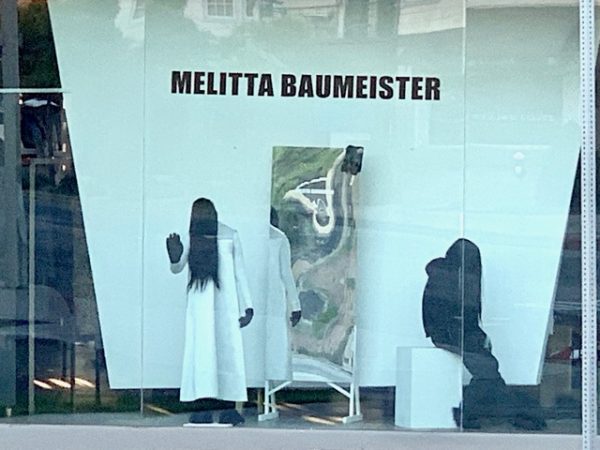 With this 'Ring,' I Thee…
In the window of H. Lorenzo, the edgy clothing store on the southeast corner of Robertson and Rangely, is a unique promotion for fashion line Melitta Baumeister .
It appears to be an homage to the 2002 horror flick "The Ring." Remember that scary dead girl with her long black hair in front of her face? Well, she's there. Times two.
A sales associate told me the store works with different designers throughout the year on its displays. Noted. During Pride month six mannequins stood there, dressed up in all colors of the rainbow.
Still, its marketing efforts are not for everyone. One recent morning, a garbage collector shook his head and laughed before jumping back onto his truck, on to the next bin.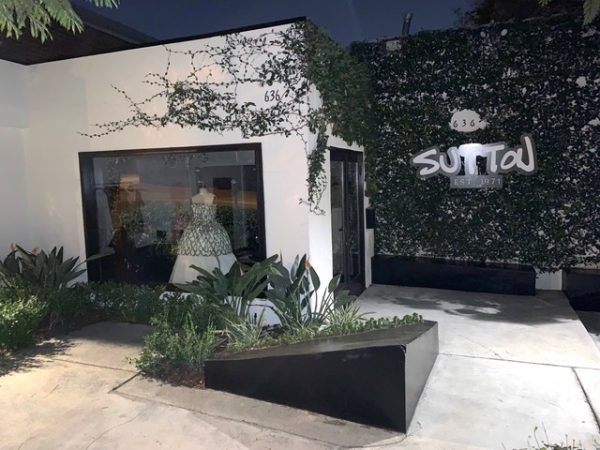 On the Way Home from Pavilions
Actresses Lisa Rinna and Jennifer Tilly were two of the celebs I spotted on the red carpet laid out along the sidewalk for the recent grand opening of female fashion atelier Sutton at 636 N. Almont Drive.
Ivy-covered temporary walls and a logo-emblazoned step-and-repeat formed a maze-like backdrop as paparazzi snapped their pics while Tilly's chirpy helium voice called out, "Hi, honey!" to almost everyone. Still, not everyone knows who everyone else is. A South African middle-aged lady carrying her groceries home from Pavilions looked perplexed when I tried to snap a photo of Tilly. "Who is it?" she asked me.
See Ya Feta. Hello Cheddar
The casual, indoor-outdoor dining establishment known as George's Greek Grill has left the premises of 8807 Santa Monica Blvd. Coming soon, however, according to bold white lettering on a bright blue background, will be Hollywood Burger. The beef patty brand is a franchise. According to its website it "gone global," with investors chipping in from the likes of Russia, India and Saudi Arabia.
Dacha Says Dasvidaniya (But Not Forever)
Dacha Studio, the interiors atelier that stood at 367 N. Robertson Blvd., has temporarily left WeHo due to the seemingly never-ending construction on the overall building. But owner Lauren Alexander will be back in January and only just up the street. Until she can return to WeHo, designers and interested parties can reach her at her Manhattan Beach location, which she's had for four years. What's Dacha's specialty? Per its website: "Dacha embraces the Russian concept of dacha life/vacation living and translates it into a distinctly California experience."
Made in Italy, Displayed in WeHo
Flexform Los Angeles, the Design District showroom of the Italian furnishings brand run by 33Sixty at 308 N. Robertson Blvd., moved in a new outdoor collection this past week. Per its website, all items are made in Meda, Italy, "just outside Milan."