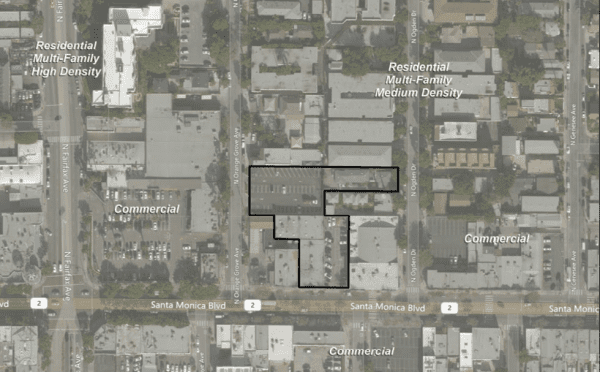 With a 3-2 vote Monday night, West Hollywood's City Council agreed to amend its policy regarding projects that span both commercial and residential zones. With its passage, such projects will now have to construction separate buildings in each of the zones rather than one large building.
Such projects will still be allowed to construct a single underground parking garage covering the commercial-residential lots. However, anything above ground will have to be done as separate buildings and follow the zoning code for those areas.
If a developer is determined to construct a project spanning commercial and residential zones as one large building, that is still possible if the developer enters into a development agreement with the city or gets a "specific plan" for the site approved.
Supporters of the policy argued that its passage helps protect residential zones from large projects encroaching into the residential areas, something people have long worried about but has rarely happened.
Councilmember John Heilman voted against the project, believing projects spanning the two zones have the potential to be good.
"We're not seeing the efficiencies which could create a better project, a more desirable project, and one that actually increases green space for the community, usable green space, as opposed to wasted space in between a commercial and residential building," said Heilman.
Lot spanning has been allowed since the early 1990s, with the Ramada Plaza at 8585 Santa Monica Blvd. and its residential component on West Knoll Drive, being the first to take advantage of it. That was followed in the mid-2000s by the Hancock Lofts complex on the northwest corner of Santa Monica Boulevard and Hancock Avenue.
Two projects currently under construction involve lot spanning – the Sunset Time hotel-residential project at 8430 Sunset Blvd. (where the old House of Blues was) and the 8899 Beverly Blvd. retail-residential project at 8899 Beverly Blvd. (and the adjacent land behind it on Rosewood Avenue).
Two other projects currently in the pipeline intend to use lot spanning. The Bond Hotel project at 7811 Santa Monica Blvd. (currently, the site of Brick Fitness gym) ties in adjacent residentially zoned lots on both Orange Grove Avenue and Ogden Drive. Likewise, the 8555 Santa Monica Blvd. retail-residential project (currently the site of the Collar and Leash pet store) will include several residentially zoned lots on West Knoll Drive. While these projects have not received final approval yet, neither will be affected by this change in policy since the paperwork was submitted while the old rule was in effect.
Councilmember Lauren Meister urged that the underground parking garages not be allowed to extend from lot line to lot line. Instead, she wanted space set aside so there would be exposed soil that could absorb rainwater. She also suggested the city study further ways to make subterranean parking garages more environmentally friendly.
Meanwhile, Mayor John D'Amico worried about losing trees via lot spanning and wanted a policy to assure trees are planted to maintain the tree canopy that he said helps provide shade and thereby cools the city.   
John Keho, the city's Director of Planning and Development Services, explained to WEHOville that the Council's vote also changes the amount of land needed for lot spanning projects. Under the old policy, the combined residential-commercial lots had to cover a minimum of 60,000 square feet of land. With the revised policy now approved, Keho said the combined lots only need cover 50,000 square feet or more of land to be able to build the single underground parking garage.
Councilmember John Duran also voted against the project, feeling it needed more fine-tuning and should be tabled for now.      
D'Amico brought repeated chuckles to the audience when he asked numerous questions about the policy using the example of wanting to build a "spaceship pig farm" on a commercial-residential lot.
In a separate action, the Council also unanimously supported a plan where mixed-used projects (combining both retail and residential) of 10,000 square feet or less can be approved by the staff, rather than going before the Planning Commission. Likewise, mixed-use projects between 10,000 square feet and 30,000 square feet that do not use any incentives or bonuses can be approved at the staff level. If they require a bonus or incentive, they will still go to the Planning Commission for approval.
The Council also voted unanimously to approve plans to allow slight deviations from setback requirements to conform with fire department needs.