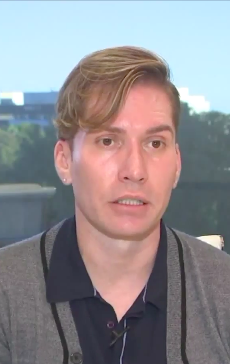 A man robbed at gunpoint by a Lyft driver while headed home from a night out in West Hollywood is pushing for a deeper investigation into the incident.
The robbery of Albert Sera took place on Aug. 31 at around 1:45 a.m. The robbery was only recently reported by KTLA 5. WEHOville was alerted to the robbery today by Sera's spouse.   
Sera said he had ordered a Lyft ride to his home in Sherman Oaks while at the intersection of Santa Monica and San Vicente boulevards.  Sera said the driver turned off Wilshire Boulevard and headed into Westwood near the Los Angeles Country Club, where he stopped the vehicle, pulled a semiautomatic handgun on Sera and ordered him to get out of the car and surrender his cellphone and wallet along with other items. Sera valued his loss at a total of $2,950. Sera said the driver also used his credit card for unauthorized purchases and apparently transferred money to an account in Armenia.
The driver apparently obscured his identity by using Sera's mobile phone to order other Lyft rides and then canceled them. That means his name and photo weren't saved on Sera's phone. In an interview with WEHOville, Sera said that Lyft had determined the driver goes by the name Nasser and was driving a 2017 Chevrolet Suburban. He said Lyft has removed the man from its list of approved drivers.
Sera expressed frustration with the Los Angeles Police Department's handling of the case. He said that LAPD detectives interviewed the man that he suspected was the driver, who told the detectives that he hadn't been driving the Suburban SUV. Sera said he suspects the driver had switched cars. Lyft, he said, confirmed that the SUV was the vehicle that picked him up. Sera said that during the ride he was texting messages with friends and hadn't paid much attention to the driver. He said he didn't look at the driver during the robbery because the man had pointed a gun against his head. Because of that, Sera said, he was unable to correctly identify the suspect when shown photos of him and others by the police.
Sera said that, despite the LAPD's reluctance to pursue the case, he was going to continue pressing for action. He said that friends have told him of other criminal behavior by rideshare drivers. "That's when I decided to go public. I still don't want to stop," he said.
Sera, who moved from West Hollywood to Sherman Oaks four years ago with his husband, Steven Zaharakis, said he frequently used Uber or Lyft to go to West Hollywood and visit friends. He said that now he takes a photo of the license plate of a vehicle before he gets into it and also takes a photo of the driver and then sends both to someone he knows. That is the only way to preserve evidence if the driver steals the mobile phone and also cancels the ride.
"It's a public safety issue that Uber and Lyft must address," said Ryan Okabe, an attorney who consulted with Sera on the incident. Okabe argued that the ridesharing companies have the money and technological expertise to address the issue. One idea, Sera said, is to require ridesharing cars to have cameras installed.
Sera's armed robbery is one of a number of incidents of robbery and sexual assault that have gotten news coverage. However, a recent report by Crosstown says that drivers of ridesharing vehicles also are at risk, and actually are more likely to be harmed than are passengers.
"There were more reported crimes against Uber and Lyft drivers than by them in the City of Los Angeles, according to LAPD publicly available data," Crosstown reports.
"From Jan. 1, 2017 – Aug. 31, 2019, the LAPD recorded 496 crimes where an Uber or Lyft driver was the suspect. The number of cases where they were identified as the victim was 60% higher, at 802.
"The trend seems to be getting worse. In comparing the first eight months of 2019 to the same period last year, the number of reported crimes against rideshare drivers increased 80%, to 307 cases. The number of crimes by rideshare drivers held fairly steady, with 144 reported from Jan. 1 – Aug. 31, 2019, compared with 149 during the same period in 2018."
The Crosstown report says that while sexual assault is the rideshare crime most widely publicized, theft is the most common offense.
Lyft and Uber have warned passengers to check the license plates of cars picking them up to ensure that they are the drivers they have ordered.