Almost eight years after putting renovations on hold, West Hollywood's City Council voted unanimously on Monday night to start new discussions for a remodeling Plummer Park.
With this vote, the Council approved creating a new Plummer Park Design Steering Committee to develop a plan for revamping the park. The makeup for that steering committee hasn't yet been determined, but likely each of the five council members will appoint three or four people to create a 15-to-20-person committee..  
The city will also do extensive community outreach to get residents input, perhaps in the form of visioning workshops and facilitated discussions. Along with that, the city will conduct a feasibility study for what renovations can be done and the costs associated with them. 
"All ideas are on the table," said principal planner Joanna Hankamer who has been overseeing new Plummer Park redesign.  
"What's important is that we have a park that serves the residents on the Eastside and is generated by their ideas," said Mayor John D'Amico.
Fueling this renewed willingness to renovate the park is an April 2021 deadline to spend $9.25 million on the park, or risk losing the money to the state. That $9.25 million is part of the $30 million bond for park renovations the city issued in 2011. However, during a state budget crisis in 2011-12, then Governor Jerry Brown seized redevelopment money from the cities, including the money West Hollywood had earmarked for Plummer Park. After the budget crisis ended, Sacramento agreed to let the cities have some of that money back.
Whatever the final plans for the park end up being, that makeover will likely cost much more than $9.25 million. However, to meet the April 2021 deadline, Hankamer advised the park redesign be done in phases. She suggested the city could start on something small such as a Plummer Park dog park, which Eastside residents have long wanted.  
Bigger items such as renovations to Fiesta Hall, or building a gymnasium or swimming pool (if that is what is ultimately decided upon) would come in another phase. Where the money for those other phases will come from has not yet been determined. 
Back in 2011, Plummer Park was slated for a $41 million redesign that included digging a 179-space underground parking garage in the center of the park,which necessitated demolishing Great Hall-Long Hall and cutting down the mature, old growth trees in the park center. The plan also included a modern makeover for Fiesta Hall and building a new Tiny Tots preschool, plus adding a large water fountain in the center of the park.  
Construction was scheduled to begin in early 2012, but in the last few months prior to groundbreaking, residents began strongly protesting the plan. Just weeks before the scheduled start of construction, the City Council agreed to delay construction. Shortly after that, the state seized the redevelopment money. and the park renovations were put on hold.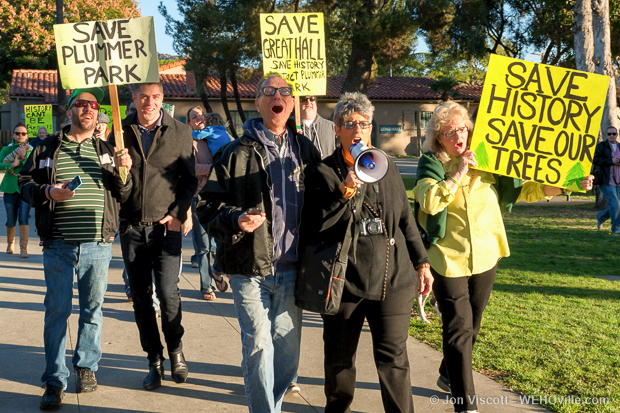 That history all came into play Monday night as Councilmember John Heilman indicated a reluctance to start the process anew since a Plummer Park redesign Master Plan, created in 1994 and updated in 2004, already exists. The 2012 construction plans were based on that Master Plan. 
However, during the public comment period, residents spoke against returning to that 1994 Master Plan. 
"The Master Plan that was created 25 years ago is so old . . . a lot has changed," said resident Sepi Shyne. "The thing that hasn't changed is residents' love for this park." 
"I believe we need a new plan," said resident Kimberly Copeland. "25 years is a quarter of a century. So much has changed. We've all changed . . . It would be nice to take a fresh new look at this."  
Others said the park needs some renovations but urged the city not to go too far since the park is vibrant and busy all day long. 
"Plummer Park is probably one of the most successful parks you're going to see in L.A. County; it does what it was meant to do," said resident Steve Martin. 
D'Amico and Councilmember Lauren Meister both favored scrapping the 1994 Master Plan entirely, while Councilmember John Duran said portions of the plan might be usable, but that too much about the Eastside demographics has changed (the Russian-speajing population is declining while more single women are moving to the Eastside) to rely entirely on that 1994 plan.
Meanwhile, Councilmember Lindsey Horvath emphasized that getting input from residents is essential. 
"The important part right now is listening," said Horvath. "We have to have a fair and open process and make sure people are heard through that open process in order to get to an outcome that the community can be supportive of." 
Critics of that 1994 Master Plan charge the city did not solicit much community input, that the plan was essentially thrust upon the residents. 
"The previous Plummer Park outreach was from City Hall decision makers looking east . . . instead of from Plummer Park users sending information west," said D'Amico, commenting the 1994 Master Plan included some "faulty" or bad ideas. 
Horvath seemed to agree, saying, "The perception is [residents involved in park redesign discussions] were led down a path rather than being asked for their ideas." 
Although the city held over 100 meetings in the 1990s and 2000s where Plummer Park was on the agenda in some form or another, residents complained they were not notified of those meetings or were ignored when they spoke up. Likewise, some members of the city's advisory boards and commissions said they were never given a chance to weigh in on park renovations, and that when the park was on an agenda, it was as a receive-and-file report rather than a request for their input. Indeed, members of the now disbanded Eastside PAC (Project Area Committee), which helped oversee redevelopment on the city's Eastside, grumbled about never being given a chance to vote on the final plans for Plummer Park renovations.
Resident Stephanie Harker, who spearhead the Protect Plummer Park movement that got the 2012 construction stopped, praised the city for letting the public know what's going on now.
"There's already been more outreach on this plan, I think, than the first plan," said Harker, who indicated she will be happy with whatever is decided for park renovations as long as the residents have a say. 
Heilman worried that people who had liked the 1994 Master Plan would be left out of the discussion of the renewed plan. None of those 1994 Master Plan supporters spoke during the public comment period on Monday night. 
Heilman only agreed to support the new steering committee plan with the provision there be maximum outreach to all parties who use the park and that all ideas be on the table, even those that were a part of the 1994 Master Plan. 
A sticking point for whatever is ultimately decided will probably be Great Hall-Long Hall, the conjoined buildings constructed in 1938. Critics argue its placement in the exact center of the park blocks clear sightlines, so some favor moving the building about 25 to 50 feet west to another location in the park. Others say Great Hall-Long Hall should remain in place, noting that it is now on the National Register of Historic Places, a designation bestowed in 2013.  
Heilman, who has long advocated demolishing Great Hall-Long Hall, again voiced his dislike of the building.
"I think Great Hall and Long Hall should be moved. They are old, dilapidated buildings that smell like urine, that are not ADA compliant," said Heilman. 
However, during public comment, resident Cathy Blaivas pointed out that the city owns Great Hall-Long Hall, so proper upkeep and cleaning is the city's responsibility.
While it will take many months to devise new plans for the park redesign, the council also approved some changes that will take effect quickly. Among those are repaving the southern parking lot (near Santa Monica Boulevard) with permeable asphalt as well as security upgrades to the bathrooms and the Community Center.