Sasha Markgraf, a young man enjoying an evening out with friends in West Hollywood's Boystown, was struck by a car on Larrabee Street in what may have been a deliberate assault because Markgraf, a drag performer, was dressed in feminine clothes and wearing high heels.
The incident, which happened in the early morning of Sept. 24, left Markgraf in the hospital. He is now recovering from serious injuries. Friends have launched a GoFundMe campaign to help him pay for his large medical expenses,
Craig Charles, Markgraf's lawyer, has reached out to WEHOville hoping publication of a video about the incident will lead to someone revealing the identity of the driver.
"As the video shows, my client Sasha and two friends were crossing the street after leaving Flaming Saddles at approximately 2:40 a.m.," Charles said in an email message.  "The car seen in the video appears to gun straight for the group, hitting Sasha and throwing him into a tree. The car appears to be a Honda Civic, either dark gray or silver. The car did not stop, and it fled heading westbound on Santa Monica Boulevard.
"To date, he has not been caught because we cannot get a read on the license plate. At a minimum, this is a felony hit and run, and in my mind, it rises to the level of attempted murder. We are asking for the public's help in identifying the driver. The Civic will have obvious damage to the front end and possibly the windshield. Maybe the driver told someone else and that person will come forward and identify the driver."
Charles asked that anyone with information about the driver call him at (424) 343-0660 or reach out to him through his website, https://craigcharleslaw.com, where one can provide anonymous information.
Markgraf is a dressmaker and costume designer and also performs in drag, which he was wearing when the incident occurred, and is a singer with Gay Men's Chorus of LA. A statement on the GoFundMe page gives details of the incident and Markgraf's injury: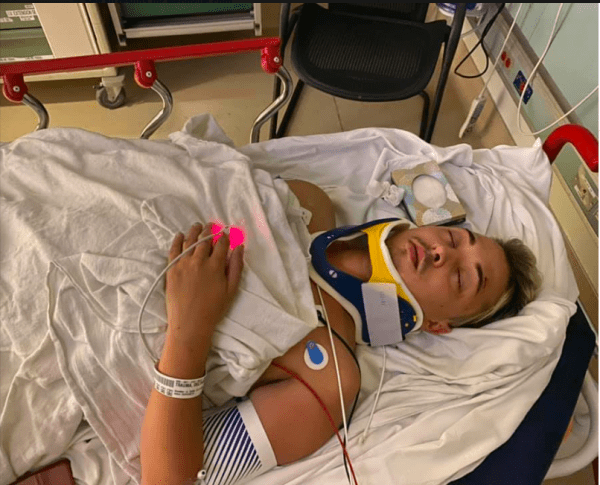 "… (Sasha) stepped off the curb to cross the street to his car. At that moment, the driver turned on his car and revved his engine. He took aim and ran down Sasha, the only one of the bunch who was in heels and dressed in an effeminate manner. Everyone scattered to try to avoid the car, but the driver was determined, took aim at Sasha, and ran him over.
"Sasha's shoulder was crushed under the car. After dragging Sasha 20 feet, the car sped away. Sasha has now had two surgeries on his right shoulder … his dominant hand. He now has 15 pins and a plate in his arm, which, at this point is largely unusable. The nerve and tendon damage was so severe, that he cannot lift his right hand at all. In addition, he has a concussion, and his right knee is completely filled with fluid and is very painful. He has to wear a brace that immobilizes it when he walks (which he's super thankful he can still do)!
"The driver has not been caught, and we're not sure if there's any video that shows the license plate so that he/she can be tracked down. The medical bills for these surgeries, the week-long hospital stay, and everything that is yet to come…are piling up to an overwhelming amount. Obviously, he cannot work during this time, and if he doesn't get the use of his hand back, he's looking at many more obstacles to getting his life back."