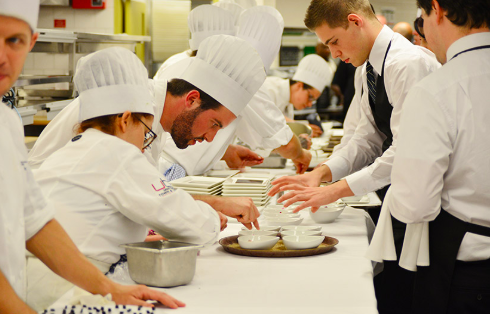 The City of West Hollywood has partnered with the Los Angeles LGBT Center, Cedars-Sinai Medical Center, and the West Hollywood Chamber of Commerce to support a culinary arts program for at-risk LGBT young people.
The aim of the program is to prepare at-risk LGBTQ young people for careers in the food and hospitality sectors, major areas of business in West Hollywood.
Program participants will learn basic culinary skills during 200 hours of hands-on instruction at the Center's Anita May Rosenstein Campus. Once completed, culinary students are placed in paid internships with food service businesses to fulfill the remaining 100 hours of intensive training. The Center's goal is to enroll 38 young people in the culinary arts program during the course of one year. Culinary arts students will have access to the Center's wraparound services to support the successful launch of their culinary careers including housing, education, and health and mental health services.
The City of West Hollywood and the West Hollywood Chamber of Commerce are currently looking to enlist up to 15 West Hollywood businesses to host culinary arts internships for program participants.
"The City of West Hollywood is proud of our long-term support of the many incredible life-changing programs and initiatives of the Los Angeles LGBT Center," said West Hollywood Mayor John D'Amico. "Helping young LGBT people gain the culinary skills needed to secure future employment and stabilize their lives is vital — and what better place for them to do that than in the top-notch restaurants of West Hollywood."
The culinary arts program is made possible, in part, by grant funding from Cedars-Sinai and is being offered at a critical time. Up to 40% of local-area homeless youth ages 18 to 24 identify as LGBTQ. The Center offers help to young people who are homeless through its youth support services and residential program. This includes meals, clothing, support groups, a charter high school, a general education diploma, and a college-prep program. Other services include employment preparation, training, and placement and independent living skills-building as well as medical care and counseling.
In an announcement of the venture, the city says that during the past three years, its Homeless Initiative has achieved positive measurable results in addressing homelessness. The Homeless Initiative works in partnership with contracted and collaborative nonprofit social services providers, the West Hollywood Sheriff's Station, and Los Angeles County agencies to address homelessness. This includes direct street outreach services to homeless community members that offer shelter, substance abuse treatment, health care, mental health services, and housing opportunities. The outreach teams also provide assistance such as food and hygiene kits, as well as blankets, socks, and other emergency supplies.
Those concerned about someone who is homeless are asked to call the West Hollywood Homeless Initiative Concern Line at (323) 848-6590. If your concern requires time-sensitive assistance during nights or weekends, call the West Hollywood Sheriff's Station at (310) 855-8850. For additional information, visit www.weho.org/homeless.
For more information about the culinary arts program or if you are a business interested in offering an internship, please contact Elizabeth Anderson, the City of West Hollywood's strategic initiatives program administrator, at (323) 848-6839. People who are deaf or hard of hearing can call TTY (323) 848-6496.