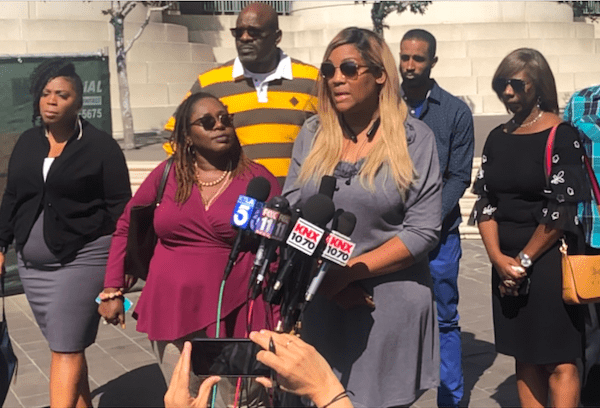 Ed Buck today pleaded not guilty to federal charges stemming from the overdose deaths of two men inside his West Hollywood apartment, with the judge setting a tentative trial date of Nov. 26.
Buck's plea at the downtown Los Angeles federal courthouse was followed by an appearance outside by friends and relatives of Timothy Dean and Gemmel Moore – the men found dead in Buck's apartment at 1234 N. Laurel Ave. — who described themselves as having come together as a family in their struggle to deal with the deaths and to push for the arrest and prosecution of Buck.  LaTisha Nixon, Moore's mother, carried his ashes.
In the press conference after Buck's arraignment, the speakers praised federal investigators for arresting Buck on the murder charges and condemned Los Angeles County District Attorney Jackie Lacey for not more aggressively pursuing the charges against Buck.
West Hollywood and its gay community – overwhelmingly composed of white men — also was criticized. Paul Scott, a founder of the Los Angeles Black LGBT Pride Movement, said that gay black people didn't feel accepted in West Hollywood. "We're certainly not seen as human in West Hollywood," he said.
Cory McLean, a friend of Gemmel Moore's, described what he called a "dehumanizing of black men … The gay life in West Hollywood has exacerbated this."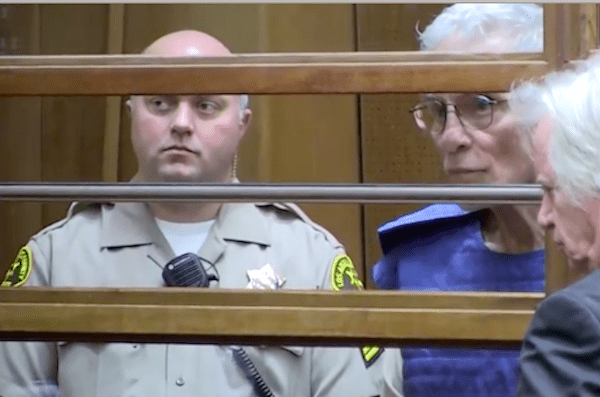 At the brief court appearance, Buck, 65, who remains in federal custody, was dressed in off-white prison garb and apparently had difficulty hearing, telling the magistrate judge, "I'm working with one hearing aid." 
In addition to the tentative trial date of Nov. 26, the judge booked a Nov. 4 motions hearing and Nov. 19 status conference.
Buck is named in a five-count indictment that charges him with alleged narcotics distribution offenses, including providing methamphetamine to Moore and Dean, each of whom died after being injected with the drug at Buck's apartment at North Laurel Avenue apartment. Each of the charges alleging the distribution of narcotics resulting in death carries a mandatory minimum of 20 years in federal prison and a maximum penalty of life without parole upon conviction.
The indictment alleges that Buck provided methamphetamine to Moore, who was 26 years old when he overdosed on the drug and died on July 27, 2017, and Timothy Dean, 55, who suffered a fatal overdose in Buck's apartment on Jan. 7. Buck also faces three counts of distributing methamphetamine to men in May 2018, December 2018 and last month.
The indictment alleges that Buck "engaged in a pattern of soliciting men to consume drugs that Buck provided and perform sexual acts at Buck's apartment," which is a practice described as "party and play." Buck allegedly solicited victims on social media platforms, including the gay sex hookup site Adam4Adam.com, and used a recruiter to scout and proposition men.
Once the men were at his apartment, Buck prepared syringes containing methamphetamine, sometimes personally injecting the victims with or without their consent, according to the indictment. Buck also allegedly injected victims with more narcotics than they expected and sometimes injected victims while they were unconscious.
"Buck exerted power over his victims, often targeting vulnerable individuals who were destitute, homeless, and/or struggled with drug addiction, in order to exploit the relative wealth and power imbalance between them," the indictment alleges.
One of Buck's attorneys, Seymour Amster, has denied that his client — who allegedly was present when the fatal overdoses occurred in his apartment — had any involvement in either death. Amster was not present at today's arraignment, where Buck was represented by Claire Simonich of the federal Public Defenders Office. Simonich was assigned to Buck's case on Sept. 19, which has led to questions as to whether Buck cannot afford to retain Amster, a private attorney who has represented him since Moore's death in July 2017.   WEHOville was unable to reach Simonich and Amster declined to comment.
Buck also faces separate charges, including operating a drug house, that were filed last month by the Los Angeles County District Attorney's Office. He is currently being held in federal custody without bond, and the federal case is proceeding first.
Buck, a former Republican who first made headlines in the 1980s when he spearheaded a recall drive against Arizona Gov. Evan Mecham, has been a frequent donor to Democratic candidates and officeholders, including four of West Hollywood's City Council members. He also is known for having been a force in the initial election in 2011 of Mayor John D'Amico to the City Council, with D'Amico pledging to push through the ban on the retail sale of fur in WeHo that Buck had lobbied for. Buck also has been active in LGBTQ political circles and once ran for the West Hollywood City Council.