If Thursdaynight's meeting to get feedback about the proposed futuristic looking hotel-residential complex at 8850 Sunset Blvd. is any indication, the 15-story project willlikelyface an uphill battle to get approved. Residents attending that "scoping meeting"were strongly opposed, sayingthe building was too tall, too massive, and too ugly.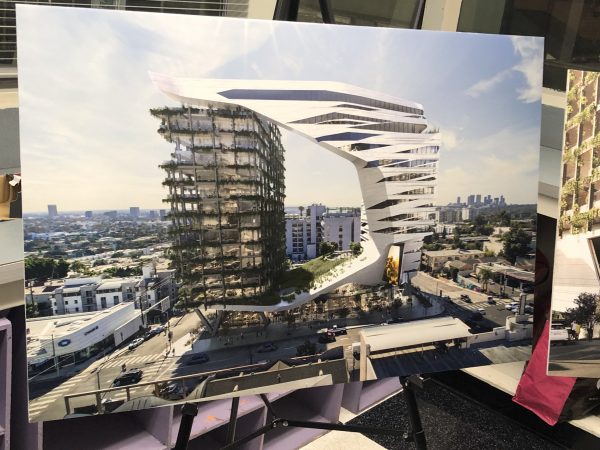 "Aesthetically, it is grotesque. It's horrendous," said longtime resident Richard Rothenberg, who lives nearby on Larrabee Street.
"It looks like something that belongs in Dubai or China," said Elaine Morrison, who has livedon Larrabee for 31 years."It certainly doesn't belong in West Hollywood."
"It's too tall and too big," commented Susan Milrod, who also lives on Larrabee. "It doesn't fit in here."
"It will loom over the entire neighborhood. What does it say about West Hollywood's values?"askedanother resident.
The approximately 40 people attending were particularly upset to learn that the project's Environmental Impact Report (EIR) will not address themassivebuilding's aesthetics.State guidelines sayEIRs for retail-residentialinfillprojectsin a "transit priority area"don't have to consider its appearance.
However,officials withDudek,aPasadena-basedenvironmental planning and engineeringconsultingfirm, gave assurances thatthe EIR will address many other areas, includingtraffic and noise impacts, as well as air quality.
"Why is air pollution more important than eye pollution?" asked one angry resident.
Slated to encompass the entire block on the southern side of Sunset between Larrabee Street and San Vicente Boulevard, the 369,000 square-foot project will be 200 feet tall, as measured from the lowest point on the site,and185 feet tall from the Sunset Boulevard side.
It will have ground-level retail and restaurants while a hotel in the western tower will have 115 guest rooms. The eastern tower will have 31 luxury condominiums plus 10 units set aside for low-income residents. With a 100-foot-wide openingin the middleseparating floors three through fourteen, the two towers will be connected on the top(fifteenth) floor,which will have a restaurant and bar open to the public.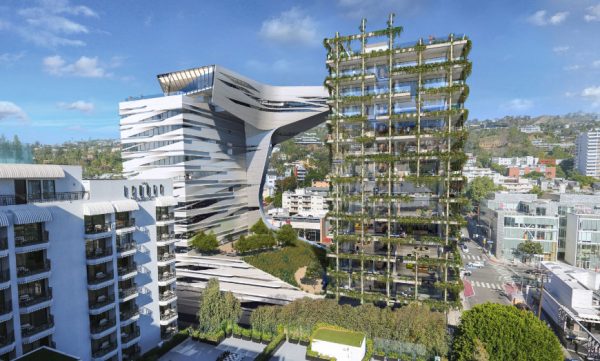 The complex will have four levels of underground parking for a total of 269 parking spaces–189 spaces for the hotel and shops, plus another 80 spaces for residential use. The existing buildings on that block, including the famous Viper Room nightclub building, will be demolished. However, the new complex intends to dedicate a space for a new Viper Room.
Most of the people attendingThursdaycame because of a glossy maileropposing the projectfromagroup calling itself Sensibility on Sunset. Area residents also reported that people connected to that group have been collecting signatures on a petition opposing the 8850 Sunset project.
Attendees repeatedly told WEHOville thatSensibility on Sunset is being organized by the Afriat Consulting Group(headed by lobbyist Steve Afriat),for its client the London Hotel, which is immediately south of the project. However, WEHOville was not able to confirm Afriat's involvement.
While opposition to development projects in the city is common, itisunusual for such organized opposition to beginsoearly in the planning process.
Charles Essig, the managing director for Silver Creek Commercial Development,which is developing the8850 Sunsetproject,isn't worried,believingthe project will see approval. Nonetheless, Silver Creek, which is also developing a small apartment complex at 1120 Larrabee,has hired Seymour Consulting Group,(headed by Jeff Seymour),to lobby for the project.
Essig, who lives on Larrabee Street, is particularly happy with the design created by Culver City-based Morphosis Architects, which is headed by award-winning architect Thomas Mayne. Morphosis is known for creating designs that go beyond normal bounds and challenge traditional forms. 
"It's a thoughtful design that lends itself to the highest and best use of the property," Essigtold WEHOville.
Thatboundary pushing designis whatworries Susan Milrod. She fearsthis project, ifbuilt as currently proposed, willspur a competition among architects of future buildingsalongSunset who may try to outdo this one in both design and height.
"I don't think it's appropriate for the needs of West Hollywood," said Milrod. "It is a small city. It is a small town . . . I might like this building in a different locale. Not here."
Likewise, Elaine Morrison said the four-lane Sunset Boulevard is too narrow for such a tall building, especiallyonethat's not set back from the street.
"We're not New York with three lanes on one side with a big divider in the middle and another three on the other side to give us these tall towering buildings," said Morrison. "We're going to be locked in with no air space, nothing to see but just concrete, concrete and glass. It's not right."
Several people were upset that the building will have a helicopter landing pad on the roof, fearfulit might be used to transport guests in via helicoptertaxis.
Essig told WEHOville the landing pad is required by law for tall buildings and will be used only for emergency situations.
The project's impact on traffic was also frequently mentioned.
"Traffic on Sunset is already a nightmare. This will only add to it," said one person.
Noteveryone attending dislikedthe design. Longtime WeHo resident Richard Lewis, who lives nearby on Clark Avenue, thought the building was "visually pleasing."
"They're got to build something, it might as well be architecturally interesting," Lewis told WEHOville.
The comment period for this scoping phase of the EIR runs through Oct. 25. People can send comments to Doug Vu, the city planner overseeing the project at8300 Santa Monica Blvd., West Hollywood, CA 90069 or via email todvu@weho.org
Another comment period will be open when the draft EIR is turned in, likely sometime in spring 2020. At that point, the TransportationCommission and Planning Commission will also weigh in on the project.