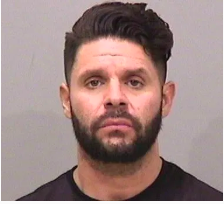 Investigators from the Contra Costa County District Attorney's Office urged Los Angeles area residents to contact them if they were victimized by a man who has been charged with committing lewd acts against boys.
Richard Charles Rocha, 37, of Antioch was arrested at his home in May by the Fremont Police Department and has been charged with committing lewd acts against boys under the age of 14 and setting up hidden cameras in public bathrooms.
"During the course of the investigation, we learned that Rocha once lived in Southern California, specifically Los Angeles," Scott Alonso of the Contra Costa County D.A.'s office said in a statement.
"Our office believes there may be additional victims in the Los Angeles area," Alonso said. "Rocha worked for a nonprofit in West Hollywood in the late 2000s and into the 2010s." That nonprofit was the Trevor Project, which is headquartered in West Hollywood.
Rocha is being held at the Martinez Detention Facility, with bail set at $5.68 million. His next court date is on Oct. 29.
Anyone with information about Rocha or who may have been victimized by him was urged to call Senior Inspector Darryl Holcombe of the Contra Costa District Attorney's Office at (925) 957-8757.